As a seasoned home cook and a dad to 3 hungry kids that want their breakfast ASAP, I have always wondered if putting a hash brown in a toaster could lead to that perfect, crispy breakfast treat. So, I did some testing to find the answer.
Can you put a hash brown in a toaster? Yes, you can! First, choose toaster-friendly hash browns, either frozen or homemade. Thaw them slightly if necessary, and then slide them into the toaster slots. Set the toaster on a medium-high setting, and cook for 4-5 minutes or until the hash browns are golden brown and crispy.
In this article, we'll explore the art and science of toasting hash browns to achieve that perfect crispy texture, covering various methods, cooking times, and alternative approaches, all while keeping your mornings quick, easy, and deliciously satisfying.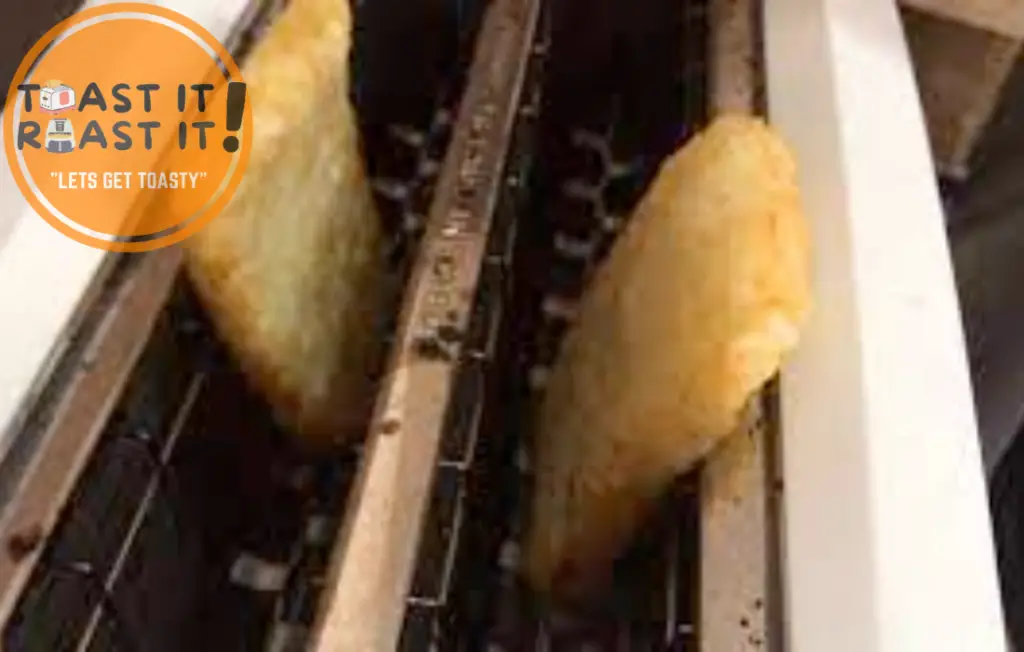 The Science of Toasting Hash browns
Unlocking the secrets behind toasting hash browns involves understanding the differences between frozen and homemade hash browns, mastering toaster settings, and properly preparing them for optimal crispiness.
Frozen vs. Homemade Hash browns
| Aspect | Frozen Hash browns | Homemade Hash browns |
| --- | --- | --- |
| Preparation Time | Quick and convenient | Longer, hands-on process |
| Cooking Time | Shorter, typically faster | May vary, depends on recipe |
| Texture | Consistent | Customizable |
| Flavor | Standard, store-bought | Fresh, tailored to taste |
| Convenience | Store in the freezer | Made from scratch |
Toaster Settings for the Perfect Crisp
For optimal results when toasting hash browns, choose a medium-high setting on your toaster. If your appliance has a defrost function, use it for frozen hash browns. Keep a watchful eye and adjust settings as needed to achieve your desired level of crispiness.
Thawing and Preparing Hash browns
Properly thawing and preparing hash browns is essential for even toasting. For frozen hash browns, microwave them on a safe plate for 30 seconds to 1 minute to soften without fully cooking. When using homemade hash browns, ensure they're well-drained and dry before toasting for best results.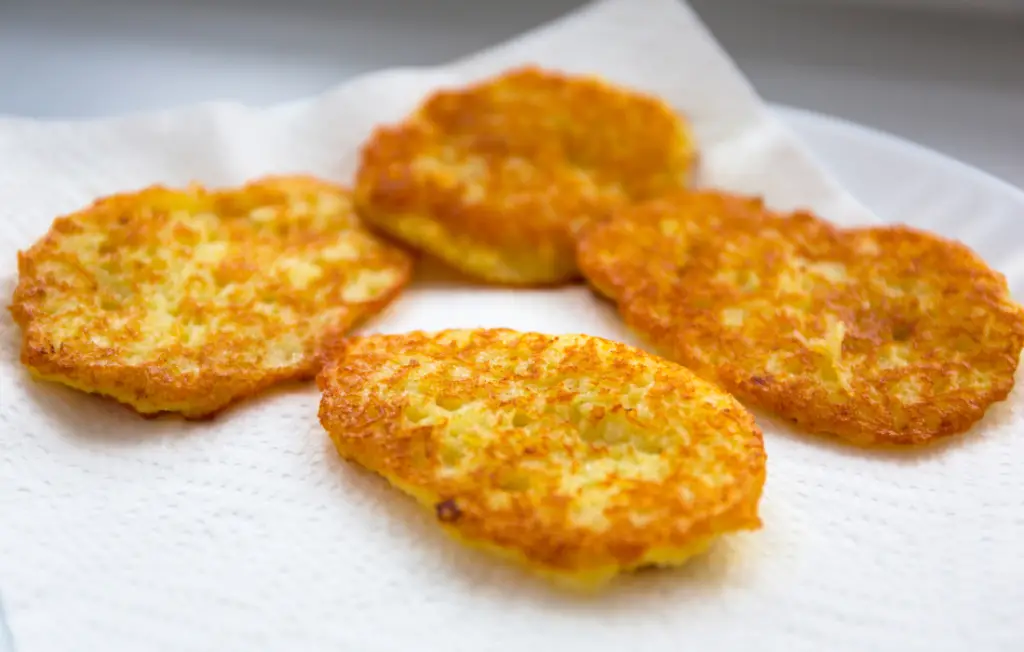 Pros and Cons of Toasting Hash Browns
Weighing the pros and cons of toasting hash browns reveals the benefits of time-saving and consistent results, while also highlighting potential safety concerns and limitations in variety and texture.
Pros:
Time-saving: Toasting hash browns is a convenient and quick way to have a delicious breakfast without spending much time cooking.
Consistency: Using a toaster for hash browns provides a consistent result every time, giving you that desired crispiness without the fuss of stovetop cooking.
Less mess: Say goodbye to greasy pans and excessive clean-up, as toasting hash browns eliminates the need for additional oil or butter.
Multitasking: While your hash browns are toasting, you have the freedom to prepare other breakfast items, like eggs or bacon, to complete your meal.
Cons:
Safety concerns: Improper use of the toaster or attempting to cook unsuitable hash browns can lead to overheating, sparks, or even a fire hazard.
Limited variety: Not all types of hash browns are suitable for toasting, so you may need to choose specific brands or recipes to achieve the best results.
Compromised texture: Depending on the toaster and the hash brown type, you may not always achieve the perfect crispiness or texture you prefer.
Overcooking risk: It's easy to overcook hash browns in a toaster if you're not paying close attention or if the settings aren't adjusted properly.
Print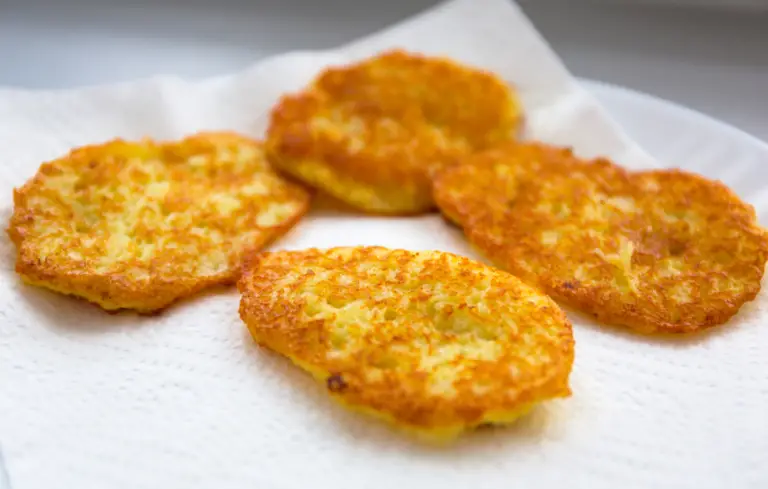 Quick & Easy Toaster Oven Hash Browns
Toaster Hash Browns are a quick and fuss-free breakfast option that offers a golden crunch with every bite. Perfect for busy mornings and simple to prepare, these hash browns are sure to become a household favorite.
Total Time:

8 min

Yield:

2

–

3

servings

1

x
2–3 medium-sized frozen hash brown patties
Instructions
Ensure the hash brown patties are thawed properly. If not, you can defrost them in the microwave for a minute or two.
Place the thawed hash brown patties into the toaster slots. Ensure that they fit comfortably and can be removed easily.
Set the toaster to medium-high, then toast the hash brown patties. Toasting time may vary depending on your toaster, but typically, 4-6 minutes will give you a golden and crispy finish.
Carefully remove the hash brown patties from the toaster using a non-metallic utensil.
Notes
Be extra cautious when removing the hot hash brown patties from the toaster to avoid burns.
Pair these toaster hash browns with eggs, bacon, or enjoy them on their own with a dollop of ketchup.
Author:

Jay Whyms

Prep Time:

2 min

Cook Time:

6 min

Category:

B reakfast

Method:

Toasting

Cuisine:

American

Diet:

Vegetarian
Keywords: Toaster hash browns, quick breakfast recipe, frozen hash browns, vegetarian, crispy hash browns
Recipe Card powered by
Alternatives to Toasting Hash Browns
Exploring alternatives to toasting hash browns, such as toaster ovens, oven baking, microwaving, and frying pans, can offer more versatility and control while still delivering a delicious and satisfying breakfast experience.
Toaster Oven
If you love the convenience of toasting hash browns but want more control over the cooking process, consider using a toaster oven. With adjustable temperature settings and even heat distribution, you can cook your hash browns to crispy perfection without the risks associated with a traditional toaster. Plus, it's perfect for those larger, thicker hash browns that don't quite fit in your toaster slots.
Oven Baking
Oven baking is another great alternative for cooking hash browns, especially when you're making a big batch for the whole family. Just preheat your oven to 400°F (200°C), place the hash browns on a lined baking sheet, and bake for about 20-25 minutes or until golden brown and crispy. This method provides consistent results, and you can even add a little seasoning for some extra flavor.
Microwave
In a pinch, microwaving your hash browns can save the day when you're in a rush. While the texture may not be as crispy as you'd like, microwaving is a quick and convenient option. Simply place your hash browns on a microwave-safe plate and cook for 1-2 minutes per side, checking for desired doneness. Just remember, you may want to finish them in the toaster or under the broiler for added crispiness.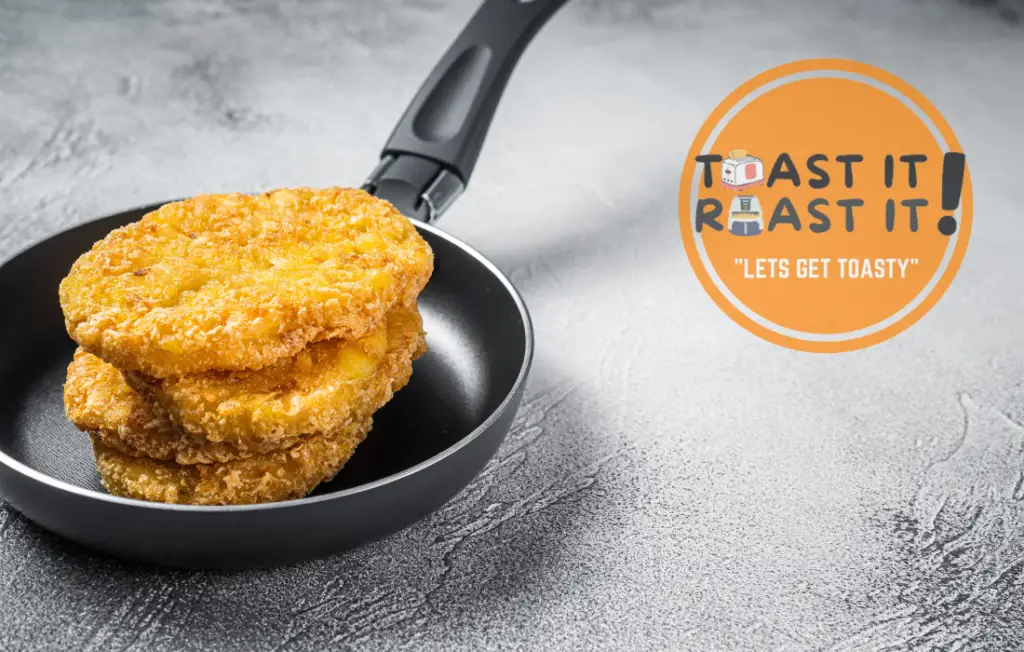 Frying Pan
The classic method of cooking hash browns in a frying pan allows you full control over their crispiness and flavor. Heat some oil or butter in a non-stick pan over medium heat, add your hash browns, and cook for about 4-5 minutes per side or until they're golden brown and crispy. Feel free to experiment with spices and herbs to create your ideal breakfast treat.
TOP 5 Store Bought Hash Browns
Discovering the best store-bought hash browns for toasting can enhance your breakfast experience with convenience and delicious results, making your mornings easier and more enjoyable.
| Rank | Brand | Key Features | Cook Time |
| --- | --- | --- | --- |
| 1 | Ore-Ida Toaster Hash Browns | Pre-cooked and designed for toasting, consistent crispiness | 4-5 min |
| 2 | McCain Quick Cook Hash Browns | Fast-cooking, thin for easy toasting, golden-brown exterior | 5-6 min |
| 3 | Dr. Praeger's Four Potato Hash Browns | Made with four types of potatoes, toaster-friendly, gluten-free | 5-6 min |
| 4 | 365 Everyday Value Hash Browns | Affordable, simple ingredients, toasts well with slight adjustments | 6-7 min |
| 5 | Trader Joe's Shredded Potato Hash Browns | Natural flavor, toasts well after thawing, customizable crispiness | 6-8 min |
Delicious Homemade Hash Brown Recipes
Classic Shredded Hash Browns
Whip up a batch of homemade shredded hash browns with this simple recipe:
Grate 2-3 medium-sized russet potatoes, then place the shreds in a clean kitchen towel or cheesecloth.
Squeeze out as much moisture as possible to ensure crispiness.
Heat 2 tablespoons of oil or butter in a non-stick skillet over medium heat.
Spread the shredded potatoes evenly in the skillet and season with salt and pepper.
Cook for 5-7 minutes per side, or until golden brown and crispy. Serve hot and enjoy the classic goodness!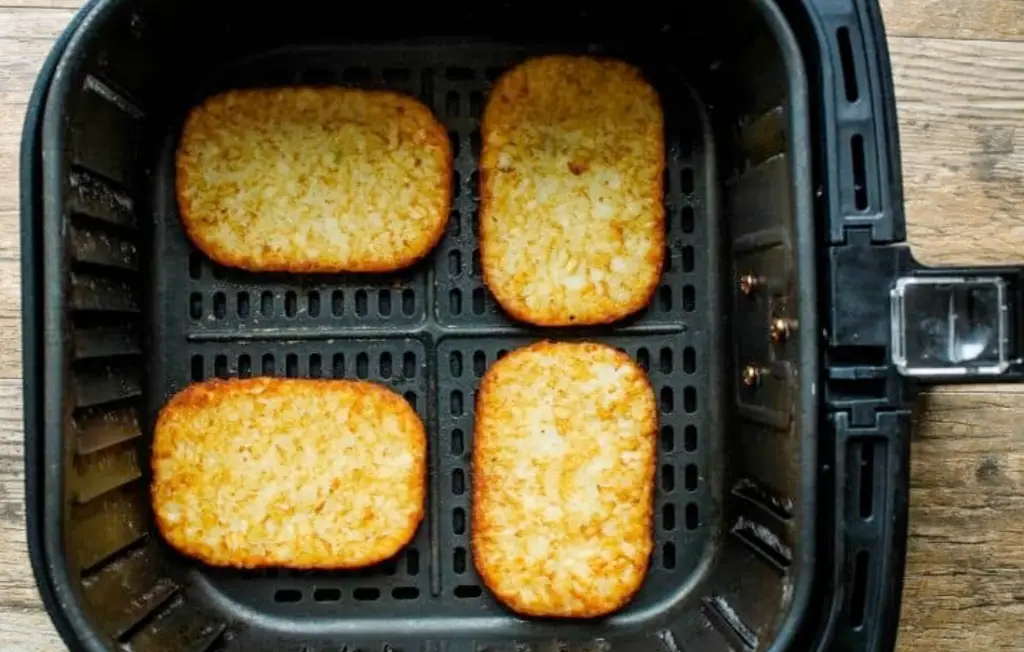 Fusion Hash Brown Ideas
Caribbean Flavor
Add some island flair to your homemade hash browns with this Caribbean-inspired recipe:
Grate 2-3 medium-sized sweet potatoes and follow the same moisture removal process as classic shredded hash browns.
In a mixing bowl, combine the sweet potatoes with ½ cup diced bell peppers, ½ cup chopped green onions, 1 minced garlic clove, and 1 finely chopped Scotch bonnet pepper (optional, for a spicy kick).
Season the mixture with 1 teaspoon of allspice, ½ teaspoon of dried thyme, and salt and pepper to taste.
Heat 2 tablespoons of coconut oil in a non-stick skillet over medium heat, then form the potato mixture into patties and cook for 5-7 minutes per side, or until golden brown and cooked through. Serve with a dollop of sour cream or a fresh salsa to complete your Caribbean fusion hash browns.
Best Toaster To Cook Hash Browns
Introducing the top toasters for hash browns that are perfect for achieving a crispy, golden breakfast:
Breville BTA830XL Die-Cast 4-Slice Smart Toaster ($209.95) – This high-end, 4-slice toaster offers superior toasting capabilities with its smart technology that automatically adjusts toasting time for consistent results. Its wide slots accommodate thicker hash browns, and the elegant die-cast design adds a touch of luxury to your kitchen.
Cuisinart CPT-180P1 Metal Classic 4-Slice Toaster ($69.95) – The Cuisinart 4-slice toaster combines classic design with modern functionality. Its extra-wide slots can handle even the largest hash browns, while the dual control panels offer custom browning preferences. The brushed stainless steel finish provides a sleek and durable appearance.
Hamilton Beach 2 Slice Toaster ($28.99) – This budget-friendly 2-slice toaster is perfect for small kitchens or those who need a compact option. Its extra-wide slots and adjustable browning controls make it easy to achieve the perfect crispiness for your hash browns. The simple design and easy-to-use controls make it a reliable choice.
BLACK+DECKER 2-Slice Extra-Wide Slot Toaster ($24.99) – The BLACK+DECKER 2-slice toaster offers extra-wide slots for toasting hash browns and a variety of other breakfast favorites. With its seven browning settings and user-friendly design, you can achieve the perfect level of crispiness every time. The toaster's compact size and affordable price make it a great addition to any kitchen.
Oster 2-Slice Toaster ($34.50)-The Oster 2-slice toaster is known for its consistent toasting results and durable construction. Its extra-wide slots accommodate a range of sizes and thicknesses, including hash browns. With adjustable browning settings and a user-friendly interface, this toaster will make your mornings more enjoyable and delicious.
These top toasters provide a range of options to suit your preferences, budget, and kitchen space. Whichever model you choose, you'll be on your way to enjoying perfectly toasted hash browns for breakfast.
| Toaster | Brand | Size | Price | Buy |
| --- | --- | --- | --- | --- |
| Top | Breville BTA830XL Die-Cast 4-Slice Smart Toaster | 4 Slice | 209.95 | Buy Now |
| | Cuisinart CPT-180P1 Metal Classic 4-Slice Toaster | 4 Slice | 69.95 | Buy Now |
| | Hamilton Beach 2 Slice Toaster: | 2 Slice | 28.99 | Buy Now |
| | BLACK+DECKER 2-Slice Extra-Wide Slot Toaster | 2 Slice | 24.99 | Buy Now |
| | Oster 2-Slice Toaster | 2 Slice | 34.50 | Buy Now |
Frequently Asked Questions
Can I toast hash browns in a toaster oven instead of a traditional toaster?
Yes, you can toast hash browns in a toaster oven. This method offers more control over the cooking process and is perfect for larger or thicker hash browns that may not fit in traditional toaster slots.
What should I do if my hash browns get stuck in the toaster?
If your hash browns get stuck in the toaster, unplug the toaster, wait for it to cool down, then carefully use a non-metallic utensil to gently remove the stuck hash brown. Avoid using metal utensils or sticking your fingers inside the toaster, as it could cause injury.
Can I cook other types of potatoes in a toaster, like sweet potatoes or red potatoes?
While some toaster-friendly hash brown recipes use different types of potatoes, it's essential to ensure they're properly prepared and suitable for toasting. Experiment cautiously and always follow safety guidelines when using your toaster.
How long should I toast hash browns for the perfect crispiness?
Toasting times for hash browns can vary depending on the thickness, type, and your toaster settings. Generally, toasting hash browns for 4-8 minutes should yield a crispy and delicious result. Keep an eye on them and adjust the time as needed.
Conclusion
Toasting hash browns can be a game-changer for busy mornings, providing a quick and tasty breakfast option. Whether you prefer store-bought or homemade, mastering the art of toasting hash browns will undoubtedly bring you the joy of a crispy, golden-brown treat. Remember to choose toaster-friendly hash browns, experiment with various methods, and always follow safety guidelines for the ultimate breakfast experience. Happy toasting!