As a home cook and lover of all things kitchen-related, I've always been a fan of high-quality appliances that make my life easier. One such brand that has caught my attention is Dualit, known for its robust and stylish toasters. It's no surprise that their 4-slot toasters have become quite popular among kitchen enthusiasts.
I remember the first time I used a Dualit 4-slot toaster during a family brunch at our new townhouse. My wife had received it as a gift, and I was eager to test it out. The moment I started toasting our homemade bagels, I was impressed by the toaster's performance and design. It was evident that Dualit had put thought into creating a toaster that not only looks good but also delivers excellent toasting results. Since then, I've been a loyal fan of Dualit 4-slot toasters and recommend them to anyone looking to elevate their toasting game.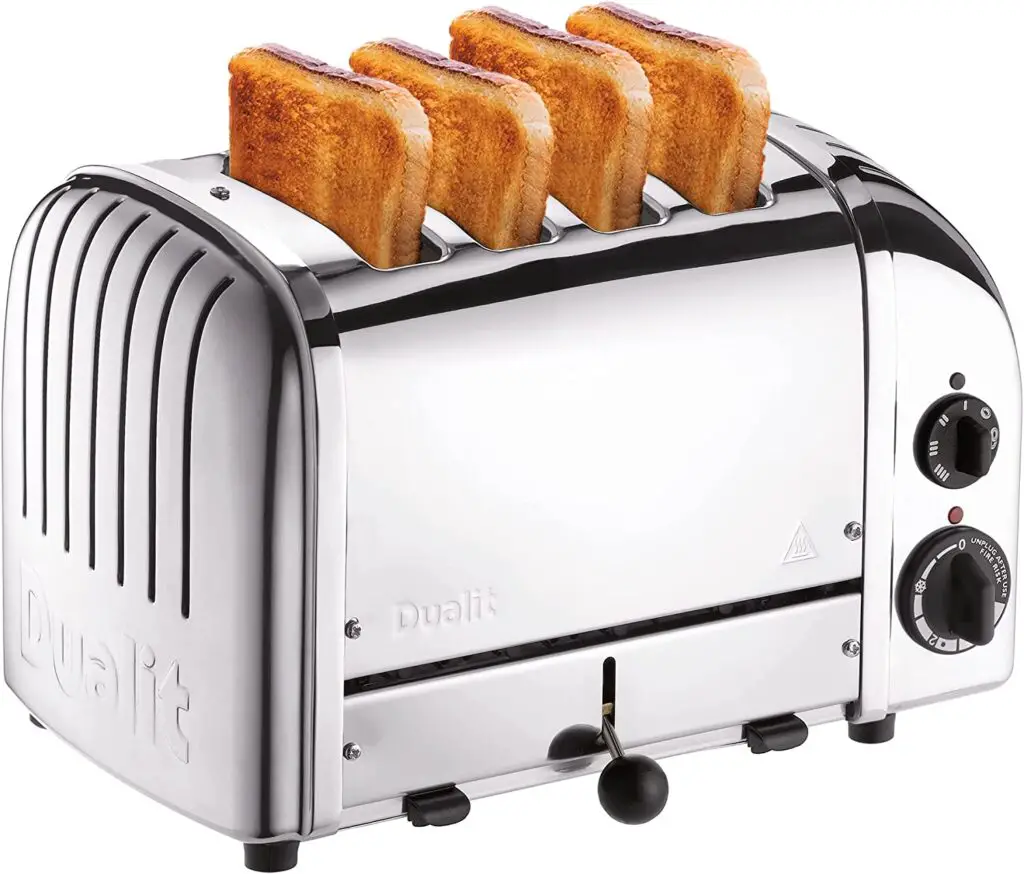 Dualit Company Overivew
Dualit is a renowned British company, founded in 1945, that specializes in high-quality, durable, and stylish kitchen appliances. Known for its commitment to craftsmanship, quality materials, and innovation, Dualit offers a range of products, including toasters, kettles, and coffee machines. With a focus on functionality, energy efficiency, and iconic retro design, Dualit appliances are hand-assembled in the UK and have earned a loyal customer base and numerous industry awards.
Dualit Classic 4-Slot Toaster
The Dualit Classic 4-Slot Toaster is a perfect combination of style and performance. It boasts a polished chrome finish that adds a touch of elegance to any kitchen. Let's dive into its key features:
Pros:
High-quality toasting performance: Dualit 4-slot toasters deliver evenly toasted bread, bagels, or other items, resulting in a consistently satisfying outcome.
Durability and build quality: Made from robust materials like stainless steel, these toasters are designed to withstand daily use and last for years.
Energy efficiency: Features like precise timer controls and selective slot usage help conserve energy.
Stylish design: Dualit toasters offer an attractive appearance that complements any kitchen aesthetic.
Ease of use: User-friendly controls and functionality make these toasters simple to operate and maintain.
Cons:
Higher price point: Dualit 4-slot toasters tend to be more expensive compared to other brands, which might not fit everyone's budget.
Limited warranty period: Some models may only have a one-year warranty, which may not provide the same level of long-term assurance as warranties offered by other manufacturers.
Size and weight: Dualit toasters can be relatively large and heavy, potentially taking up more counter space and being more challenging to move.
By considering these pros and cons, you can make a well-rounded decision on whether a Dualit 4-slot toaster is the right choice for your kitchen needs.
Comparing Dualit 4-Slot Toasters
| Model | Toasting Performance | Design & Durability | Energy Efficiency | Ease of Use | Price Range | Warranty |
| --- | --- | --- | --- | --- | --- | --- |
| Dualit Classic 4-Slot | Excellent | High | Good | Good | $$$ | 1 year |
| Dualit Lite 4-Slot | Very Good | Moderate | Good | Excellent | $$ | 1 year |
| Dualit Studio 4-Slot | Good | Moderate | Very Good | Good | $$ | 1 year |
| Dualit Architect 4-Slot | Excellent | High | Good | Good | $$$ | 1 year |
This comparison table provides an overview of the various Dualit 4-slot toaster models, their features, price ranges, and warranty. By comparing these aspects, you can make an informed decision on which toaster best suits your specific requirements and preferences.
Customer Reviews
"I've had my Dualit Lite 4-Slot Toaster for six months, and it has exceeded my expectations. Not only does it look great on my counter, but it also toasts bread, bagels, and even waffles evenly every time. I love the defrost and reheat functions, which have come in handy on busy mornings. It's truly the best toaster I've ever owned!"
"My family and I are thrilled with our Dualit NewGen 4-Slot Toaster. Its sturdy build and timeless design make it a standout appliance in our kitchen. The toasting performance is impressive, and the bagel function is a game-changer. I'm happy to recommend this toaster to anyone in search of a reliable, high-quality kitchen essential."
Things To Consider When Purchasing A Toaster
When purchasing a toaster, consider the following factors to make an informed decision that meets your needs:
Capacity and Slot Size: Determine how many slices you want to toast simultaneously and whether the slots are wide enough to accommodate various types of bread, bagels, and pastries.
Toasting Performance: Consider the toaster's ability to evenly brown different types of bread and its consistency in delivering the desired level of toasting.
Browning Settings and Features: Look for toasters with adjustable browning settings and extra features like defrost, reheat, and bagel functions for added convenience.
Design and Durability: Choose a toaster with a durable build, made from high-quality materials that can withstand daily use, and a design that complements your kitchen aesthetic.
Energy Efficiency: Opt for toasters with energy-saving features such as precise timer controls or selective slot usage when toasting fewer items.
Ease of Use and Cleaning: Select a toaster with user-friendly controls and features such as removable crumb trays and high-lift levers for easy cleaning and retrieval of toasted items.
Size and Space: Consider the dimensions of the toaster and the space available on your kitchen counter to ensure it fits comfortably without cluttering the area.
Price and Warranty: Assess the toaster's price in relation to its features and performance, and ensure that the manufacturer offers a suitable warranty for added peace of mind.
By considering these factors, you can choose a toaster that fits your specific requirements, preferences, and budget, providing you with a reliable and enjoyable toasting experience.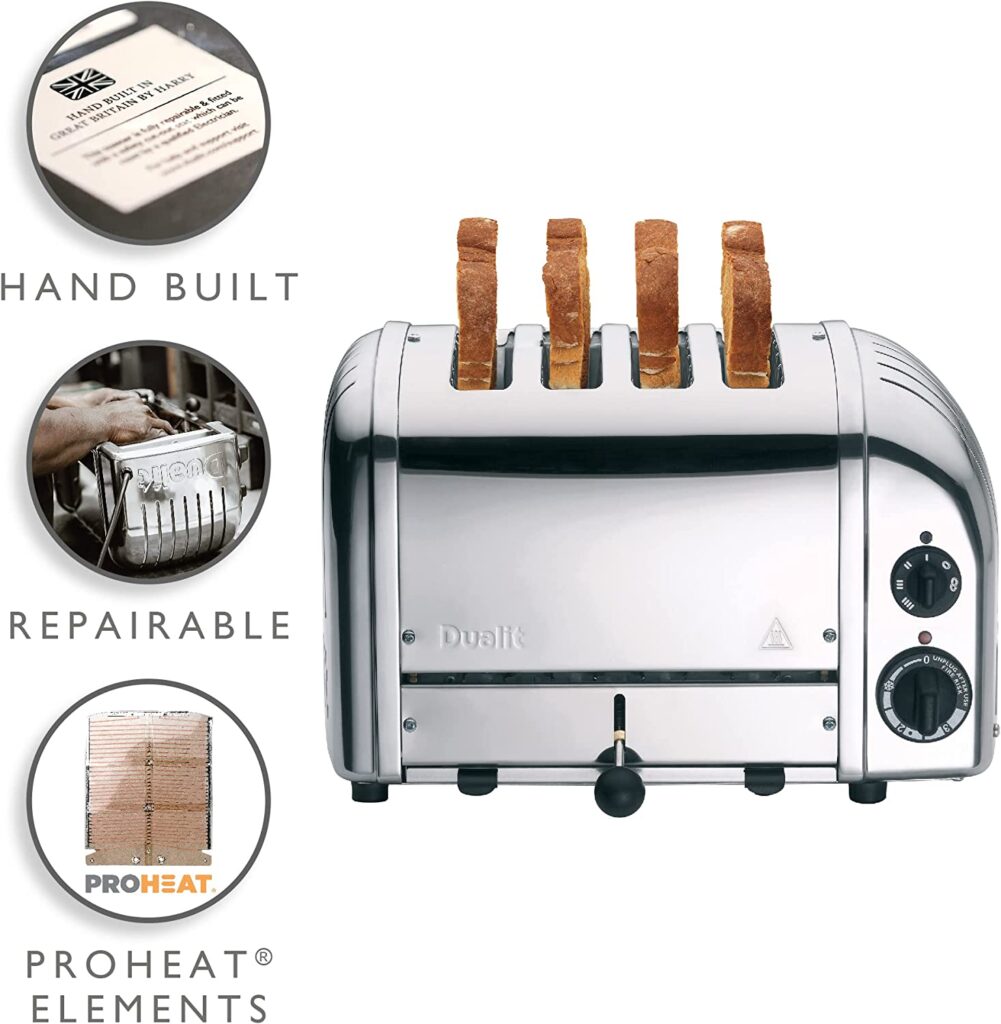 FAQs
What is the difference between Dualit Classic and NewGen?
The main difference between the Dualit Classic and NewGen toasters is in the design and functionality. The Classic model offers a more traditional, manual experience with a mechanical timer and manual eject lever. The NewGen model, on the other hand, has updated features such as a selector switch for the number of slots being used, a defrost setting, and a bagel function. Both models boast excellent toasting performance, durability, and iconic design.
What is special about Dualit toasters?
Dualit toasters are known for their exceptional build quality, even toasting performance, and iconic design. Each toaster is hand-assembled in the UK using high-quality materials like stainless steel, ensuring durability and longevity. The combination of functionality, energy efficiency, and stylish aesthetics makes Dualit toasters stand out in the market.
Are Dualit toasters energy efficient?
Yes, Dualit toasters are designed with energy efficiency in mind. Features like the precise timer controls and selective slot usage contribute to energy savings by allowing users to toast only the required number of slices, minimizing energy consumption.
How do I clean and maintain my Dualit toaster?
To clean and maintain your Dualit toaster, first, unplug the appliance and allow it to cool down. Remove the crumb tray and empty it. Use a soft brush to clean any crumbs from the toaster's interior. Wipe the exterior with a damp cloth and mild soapy water. Avoid using abrasive cleaners or scouring pads. Regular cleaning and proper handling will help prolong the life of your Dualit toaster.
Can I get replacement parts for my Dualit toaster?
Yes, Dualit offers replacement parts for their toasters, ensuring you can keep your appliance functioning properly even after years of use. Parts such as heating elements, timers, and levers can be replaced, helping maintain the toaster's performance and extend its lifespan.
Do Dualit toasters have a bagel function?
Some Dualit toaster models, like the NewGen, feature a dedicated bagel function. This setting toasts one side of the bagel while gently warming the other side, providing the perfect texture and flavor for your bagel. Be sure to check the specific model for the availability of this function.
Conclusion
Dualit 4-slot toasters are an excellent investment for those seeking a combination of performance, durability, and style. These toasters offer impressive toasting capabilities, energy efficiency, and user-friendly features, making them a favorite among home cooks and professionals alike. The iconic design, hand-assembled in the UK, adds a touch of elegance to any kitchen.
When choosing a Dualit 4-slot toaster, consider the various models available, such as the Classic, NewGen, Lite, and Architect. Each offers unique features and price points to cater to your specific needs and preferences. By carefully evaluating the key factors like toasting performance, design, energy efficiency, and ease of use, you can confidently select the perfect Dualit 4-slot toaster that meets your requirements and enhances your daily toasting experience.