I firstly tried this delicious dish at an Italian restaurant in Miami. That first taste of the Roasted Red Pepper Pesto Pasta still lingers on your palate, doesn't it? The harmony of flavors was absolute perfection, leaving you yearning for another taste.
Roasted Red Pepper Pesto Pasta Recipe
To create this masterpiece, begin with roasting the red peppers at 450°F. Concurrently, blend fresh basil, garlic, pine nuts, and extra-virgin olive oil for the pesto. Next, boil your chosen pasta until al dente, which usually takes about 10-12 minutes. Finally, toss the perfectly roasted peppers and al dente pasta in the freshly made pesto, and there you have it – your own homemade Roasted Red Pepper Pesto Pasta.
In this comprehensive guide, we're going to transport you back to that memorable Miami evening by unveiling the secrets to preparing a flawless Roasted Red Pepper Pesto Pasta. By providing a step-by-step recipe, expert insights, and the perfect beverage pairing, we aim to empower you with the skills to recreate this Italian delight in your own kitchen, all the while maintaining the authenticity of flavors that make this dish so irresistible.
Ingredients and Equipment Needed
Creating a delicious plate of Roasted Red Pepper Pesto Pasta requires a balance of fresh, quality ingredients and the right kitchen equipment. Let's delve into what you'll need to recreate that South Beach culinary magic right at home.
| Ingredients | Description |
| --- | --- |
| Red Bell Peppers | The star ingredient of the dish, red bell peppers add a sweet and slightly smoky flavor when roasted. Packed with vitamin C and other antioxidants, they not only enhance the taste but also provide nutritional value. |
| Fresh Basil | Essential to any pesto recipe, fresh basil imparts a distinct, slightly sweet taste with a hint of spiciness. |
| Garlic | Adding a touch of pungency and heat, garlic complements the flavors of the peppers and basil in the pesto. |
| Pine Nuts | These add a creamy texture and nutty taste to the pesto. For a nut-free alternative, consider sunflower seeds. |
| Extra Virgin Olive Oil | The oil helps bind the ingredients together while adding a fruity flavor note. |
| Parmesan Cheese | Provides a salty, umami flavor. Vegans can opt for nutritional yeast as a cheese substitute. |
| Pasta | Choose a pasta type that holds onto the sauce well, like penne or fusilli. For a gluten-free option, go for gluten-free pasta. |
| Equipment | Use |
| --- | --- |
| Oven or Grill | For roasting the red peppers. |
| Pot | To boil the pasta. |
| Colander | To drain the pasta. |
| Food Processor or Blender | For making the pesto. |
| Tongs | Useful for turning the peppers while roasting and mixing the pasta with pesto. |
Understanding these ingredients and their roles will guide you in making the perfect Roasted Red Pepper Pesto Pasta. Furthermore, knowing the equipment you need will help ensure a smooth and efficient cooking process.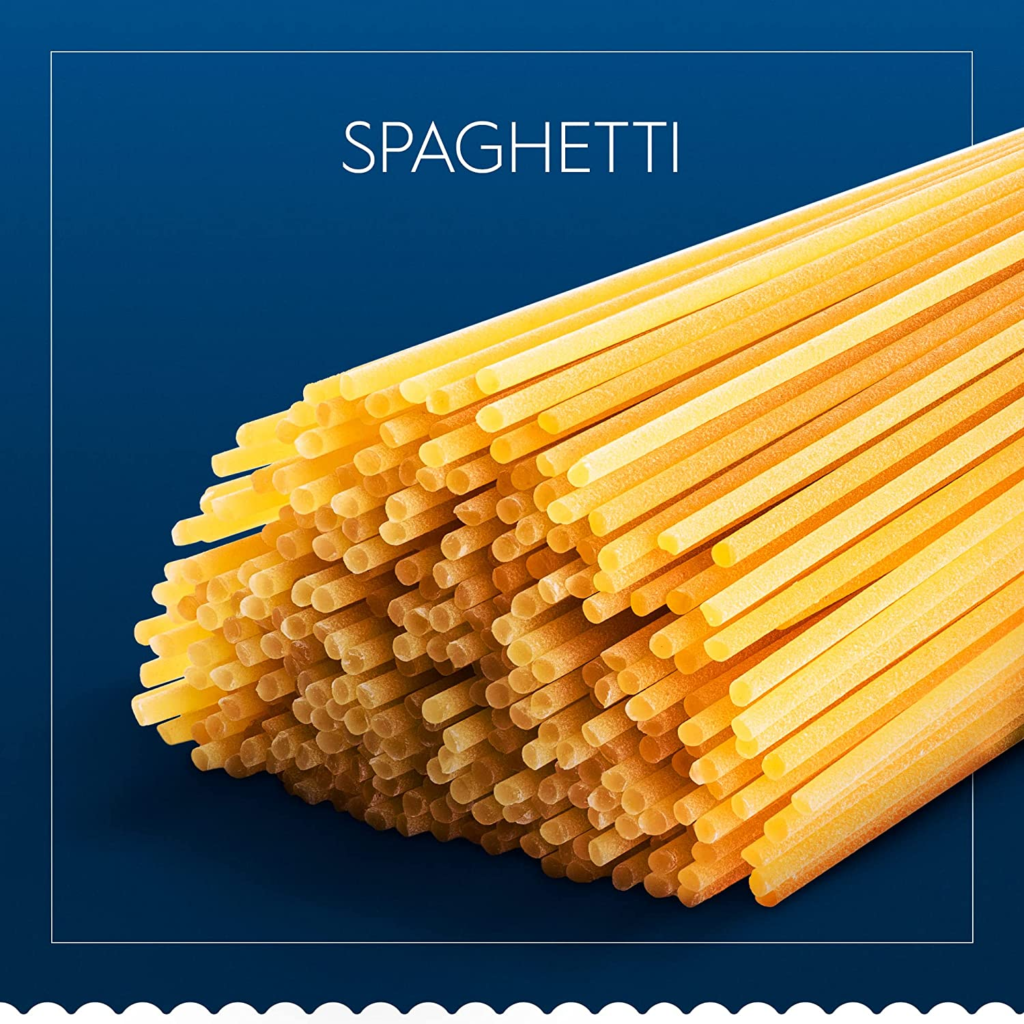 Easy Steps to Make Roasted Red Pepper Pesto Pasta
Let's embark on this culinary adventure together, shall we? Don't worry, I'll be your trusty guide on this journey to create our very own Roasted Red Pepper Pesto Pasta.
Step 1: Fire Up the Oven Kick off your culinary endeavor by preheating the oven to 450°F (232°C). It's going to be a hot ride for those peppers!
Step 2: Roast 'Em Red Peppers Place the red bell peppers on a baking sheet and slide them into the oven. Roast for about 25-30 minutes, rotating them occasionally until their skin is blistered and charred. Remember, beauty lies within, even for charred peppers!
Step 3: Pesto Party While your red bell peppers are getting their sauna treatment, throw your fresh basil, garlic, pine nuts, and parmesan cheese into a food processor. Drizzle in the olive oil, and blend until you have a smooth, fragrant pesto. Taste and adjust, this is your party after all.
Step 4: Pasta Time Now, get your pasta boiling in a large pot of salted water. Follow the instructions on the packet for al dente perfection. Drain well, but save a cup of pasta water for later.
Step 5: Pepper Prep By now, your peppers should be beautifully roasted. Remove them from the oven, let them cool down a bit, and then peel off the skin. Remove the seeds, slice them up and add them to your pesto. Give it a quick blend to incorporate those smokey flavors.
Step 6: Toss it Together Finally, toss your cooked pasta in the roasted red pepper pesto. If it's too thick, loosen up the sauce with a bit of the reserved pasta water.
And there you have it! Your homemade Roasted Red Pepper Pesto Pasta, straight from the streets of Miami to your dinner table. Don't forget to finish it off with a sprinkle of extra parmesan, or for our vegan friends, a dash of nutritional yeast. And remember, cooking is like love, it should be entered into with abandon or not at all!
Print
Roasted Red Pepper Pesto Pasta
Infuse your regular pasta night with a burst of flavor from this Roasted Red Pepper Pesto Pasta recipe. Featuring sweet, smoky red peppers blended with fresh basil, garlic, and pine nuts, this is a dish you won't forget!
Total Time:

55 minutes

Yield:

4

servings

1

x
2

red bell peppers

1

cup

fresh basil

2

cloves of garlic

1/3

cup

pine nuts

1/2

cup

extra virgin olive oil

1/2

cup

grated Parmesan cheese
Salt and pepper to taste

1

lb

pasta of your choice (penne or fusilli works great)
Instructions
Preheat your oven to 450°F (232°C) and place the red peppers on a baking sheet. Roast until the skins are completely wrinkled and the peppers are charred, about 30-40 minutes.
Remove from the oven and cover with foil for 10 minutes. This will help you peel off the skin easily. Once cooled, remove the skin, stem, and seeds.
In a food processor or blender, combine the roasted peppers, basil, garlic, pine nuts, olive oil, Parmesan, salt, and pepper. Blend until smooth.
Cook the pasta according to the package instructions until al dente. Drain and reserve some pasta water.
Toss the pasta with the pesto. Add a bit of pasta water if needed to get the right consistency.
Serve hot with some extra Parmesan on top. Enjoy!
Notes
For a nut-free version, replace pine nuts with sunflower seeds.
For a vegan version, use nutritional yeast or vegan Parmesan instead of regular Parmesan.
Author:

Jay Whyms

Prep Time:

15 minutes

Cook Time:

40 minutes

Category:

Main Course

Method:

Roasting, Boiling

Cuisine:

Italian

Diet:

Vegetarian
Keywords: Roasted Red Pepper Pesto Pasta, Italian Pasta Recipe, Vegetarian Pasta, Roasted Bell Pepper Pasta, Basil Pesto Pasta
Recipe Card powered by
Expert Insights on Roasting Red Peppers
Roasting red peppers can add an incredible depth of flavor to your dishes. But how can you perfect the art of roasting these vibrant vegetables? Let's turn to some expert advice from professional chefs and food enthusiasts.
1. Picking the Right Pepper: First things first, you have to start with the right kind of pepper. Choose firm, glossy peppers that feel heavy for their size. The smoother the pepper, the easier it will be to roast and peel.
2. Oven Roasting: Chefs recommend roasting at a high temperature. Preheat your oven to 450°F (232°C) and roast the peppers until the skin has charred. This helps in achieving that rich, smoky flavor we all love.
3. Turning for Even Roasting: During roasting, turn the peppers a few times to ensure they're evenly cooked. This step helps in easier peeling later and makes sure every part of the pepper gets that delicious char.
4. The Sweat Technique: Post-roasting, let the peppers rest in a sealed container or a bowl covered with plastic wrap. The steam trapped inside makes the skin easier to peel off.
5. Peeling and Seeding: Once cooled, gently peel the skin and discard the seeds. You might be tempted to rinse them, but resist! Rinsing can wash away some of the smoky flavor.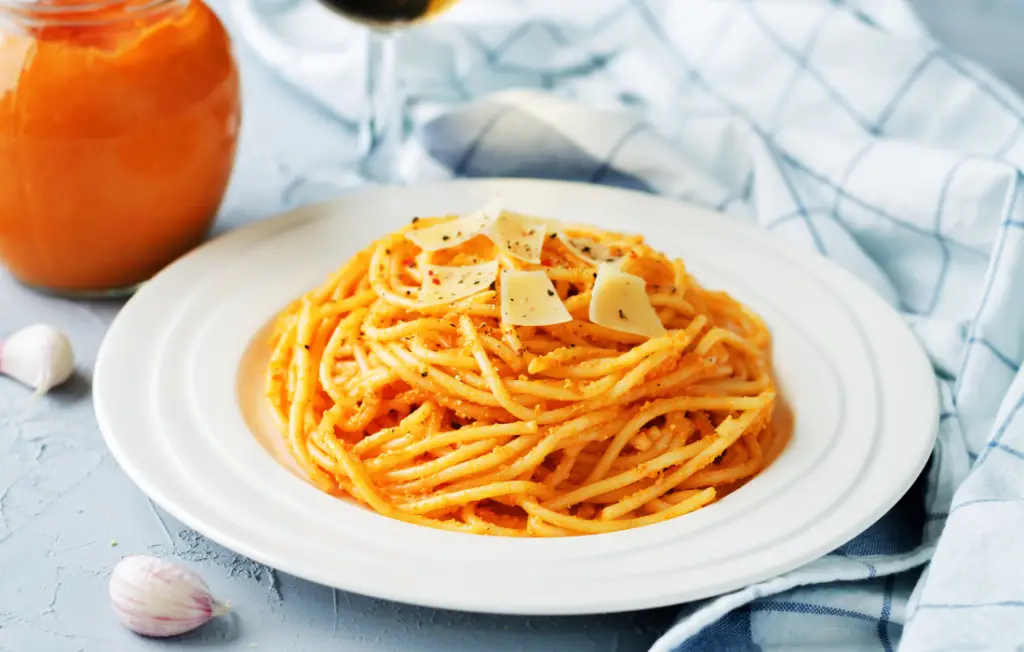 6. Storing Roasted Peppers: If not using immediately, submerge the roasted peppers in olive oil and refrigerate. They can last for up to two weeks, ready to add a smoky punch to your dishes anytime!
By following these expert tips, you can perfect your pepper roasting technique, adding that extra 'oomph' to your Roasted Red Pepper Pesto Pasta. Remember, it's these little nuances in cooking that make a world of difference in taste and flavor.
Ideal Beverage Pairings
To complete your gastronomic experience of the Roasted Red Pepper Pesto Pasta, the right beverage pairing is a must. Here's what the experts suggest:
1. White Wine: A crisp, aromatic white wine, such as a Sauvignon Blanc or Pinot Grigio, can perfectly complement the herbaceous and roasted flavors of this dish.
2. Red Wine: If you're a red wine lover, choose a light-bodied wine, like a Barbera or a Pinot Noir, which can stand up to the dish's robust flavors without overwhelming them.
3. Craft Beer: For the beer aficionados, opt for a Belgian-style Saison or a Wheat Ale. These beer styles offer a nice balance of fruitiness and spice that pairs well with the pesto.
4. Non-Alcoholic: A fresh basil lemonade or a sparkling water with a splash of pomegranate juice can provide a refreshing contrast to the rich flavors of the pasta.
5 "Toasty" Troubleshooting Tips
Creating this flavorful dish is all fun and games until something goes awry. Here are five "toasty" tips to keep your pasta adventure on the right track: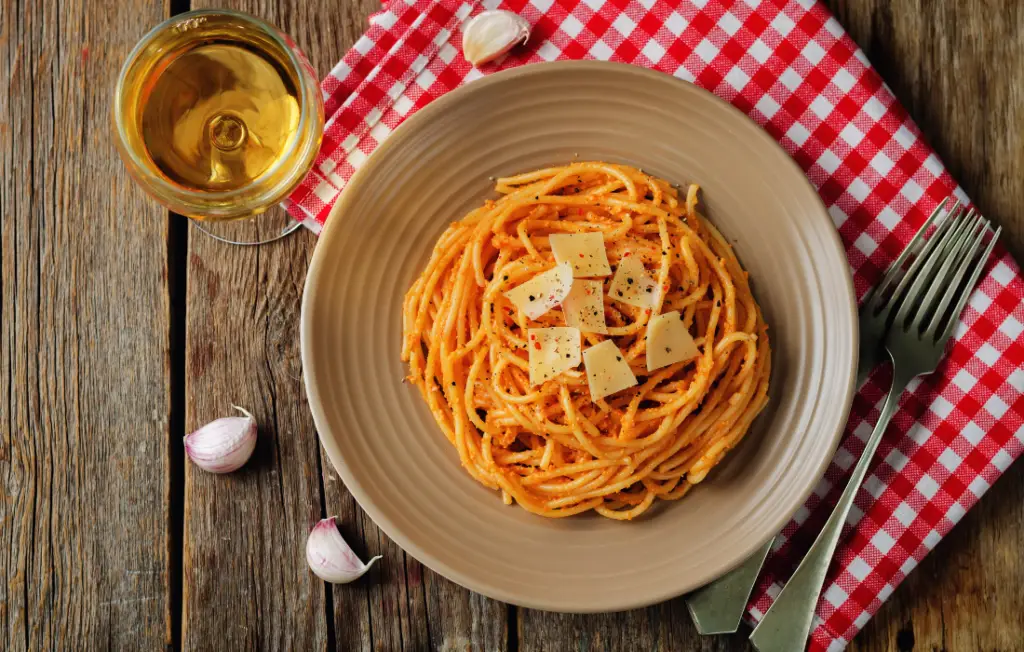 1. Burnt Bell Blues: If your peppers are more burnt than roasted, you've probably left them in the oven too long. Remember, we want them charred, not incinerated. Keep an eye on your oven!
2. Basil Blunder: Added too much basil to your pesto and now it's overwhelmingly herby? Balance it out by adding more pine nuts and olive oil. Remember, pesto is all about balance.
3. Pasta Problems: Overcooked your pasta? Next time, set a timer and taste your pasta a couple of minutes before the package instructions say it's done to ensure it's perfectly al dente.
4. Pesto Predicament: If your pesto is too runny, add more pine nuts or parmesan to thicken it up. Too thick? Drizzle in more olive oil.
5. Pepper Peeling Peril: Struggling to peel your roasted peppers? Next time, try the "sweat technique" I mentioned earlier. It works like a charm!
Remember, everyone makes mistakes in the kitchen. The key is to learn, adapt, and keep on cooking!
Making the Most of Leftover Roasted Red Pepper Pesto Pasta
Leftovers – the word might not sound too exciting, but wait until we add our twist to it. Here's how to transform your leftover Roasted Red Pepper Pesto Pasta into a brand new dish for your next meal.
1. Reheating Tips: The simplest option is to reheat your pasta. But before you reach for that microwave, hear me out. To prevent your pasta from drying out, try reheating it on the stove with a splash of water or olive oil. Warm it over low heat, stirring occasionally. It'll taste just as good as the day before, I promise!
2. Pesto Pasta Salad: If you're up for trying something new, turn your leftover pasta into a cold pasta salad. Add some cherry tomatoes, black olives, cucumber, and feta cheese to the mix. Toss it all together and voila! A quick and easy lunch is ready.
3. Pesto Pasta Soup: Turn your pasta into a heartwarming soup. Bring some vegetable broth to a simmer, add in your leftover pasta, throw in some veggies of your choice, and let it all simmer together. Perfect for a cozy night in!
4. Pasta Frittata: Why not take an Italian route for breakfast? Beat some eggs, add your leftover pasta, some cheese, and your choice of vegetables. Pour it all into a skillet and let it cook until firm. Breakfast is served!
The possibilities with leftover Roasted Red Pepper Pesto Pasta are virtually endless. With a bit of creativity, your leftovers will taste so good, you might even start making extra on purpose!
Can I Freeze Roasted Red Pepper Pesto Pasta?
Yes, you can freeze Roasted Red Pepper Pesto Pasta. It's best to freeze the pasta separately from the sauce, if possible. The pasta should be undercooked by a minute or two, so it doesn't become too soft when you reheat it.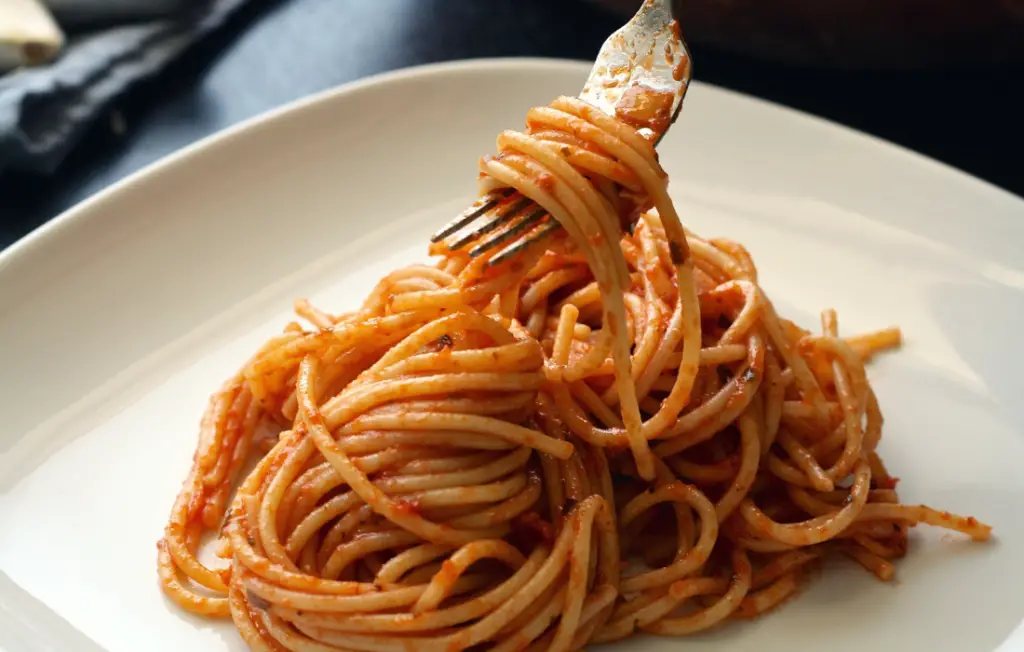 The pesto can be frozen in an airtight container. It's recommended to drizzle a little olive oil over the top before sealing to keep the pesto from browning.
When you're ready to eat, let both the pasta and pesto thaw in the refrigerator overnight. You can then reheat the pasta in boiling water for a minute or two and gently warm the pesto on the stove before combining. This method ensures the best taste and texture for your frozen Roasted Red Pepper Pesto Pasta.
Answers to Frequently Asked Questions
Roasted Red Pepper Pesto Pasta might raise a few questions, especially if you're making it for the first time. Let's address some common ones:
Can I Substitute Red Pepper in Pesto Pasta?
Absolutely! You can switch things up by using yellow or orange bell peppers for a slightly different flavor profile. If you're feeling adventurous, try it with a spicier variety like poblano peppers. Just remember, the taste will vary with the type of pepper used.
Is Roasted Red Pepper Pesto Pasta Vegan?
The traditional recipe isn't vegan due to the Parmesan cheese used in pesto. However, you can easily make it vegan by substituting Parmesan with nutritional yeast or vegan Parmesan.
Key Takeaways
Whipping up your own Roasted Red Pepper Pesto Pasta is not only a rewarding cooking experience but also a treat for your taste buds. Remember to choose the freshest ingredients for maximum flavor and don't shy away from personalizing the recipe. Pay attention to the roasting technique, as it can make or break the flavor of your dish. Finally, enjoy the process, because the heart of cooking lies not just in the dish you prepare, but in the joy of making it.
Bon Appétit!