As a long-time fan of Ina Garten and her Barefoot Contessa show on the Food Network, I've always admired her approach to cooking and entertaining. Her Sunday Rib Roast is no exception, and the dish has become one of my go-to recipes for special occasions. Want to know how it's done? Let's dive in.
To prepare Ina Garten's Sunday Rib Roast, first season the meat with a mixture of garlic, mustard, thyme, rosemary, kosher salt, and black pepper. Next, preheat your oven to 500°F and roast the meat for 30 minutes before lowering the temperature to 350°F. Cook the roast for another hour and a half or until a meat thermometer reads 125°F for medium-rare.
In this article, we'll walk you through the essential steps and expert tips for creating Ina Garten's mouthwatering Sunday Rib Roast, ensuring a memorable dining experience that combines rich flavors and elegant presentation for family and guests alike.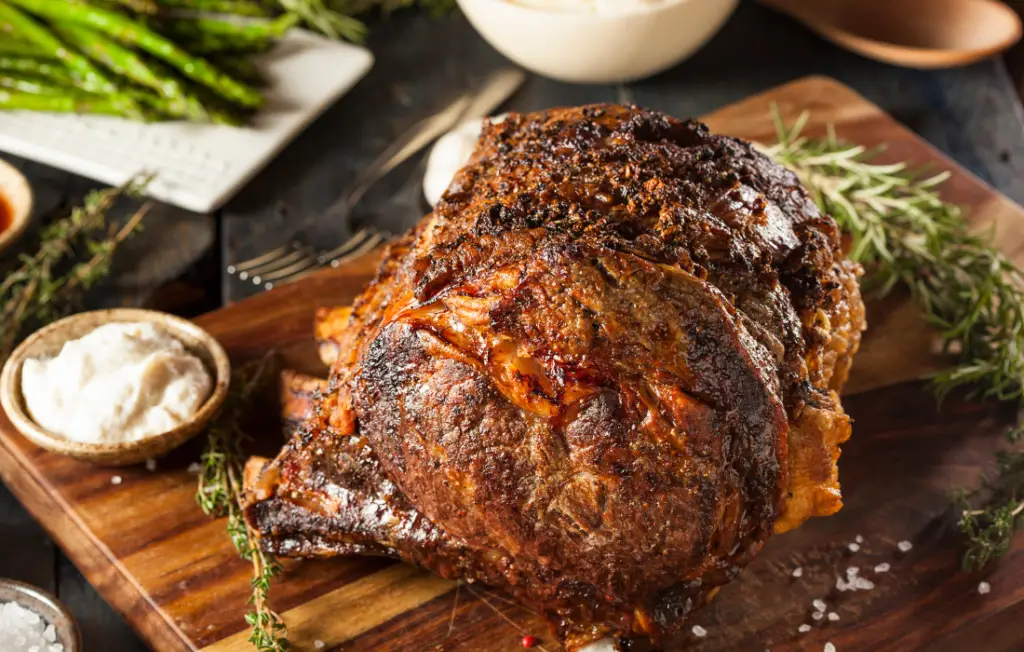 Ingredients for a Flavorful Sunday Rib Roast
To create the perfect Sunday Rib Roast that Ina Garten would be proud of, it's crucial to start with the right ingredients, ensuring a delicious and satisfying meal. Here's what you'll need:
Meat selection: Choose between a high-quality rib eye or prime rib (ideally 5-7 pounds) as the centerpiece of your dish.
Seasonings:

3 cloves minced garlic
3 tablespoons Dijon mustard
1 tablespoon fresh thyme leaves
1 tablespoon chopped fresh rosemary
2 teaspoons kosher salt
1 teaspoon freshly ground black pepper

Additional components:

Horseradish sauce for serving (store-bought or homemade)
Red wine to deglaze the pan and create a rich sauce (such as a Cabernet Sauvignon or Merlot)
Preparing & Cooking the Rib Roast
Let's walk through the essential steps for prepping and cooking this showstopping centerpiece.
Marinating and seasoning the meat: Start by combining the minced garlic, Dijon mustard, fresh thyme leaves, chopped rosemary, kosher salt, and black pepper in a small bowl. Then, generously coat the rib roast with this flavorful mixture, making sure to cover all sides. You can marinate the meat for a few hours or even overnight for maximum flavor.
Resting the meat before roasting: Remove the rib roast from the refrigerator and let it sit at room temperature for about 30 minutes before roasting. This step ensures even cooking and a more tender result.
Preheat oven and cooking temperature: Preheat your oven to 500°F. Place the seasoned rib roast on a rack in a roasting pan, bone-side down. Roast the meat at 500°F for 30 minutes, then reduce the oven temperature to 350°F and continue roasting until a meat thermometer reads 125°F for medium-rare doneness (approximately 1.5 hours for a 5-7 pound roast).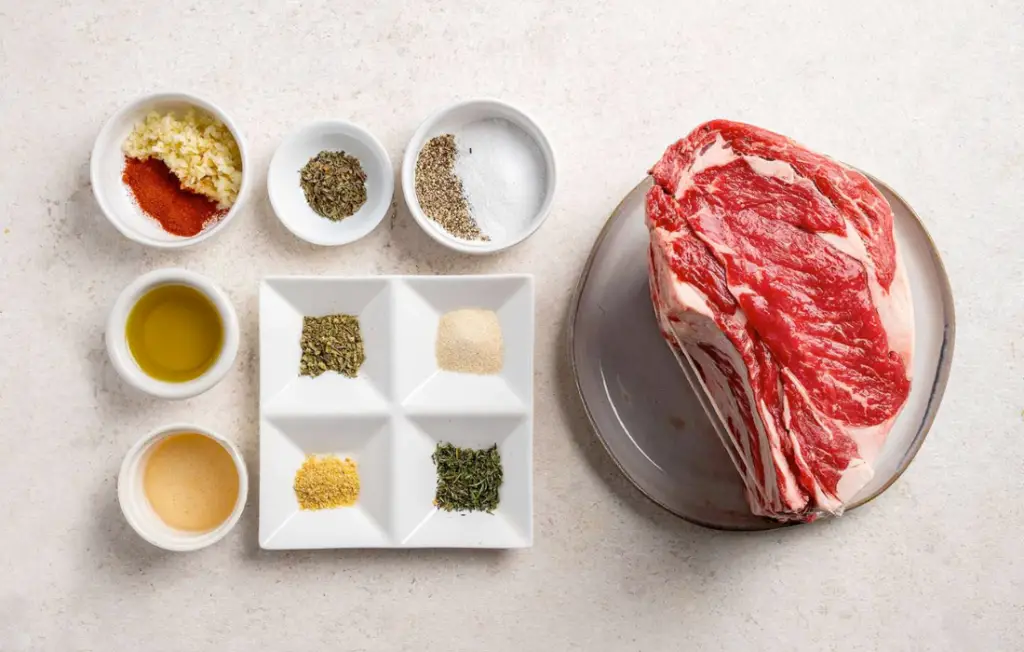 Choosing the Right Meat
Picking the perfect cut of meat is essential when it comes to making Ina Garten's Sunday Rib Roast a success. So let's break down your options and find the ideal cut for your feast.
Best meat cuts for Sunday roast: For a truly tender and flavorful roast, opt for either a rib eye or prime rib cut. Both cuts have excellent marbling and flavor, making them the ideal choices for a roast. Rib eye is slightly more marbled, whereas prime rib has a larger central eye of meat and a cap of fat that adds extra flavor during roasting.
Tips for selecting quality beef:

Look for a bright, cherry-red color and avoid meat that appears dull or grayish.
Check for even marbling throughout the cut, as the fat provides both flavor and moisture.
Aim for USDA Choice or Prime grades, as these indicate superior quality and tenderness.
When possible, choose a roast with the bone still attached, as it promotes more even cooking and enhances the overall flavor.
Consider buying your meat from a local butcher or farmer's market for the freshest, most ethically sourced options.
Nutritional Breakdown of Ina Garten's Sunday Rib Roast
Wondering about the nutritional content of this mouthwatering rib roast? Well, let's break it down, so you can enjoy your meal without feeling guilty. Keep in mind that these values are approximate, and they can vary depending on the cut of meat, serving size, and any modifications you make to the recipe.
For a standard serving size of Ina Garten's Sunday Rib Roast (about 6 ounces of cooked meat):
Nutrition Facts
| | |
| --- | --- |
| Serving Size | 6 oz |
| Calories | 450 |
| Protein | 35g |
| Carbohydrates | 1g |
| Fat | 34g |
| Vitamins & Minerals | Iron, Zinc, B-Vitamins |
Calories: Around 450 calories, which isn't too shabby for a decadent main course.
Protein: About 35 grams, providing an excellent source of muscle-building, hunger-busting protein.
Carbohydrates: Roughly 1 gram, making this dish perfect for those watching their carb intake.
Fat: Approximately 34 grams of fat, with a mix of both saturated and unsaturated fats. While the rib roast does have some fat content, it's worth remembering that fat adds flavor and helps keep the meat tender and juicy.
Vitamins and minerals: Rib roast contains a good amount of iron, zinc, and B-vitamins, all of which are essential for overall health and well-being.
Of course, don't forget to factor in the nutritional values of your chosen side dishes and any extras, like sauces or glazes. And as always, balance is key – enjoy your rib roast alongside a variety of colorful veggies and whole grains for a well-rounded, satisfying meal.
Print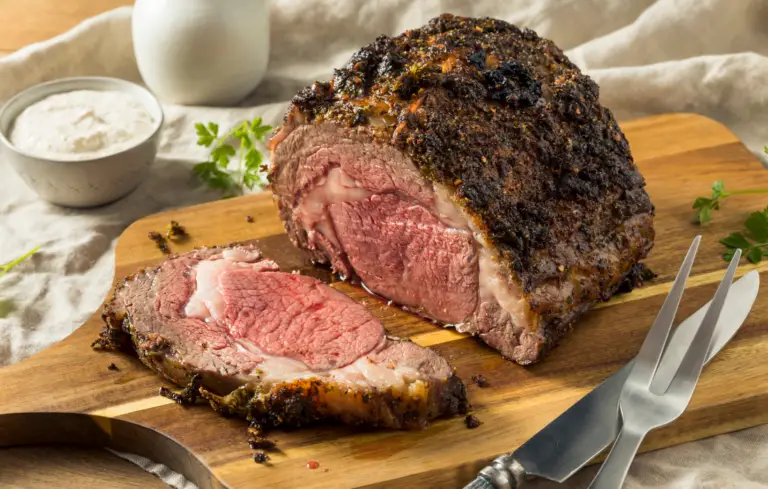 Ina Garten's Sunday Rib Roast
Indulge in Ina Garten's delectable Sunday Rib Roast, a mouth-watering dish seasoned to perfection and roasted to create a tender and juicy centerpiece for any family gathering or special occasion.
Total Time:

2 hours

Yield:

6

servings

1

x
1

(4 to 5-pound) standing rib roast

4

cloves garlic, minced

2 tablespoons

Dijon mustard

2 tablespoons

fresh rosemary leaves, minced

2 tablespoons

fresh thyme leaves, minced

2 tablespoons

kosher salt

1 tablespoon

freshly ground black pepper

1/4

cup

olive oil
Instructions
Preheat the oven to 500°F.
In a small bowl, mix garlic, mustard, rosemary, thyme, salt, pepper, and olive oil to create the seasoning paste.
Pat the rib roast dry with paper towels, then generously coat it with the seasoning paste, ensuring it's evenly spread on all sides.
Place the roast, rib side down, in a roasting pan and roast for 30 minutes.
Reduce the oven temperature to 325°F and continue roasting for about 1 to 1 1/2 hours, until the internal temperature reaches 125°F for medium-rare or 135°F for medium.
Remove the roast from the oven, cover it loosely with aluminum foil, and let it rest for 20 minutes before carving.
Notes
Adjust the cooking time for your preferred level of doneness.
Pair with complementary side dishes and a bold red wine for a complete meal.
Author:

Jay Whyms

Prep Time:

15 minutes

Cook Time:

1 hour 45 minutes (approximately)

Category:

Main Course

Method:

Roasting

Cuisine:

American

Diet:

Gluten Free
Keywords: Ina Garten, Sunday Rib Roast, rib roast recipe, standing rib roast, prime rib, beef roast
Recipe Card powered by
Perfect Side Dishes to Complement Your Rib Roast
With your scrumptious rib roast taking center stage, it's time to think about the supporting cast: the side dishes that will harmonize with and elevate your main course to create an unforgettable meal.
Ina Garten's favorites: The Barefoot Contessa herself has a few side dish recommendations to pair with a rib roast. Some of her popular choices include garlic mashed potatoes, green beans gremolata, and her famous mac and cheese. These classic comfort foods complement the rich flavors of the roast beautifully.
Customizing side dishes for fusion flavors: Want to add a unique twist to your dinner table? Try incorporating some fusion elements into your side dishes. For example, serve the roast with a flavorful chimichurri sauce or zesty cilantro-lime rice. You could even opt for a sesame-crusted asparagus or Asian-inspired glazed carrots.
Vegetables, starches, and other accompaniments: Balance your meal with a variety of vegetables and starches. Consider roasted Brussels sprouts, sautéed spinach, or a colorful mixed vegetable medley. For starches, think beyond the typical mashed potatoes – try creamy polenta, risotto, or a savory bread pudding. And don't forget the horseradish sauce and a rich red wine jus to round out the flavors!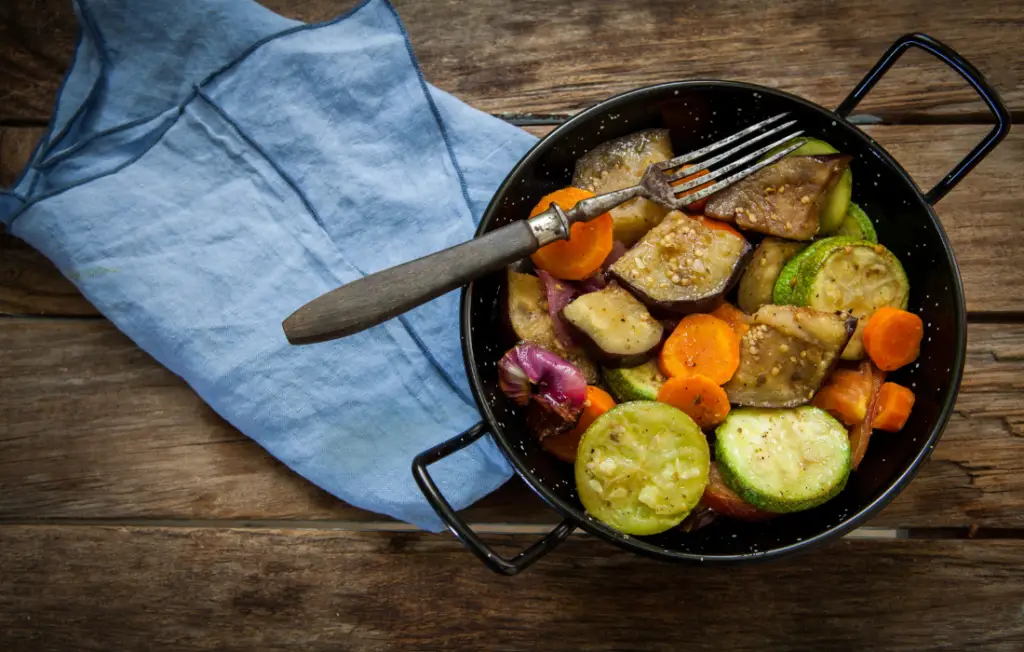 Expert Insights to Elevate Your Sunday Rib Roast
Let's take your rib roast to the next level with some expert tips and advice from renowned professional chefs and food experts. Implementing these techniques can help enhance the dish, ensuring that your Ina Garten-inspired Sunday Rib Roast is a hit.
Searing the roast: Chef Thomas Keller suggests searing the roast on all sides in a hot skillet before roasting. This step helps to develop a beautiful crust and lock in the meat's natural juices.
Herb brush for basting: Food Network's chef Bobby Flay recommends creating an herb brush by tying sprigs of rosemary and thyme together with kitchen twine. Use this brush to baste the roast with melted butter or oil during the cooking process, adding an extra layer of flavor.
Monitoring internal temperature: Chef Alton Brown emphasizes the importance of using a meat thermometer to monitor the internal temperature of the roast to achieve perfect doneness. Insert the thermometer into the thickest part of the meat, avoiding any bone, to get an accurate reading.
Wine Pairing with Rib Roast
Wine pairings can elevate the dining experience by complementing and enhancing the flavors of a dish. When it comes to Ina Garten's Sunday Rib Roast, bold red wines with good structure and balance work best to cut through the rich, fatty flavors of the roast. Here are some specific red wines to consider, along with explanations of why these particular wines work well with rib roast:
| Wine | Explanation |
| --- | --- |
| Cabernet Sauvignon | A classic pairing for rib roast, Cabernet Sauvignon is full-bodied with rich dark fruit flavors and firm tannins that cut through the richness of the meat. |
| Merlot | Merlot's velvety texture and medium body make it a great option to complement the rib roast without overpowering it. The wine's plum and cherry notes also work well with the roast's savory flavors. |
| Malbec | This Argentinian favorite has bold fruit flavors and moderate tannins that make it an excellent choice for pairing with rib roast. Its hints of spice add an extra dimension to the dish. |
| Zinfandel | Zinfandel's robust fruit flavors and spice notes create a harmonious balance with the rich, savory taste of the rib roast. Its moderate tannins also help to cut through the fat of the dish. |
| Syrah/Shiraz | Known for its dark fruit flavors, earthy notes, and firm tannins, Syrah or Shiraz pairs well with the bold flavors of rib roast. Its peppery undertones complement the roast's herbs and seasonings. |
The Art of Hosting a Memorable Dinner Party
Ah, the joys of hosting a dinner party! It's not just about the mouth-watering food, but also about creating an unforgettable atmosphere that leaves your guests raving for weeks. Let's dive into some essentials for hosting a dinner party your friends won't stop talking about.
Table settings and presentation: Elevate your table with a well-thought-out setting that reflects your style and the occasion. Choose the right tableware, linens, and centerpiece to create a cohesive and visually appealing tablescape. Remember, we eat with our eyes first!
Balancing the menu: While Ina Garten's Sunday Rib Roast is the star of the show, carefully select complementary side dishes, appetizers, and desserts that balance flavors and textures. Offer some lighter options alongside the rich roast to ensure a satisfying yet well-rounded dining experience.
Pairing your roast with the perfect red wine: A dinner party is incomplete without the right wine to enhance your rib roast's flavors. As we mentioned earlier, robust red wines like Cabernet Sauvignon, Merlot, Malbec, Zinfandel, and Syrah/Shiraz are fantastic choices. Impress your guests with your expert pairing skills and watch them savor every sip!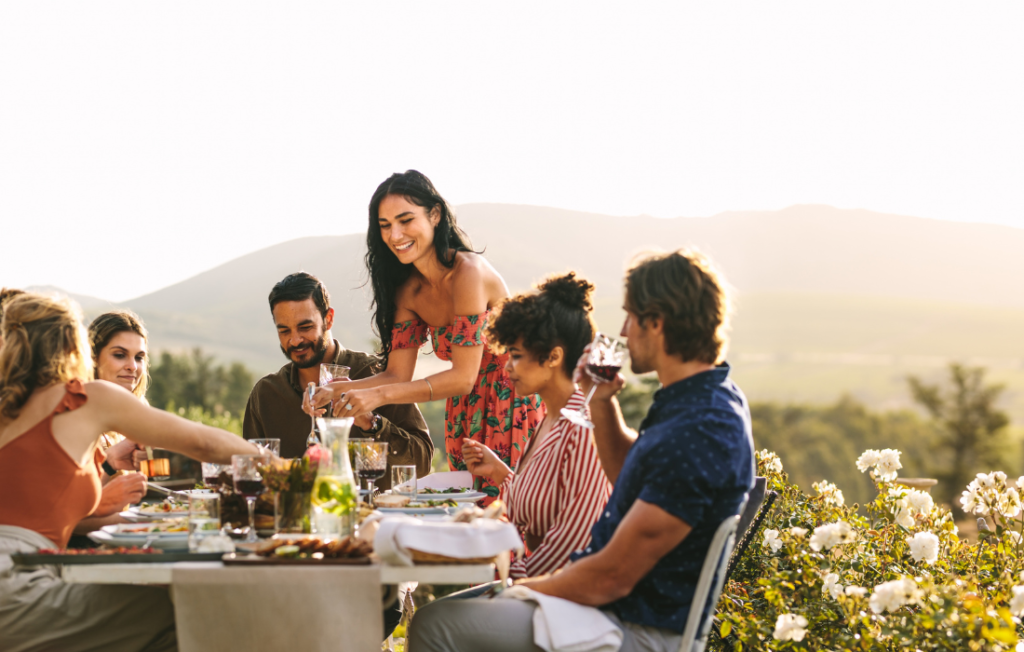 Final Thoughts on Ina Garten's Sunday Rib Roast
Ina Garten's Sunday Rib Roast is more than just a delicious dish; it's a catalyst for bringing loved ones together and creating cherished memories around the dinner table. The flavorful roast, perfectly seasoned and cooked to perfection, can quickly become a new family tradition, eagerly anticipated by everyone.
There's something special about sharing good food with the people who matter most to us. The laughter, the conversations, and the warm sense of togetherness – all these make the hard work that goes into preparing the perfect Sunday Rib Roast truly worth it. So go ahead, gather your family and friends, and treat them to Ina Garten's iconic roast. They'll be talking about it for years to come!