Have you ever tasted something so divine on vacation that it inspired you to replicate it at home? That's precisely what happened to me on a recent trip to Orlando. The star of the show? A succulent, aromatic Chinese-style slow cooker roast duck legs.
Preparing Chinese-style slow cooker roast duck legs requires careful attention to detail. First, season the duck legs with kosher salt and black pepper. Sear them skin side down in a hot cast iron skillet for about 10-15 minutes until they achieve a golden-brown color. Transfer the legs to a slow cooker and cover them with a mixture of orange juice, white wine, and chicken stock. Cook them on low for approximately six hours until the meat is tender and flavors well-absorbed.
In this comprehensive guide, we're venturing into the captivating world of Chinese-style slow cooker roast duck legs. From precise preparation steps to expert tips, wine pairings, and troubleshooting advice, we will equip you with everything you need to recreate this gastronomic delight right in your own kitchen. Whether you're a seasoned cook or an adventurous beginner, let's embark on this culinary journey to transform your everyday meals into a dining experience reminiscent of exotic vacations.
Chinese Style Duck Legs 
Chinese-style duck, with its long history, is renowned for its unique flavor profile, carefully enhanced with aromatic spices and sauces. The key characteristic lies in achieving the perfectly crispy skin, contrasting with tender, succulent meat underneath. The principles behind this balance of textures and flavors guide the preparation of dishes like Chinese-style slow cooker roast duck legs, which we'll explore further in this guide.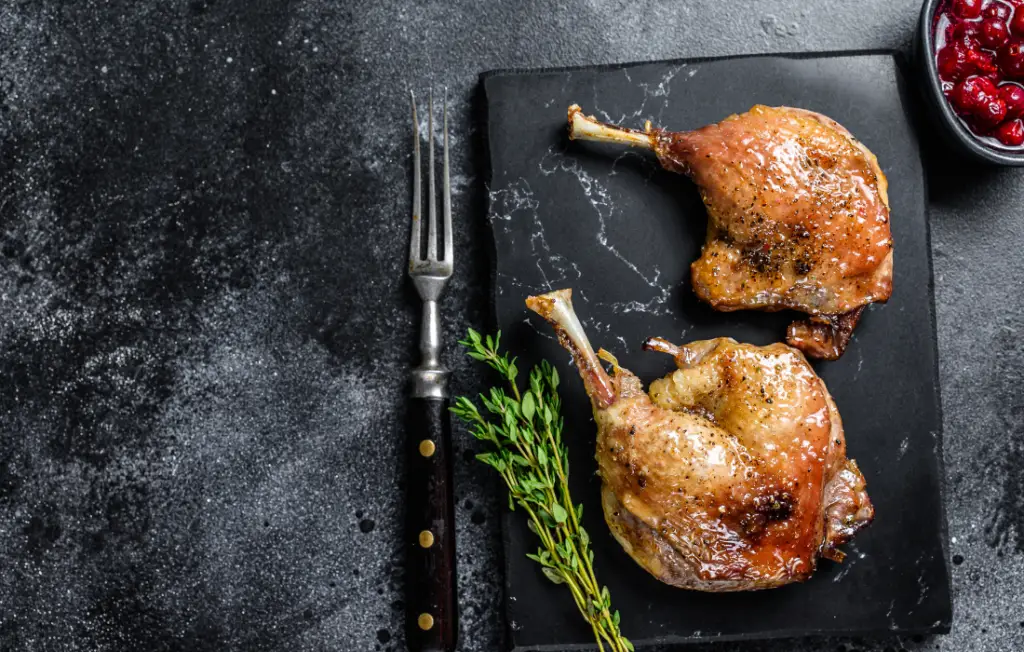 Troubleshooting Common Issues
Cooking Chinese-style slow cooker roast duck legs may pose a few challenges, especially if it's your first attempt.
One common issue is getting the skin side crispy without overcooking the meat. To overcome this, ensure the skin is thoroughly dried and seasoned before it goes skin-side down into the hot skillet. This step encourages fat rendering and crisping at medium heat.
Another common problem is balancing the cooking time when dealing with too-tired-to-cook mode. A slow cooker allows you to let the duck legs cook slowly over several hours without needing constant attention. If your schedule doesn't permit this, consider marinating the duck overnight and setting the slow cooker the next day when you have more time.
Wine Pairing Recommendations
When pairing wine with Chinese-style slow cooker roast duck legs, the rich flavor profile of the dish should guide your choice.
The dish's robust, savory, and slightly sweet characteristics lend themselves well to red wines with similar notes. A full-bodied Pinot Noir, with its rich red fruit flavors, slight earthiness, and subtle sweetness, could be a fantastic match. Alternatively, a Grenache or a Merlot, known for their balanced tannins and dark fruit flavors, can also complement the dish well.
Remember, the ideal wine pairing enhances both the meal and the wine, creating a harmonious dining experience.
Required Ingredients and Equipment
To prepare Chinese-style slow cooker roast duck legs, you will need:
Ingredients:
4 duck leg quarters
Kosher salt, to taste
Freshly ground black pepper, to taste
1 cup of orange juice
1 cup of white wine
2 cups of chicken stock
Your choice of Chinese spices (e.g., star anise, cinnamon, Sichuan peppercorns)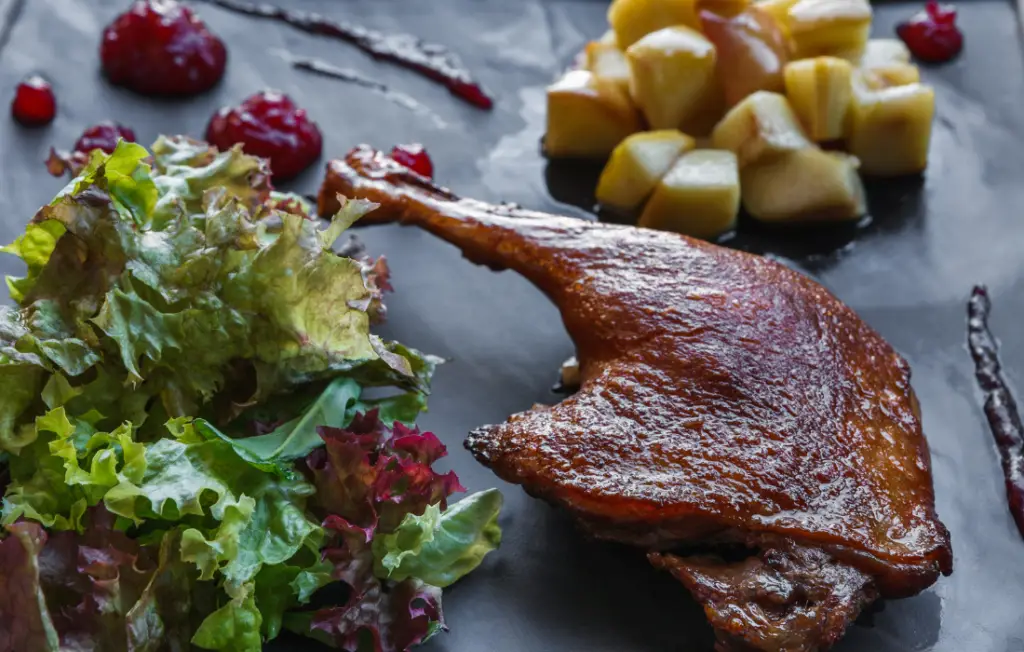 Equipment:
A cast iron skillet
A slow cooker
Tongs
A measuring cup
Ingredient Substitutions Comparison Table:
| Ingredient | Substitution |
| --- | --- |
| Duck leg quarters | Chicken leg quarters |
| Orange juice | Apple juice |
| White wine | Apple cider vinegar |
| Chicken stock | Vegetable stock |
Note: Although the substitutions can alter the flavor profile of the dish, they provide viable alternatives if you're unable to source the original ingredients or have specific dietary preferences.
Step-by-Step Cooking Guide
Making Chinese-style slow cooker roast duck legs is a rewarding culinary project, requiring a balance of patience and precision. Let's dive into the detailed process:
First, season the duck leg quarters with kosher salt and freshly ground black pepper. Make sure to rub the seasonings well into the skin and meat.
Heat your cast iron skillet over medium-high heat. Once hot, add the duck legs, skin side down. Cook until the skin turns a beautiful golden brown color, which typically takes about 10-15 minutes. This step is crucial for achieving that coveted crispy skin.
Transfer the browned duck legs to your slow cooker.
In a separate bowl, mix together the orange juice, white wine, and chicken stock. Pour this mixture over the duck legs in the slow cooker.
Set your slow cooker on low and let it do its magic. The cooking time is about 6 hours, but it may vary slightly depending on your slow cooker. You'll know it's done when the duck meat is tender and falls off the bone easily.
Print
Roast Duck Legs Chinese-Style (Slow Cooker)
Savor the taste of perfectly slow-cooked Chinese-style roast duck legs. This delicious main dish offers a balance of crispy skin and tender meat, imbued with flavors from a harmonious blend of oriental spices and a delightful citrus kick from orange juice. Serve it with a side of new potatoes or simple green salad for a complete meal.
Total Time:

6 hours 15 minutes

Yield:

4

1

x
4

duck leg quarters
Kosher salt, to taste
Freshly ground black pepper, to taste

1

cup

of orange juice

1

cup

of white wine

2

cups

of chicken stock
Your choice of Chinese spices (e.g., star anise, cinnamon, Sichuan peppercorns)
Instructions
Season the duck leg quarters with kosher salt and pepper.
Heat a cast iron skillet over medium-high heat and sear the duck legs until golden brown.
Transfer the duck legs to the slow cooker.
Mix the orange juice, white wine, and chicken stock, and pour over the duck legs.
Slow cook on low heat for approximately 6 hours, or until the meat is tender and falls off the bone.
Notes
Consider pairing this dish with a full-bodied red wine to enhance its rich flavors.
The duck legs can be seared a day in advance and refrigerated, reducing the preparation time on the day of cooking.
Author:

Jay Whyms

Prep Time:

15 minutes

Cook Time:

6 hours

Category:

Main Dish

Method:

Slow Cooker

Cuisine:

Chinese

Diet:

Gluten Free
Keywords: Chinese-style roast duck legs, slow cooker, duck leg quarters, tender duck meat, crispy skin, medium-high heat, golden brown, cast iron skillet
Recipe Card powered by
Expert Tips and Tricks
Cooking this dish is as much an art as it is a science. Here are some expert insights from professional chefs:
The key to golden brown, crispy skin lies in the initial sear. Cook the duck legs skin side down in a hot skillet until the fat is rendered, and the skin becomes crisp. Don't rush this step; good things take time.
Keep an eye on your rendered fat. Too much can lead to an overly greasy dish. If the fat is accumulating in your skillet during the searing process, carefully pour off the excess.
If you find the cooking time daunting, remember that slow and low is the secret to tender duck meat. Using a slow cooker allows the flavors to meld together beautifully, making the waiting game worth it.
Seasonal Variations
Our Chinese-style slow cooker roast duck legs recipe can be wonderfully adapted according to the seasons, offering fresh experiences throughout the year.
In the winter months, consider using wild ducks, which are often in season and offer a gamey twist to the dish. A root vegetable mash or a side of roasted Brussels sprouts could accompany it beautifully.
As you transition into spring and summer, new potatoes make a light, seasonal accompaniment. You might also consider adding a squeeze of lime for a hint of freshness, perfectly suited to warmer weather.
In the fall, consider serving the duck with a hearty savoy cabbage stir-fry or a warm fennel salad to match the season's earthy flavors.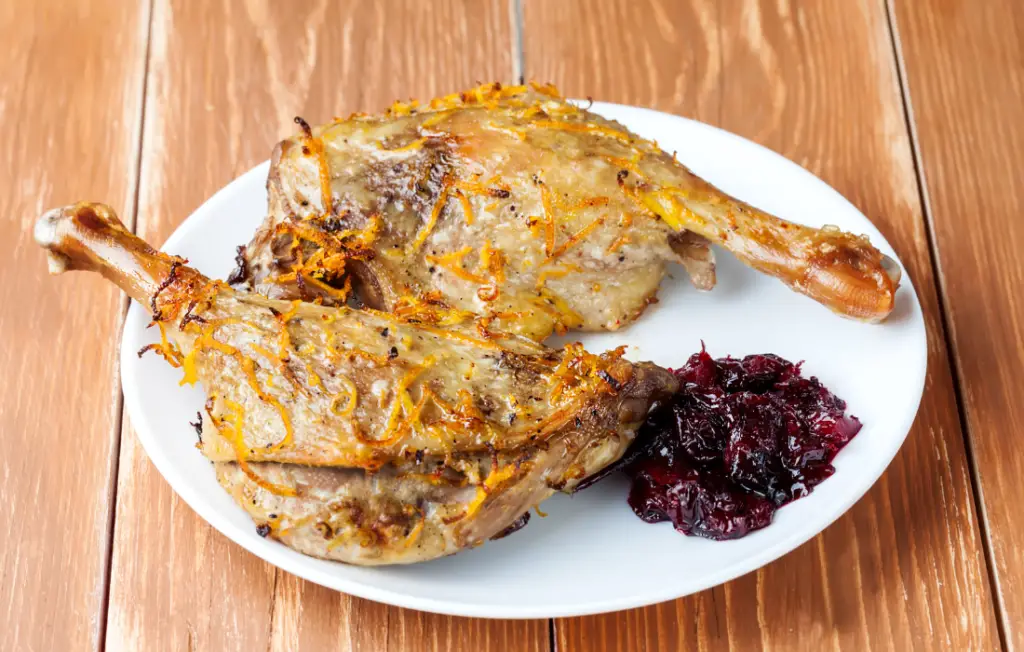 Dietary Adaptations
Even though our recipe is geared towards those who enjoy a rich, meaty main dish, there are several ways it can be adapted for different dietary needs.
For those focused on weight loss, consider reducing the portion size and pairing the duck with a simple green salad. Duck is rich and satiating, meaning a smaller portion can still be incredibly satisfying.
If you're serving the dish for a special occasion and have guests with dietary restrictions, consider using a gluten-free soy sauce or cooking wine. Always ensure your chicken stock is suitable for your guests' dietary needs, as some may contain gluten or other allergens.
Remember, food is about enjoyment, so don't hesitate to adjust the recipe according to your needs and preferences.
Frequently Asked Questions
Can you overcook duck legs?
While it's difficult to overcook duck legs in a slow cooker due to the low, consistent heat, it is possible. Overcooking can make the meat dry and less flavorful. Monitor the cooking time closely and check for doneness at regular intervals to avoid this.
Why do duck legs take so long to cook?
Duck legs are tougher and have more connective tissue than the breast. This tissue needs to be slowly broken down through long, slow cooking methods, such as using a slow cooker, to achieve a tender result.
Why is my duck leg tough?
If your duck leg is tough, it's likely that it hasn't been cooked long enough to break down the connective tissue. Try extending the cooking time, ensuring the heat is low and consistent.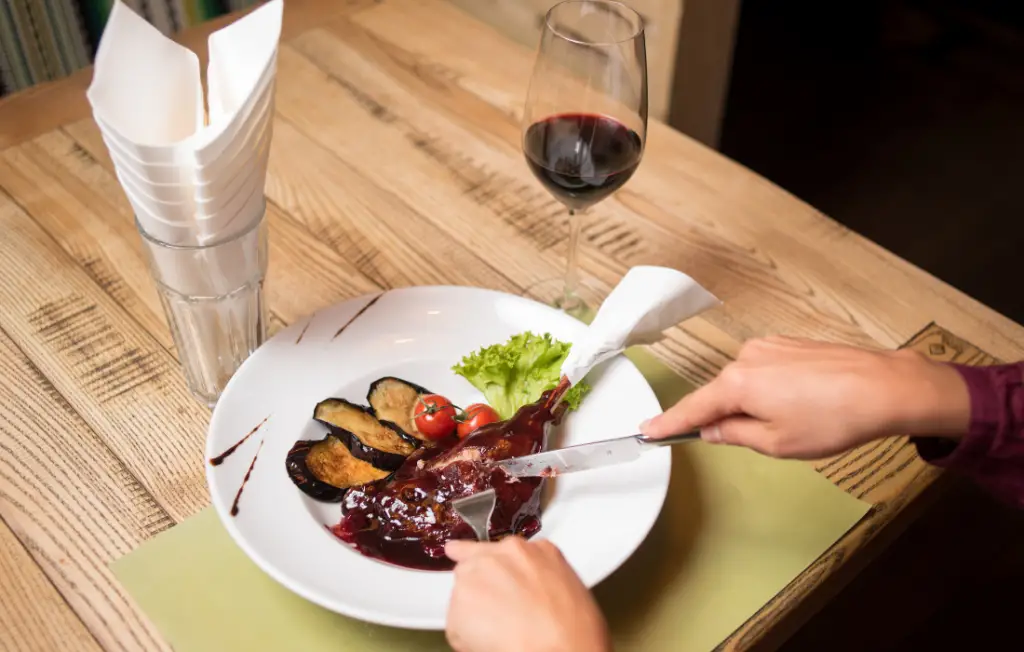 Can you overcook roast duck?
Yes, like any poultry, duck can become dry and tough if overcooked. It's important to control the cooking time and temperature to ensure a moist and tender roast duck.
How can I make confit duck legs in a slow cooker?
You can easily adapt this recipe for confit duck legs. Instead of using a mixture of orange juice, white wine, and chicken stock, you would cook the duck legs slowly in their own rendered fat. The rest of the cooking process and time would be similar.
How do I get a crispy duck using a slow cooker?
For a crispy duck, you'll need to finish the duck legs in an oven or a skillet after slow cooking. Once the duck legs are tender, transfer them to a hot oven or skillet to crisp up the skin before serving. This extra step gives you that beautiful crispy skin while keeping the meat juicy and tender.
Conclusion
Bringing it all together, the allure of Chinese-style roast duck legs slow-cooked to perfection can't be overstated. It's a culinary journey that not only delights the taste buds but also teaches us patience and the value of slow, careful cooking.
When done right, it yields a dish that boasts a flavor profile similar to the luxurious duck confit but without the intimidating technique. You get the crispy skin, tender meat, and a symphony of flavors all from the convenience of your slow cooker.
Sure, duck has a lot of fat, but that's part of its charm. The rendered fat is not something to be feared, but rather, it should be embraced. It's this fat that keeps the duck meat juicy and flavorful, and you can use it later for cooking vegetables or potatoes.
So next time you're in the mood for a culinary project or want to make a special meal for an occasion, consider making these Chinese-style roast duck legs. Pair them with your choice of sides and a glass of wine, and you'll have a gourmet meal right at home. Happy cooking!