Ever tried roasting beets, then pairing them with goat cheese and walnuts for an exquisite fusion? I remember the first time I did, inspired by the rich culture of the Bahamas, the redness of the beets dancing with the creaminess of the cheese, the crunch of the walnuts adding the perfect finish. But, I thought, there's got to be a better way to truly allow these flavors to shine, right?
First, preheat your oven to 375 degrees Fahrenheit, while you peel and cut the beets into wedges. Arrange them on a baking sheet, drizzle with olive oil, season with salt and pepper, and roast for about 30-40 minutes until tender. Meanwhile, lightly toast the walnuts on a pan over medium heat for about 5 minutes. To assemble, layer the roasted beets, crumbled goat cheese, and toasted walnuts on a platter, drizzle with your favorite balsamic reduction, and voila! Your roasted beets with goat cheese and walnuts are ready to serve.
In this article, we're embarking on a culinary adventure, marrying the earthy flavors of roasted beets with the tanginess of goat cheese and the crunchiness of walnuts. We'll delve into detailed preparation instructions, expert insights, and even ways to adapt this delightful dish to suit your dietary needs or preferences. So, tighten your apron, and prepare to get toasted and roasted, as we guide you through this flavorful fusion that's both nutritious and easy to whip up.
Print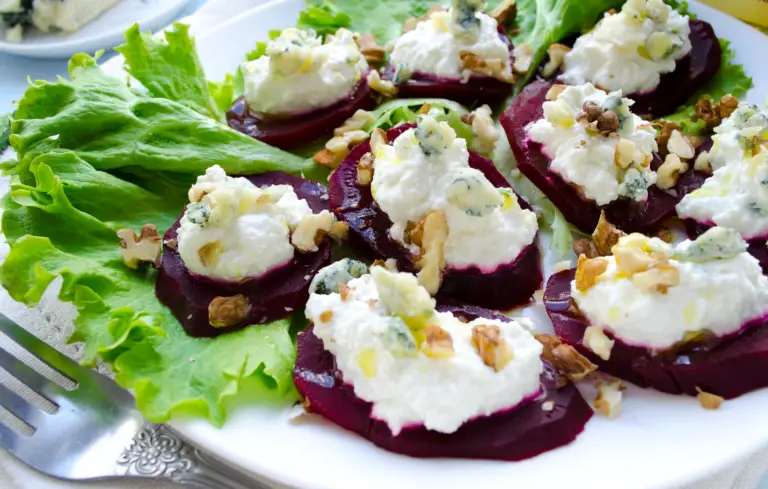 Roasted beets with goat cheese and walnuts
This delightful fusion of roasted beets, creamy goat cheese, and crunchy walnuts is a versatile side dish that brings together the earthiness of beets with a delightful tang and crunch.
Total Time:

55 minutes

Yield:

6

1

x
6

medium beets, peeled and cut into wedges

2 tablespoons

olive oil
Salt and pepper to taste

1

cup

of goat cheese, crumbled

1/2

cup

of walnuts, toasted
Balsamic reduction for drizzling
Instructions
Preheat your oven to 375 degrees Fahrenheit.
Arrange the beet wedges on a baking sheet, drizzle with olive oil, and season with salt and pepper.
Roast the beets in the preheated oven for about 30-40 minutes until they are tender.
In the meantime, toast the walnuts on a pan over medium heat for about 5 minutes.
To assemble, layer the roasted beets, crumbled goat cheese, and toasted walnuts on a platter. Drizzle with your favorite balsamic reduction before serving.
Equipment Needed To Make This Recipe
To prepare Roasted Beets with Goat Cheese and Walnuts, you'll need the following equipment:
Oven: Essential for roasting the beets.
Baking Sheet: To lay out the beets for roasting.
Vegetable Peeler: To peel the skin off the beets.
Knife: For cutting the beets into wedges.
Cutting Board: To safely cut the beets.
Mixing Bowl: To toss the beets in olive oil and seasoning.
Stovetop or Pan: To toast the walnuts.
Spatula or Tongs: Useful for turning the walnuts while toasting and for removing the roasted beets from the oven.
Platter: For assembling and serving the dish.
Measuring Cups and Spoons: For accurate measurement of ingredients.
Notes
Feel free to experiment with different types of cheese or nuts.
For a vegan option, you can substitute the goat cheese with vegan cheese.
Author:

Jay Whyms

Prep Time:

15 minutes

Cook Time:

40 minutes

Category:

Side Dish

Method:

Roasting

Cuisine:

Fusion

Diet:

Vegetarian
Keywords: Roasted Beets, Goat Cheese, Walnuts, Healthy Sides, Nutritious Meals, Vegetarian Dish, Roasting Vegetables, Easy Recipes, Comfort Food
Recipe Card powered by
Expert Insights: Enhancing the Dish
As a home cook who's been fortunate to connect with professional chefs and food enthusiasts over the years, I've gathered some valuable tips to elevate this roasted beets with goat cheese and walnuts recipe:
Balance of Flavor: Chef Carla from Paris recommends balancing the earthy taste of beets with the tanginess of goat cheese. A drizzle of honey or a balsamic reduction can add a hint of sweetness that ties everything together.
Roasting Beets: James, a seasoned cook from New York, swears by wrapping the beets in foil before roasting. This helps them steam, preserving their juices and intensifying their natural sweetness.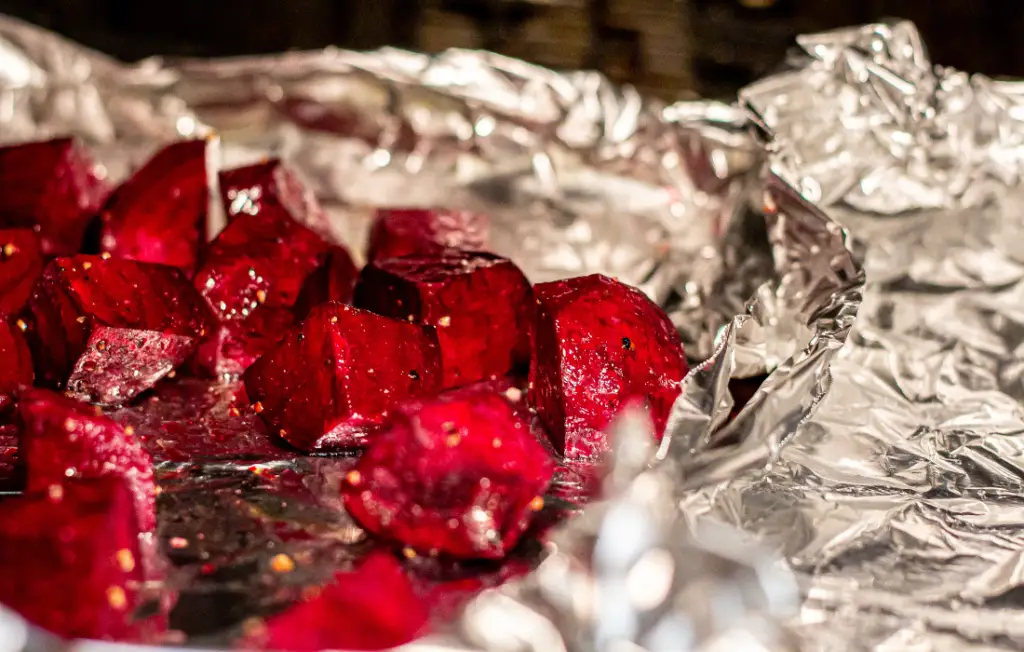 Toasting Walnuts: When toasting walnuts, Chef Maria from Rome suggests doing so over low heat to prevent burning. A little bit of patience goes a long way in bringing out the nut's rich, buttery flavor.
Quality Cheese: Using quality goat cheese makes a big difference. Cheesemonger Ryan from Wisconsin suggests using fresh, locally sourced goat cheese whenever possible. It's creamier and has a more nuanced flavor profile.
Presentation: Lastly, Chef Hiroshi from Japan emphasizes the importance of presentation. Arrange your beets, walnuts, and goat cheese aesthetically on a platter, then drizzle with the reduction right before serving. The visuals make the dish even more appetizing!
Wine Pairing: Enhancing Your Dining Experience
Pairing this dish with the right red wine can transform your dining experience. Here are my top three suggestions:
Pinot Noir: With its light to medium body and high acidity, a Pinot Noir can balance the earthiness of the beets and the tanginess of the goat cheese without overpowering them.
Grenache: This red wine is known for its bright red fruit flavors and a hint of spice, making it a great companion for this flavorful dish.
Merlot: A medium-bodied Merlot with notes of plum, black cherry, and herbs can complement the rich, earthy flavors of our beet dish.
Remember, the joy in wine pairing lies in the harmony between the dish and the wine. It's all about enhancing flavors and creating a balance that makes the entire meal more enjoyable. So here's to comfort food that warms the soul and wine that makes the heart sing!
Troubleshooting Tips: Perfecting Your Dish
Despite the simplicity of roasted beets with goat cheese and walnuts, there can be a few hiccups along the way. Not to worry though, we got this. Here are some common problems and their solutions:
Beets Aren't Roasting Evenly: If your beets aren't roasting evenly, it's likely they were not cut to a uniform size. Try to ensure each beet wedge is approximately the same size for a consistent roast.
Bland Flavor: If your beets lack flavor, you might not be seasoning them enough. Don't be shy with the salt and pepper before roasting; remember, beets can handle a fair bit of seasoning.
Cheese is Melting Too Much: If your goat cheese is melting more than you'd like, it may be that you're adding it to the beets while they're still hot. Try letting the beets cool a bit before adding the cheese.
Walnuts Are Burning : If your walnuts are burning, you're likely toasting them at a temperature that's too high or for too long. Keep an eye on them and stir frequently to ensure even toasting.
Balsamic Reduction is Too Thick or Too Thin: If your balsamic reduction is too thick, it might have been over-reduced. Add a little water to thin it out. If it's too thin, continue reducing it on the stove until you reach the desired consistency.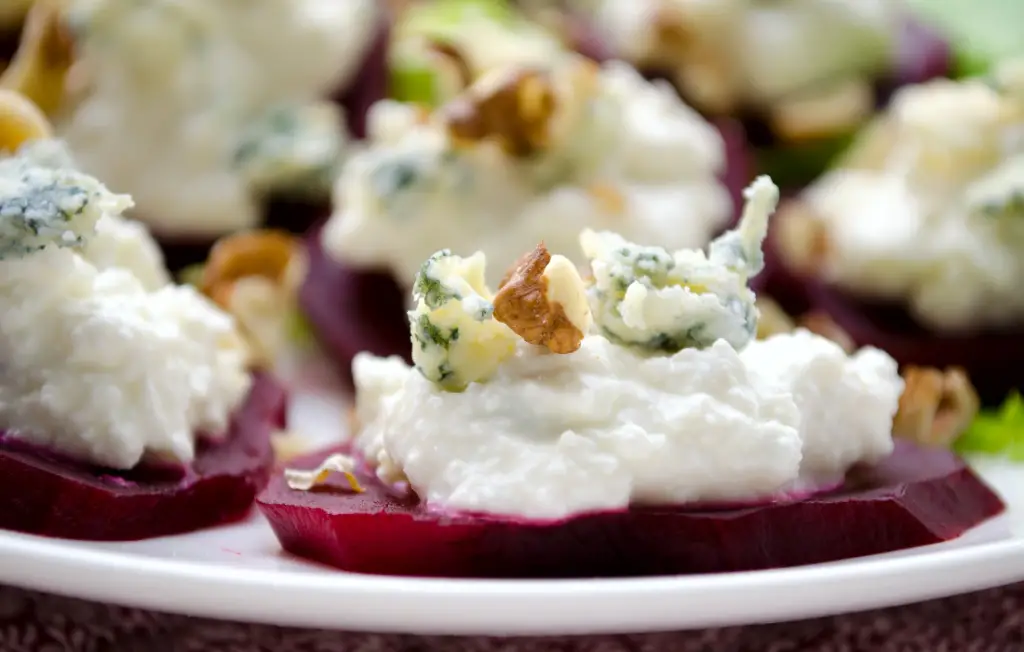 Remember, as we say in the Bahamas, if it tastes good, it's good! The key is to enjoy the process as much as the outcome.
Seasonal Variations: Adapting Your Dish to the Time of Year
Hey, there's a rhythm to cooking that moves with the seasons. So, how about we jazz up our roasted beets with goat cheese and walnuts to match the mood of the year?
Spring: In spring, when the earth is waking up, add some fresh herbs to the mix. A handful of chopped parsley or dill can lift the dish, giving it a fresh, green zing.
Summer: As we move into the balmy summer, consider adding a burst of citrus. Orange segments or a squeeze of lemon juice adds a refreshing note that's just perfect for a summer picnic or barbecue.
Autumn: For the cozy autumn months, consider roasting some additional root vegetables with your beets – think sweet potatoes or parsnips. Their sweet, earthy flavors blend well with the beets and make the dish even more hearty.
Winter: And in the heart of winter, spice things up a bit. A sprinkle of cinnamon or nutmeg can add a warm, aromatic note to your roasted beets.
Dietary Adaptations: Making the Dish Work for You
If you have dietary restrictions or preferences, this dish can be easily adapted.
Vegan: Substitute the goat cheese with a vegan cheese of your choice. Some even enjoy adding chunks of tofu marinated in a little lemon juice and olive oil.
Gluten-free: Good news, this dish is naturally gluten-free! However, if you decide to serve it with bread or a similar accompaniment, make sure to choose a gluten-free option.
Nut-free: If you have a nut allergy, you can replace the walnuts with roasted pumpkin seeds or sunflower seeds for that added crunch.
Remember, the key is to make the dish work for you. Cooking is about joy, creativity, and most importantly, enjoying the food you create. So, feel free to experiment!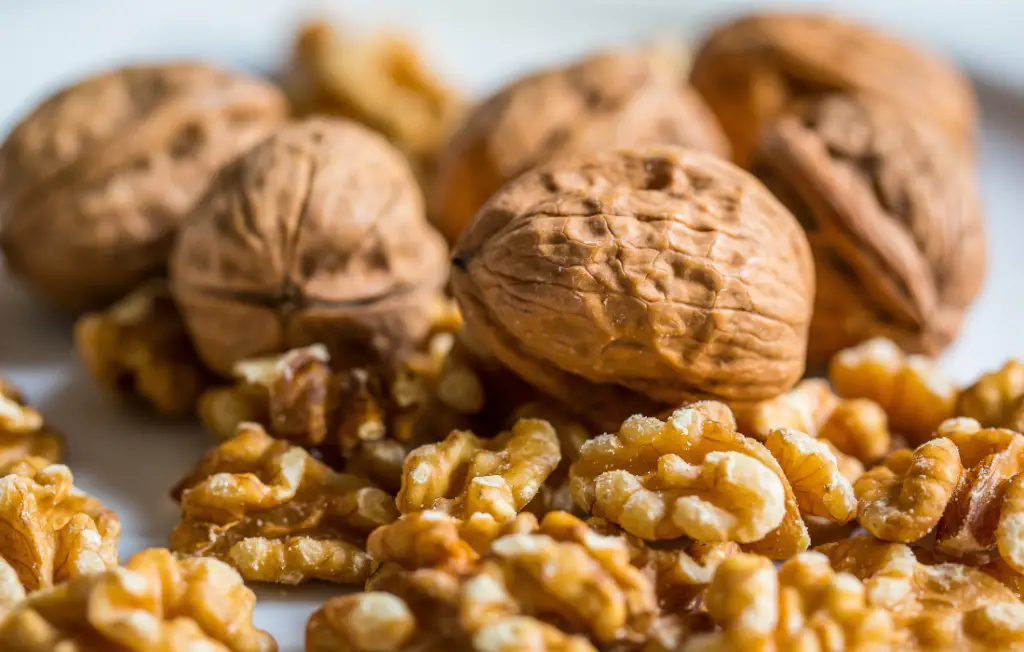 Frequently Asked Questions
Alright, it's time to hit the big questions, and hey, let's have some fun with it!
What flavors go well with roasted beets?
Well, besides the delightful company of goat cheese and walnuts, roasted beets also cozy up well with citrus flavors, fresh herbs, and other root veggies. They're also a fan of spices like cinnamon or nutmeg in the colder months. Talk about versatile!
Why not peel beets before roasting?
The skins help to seal in the juices and keep the beets from drying out during roasting. But hey, if the skin is as appealing to you as the thought of a 90's movie reboot, just peel them after roasting. Easy-peasy!
What can you add to beets to make them taste better?
If by 'better' you mean 'different', then the possibilities are endless. A dash of balsamic vinegar or a drizzle of honey can balance out their earthy flavor. Or, you could always roast them with garlic and rosemary for a more savory treat.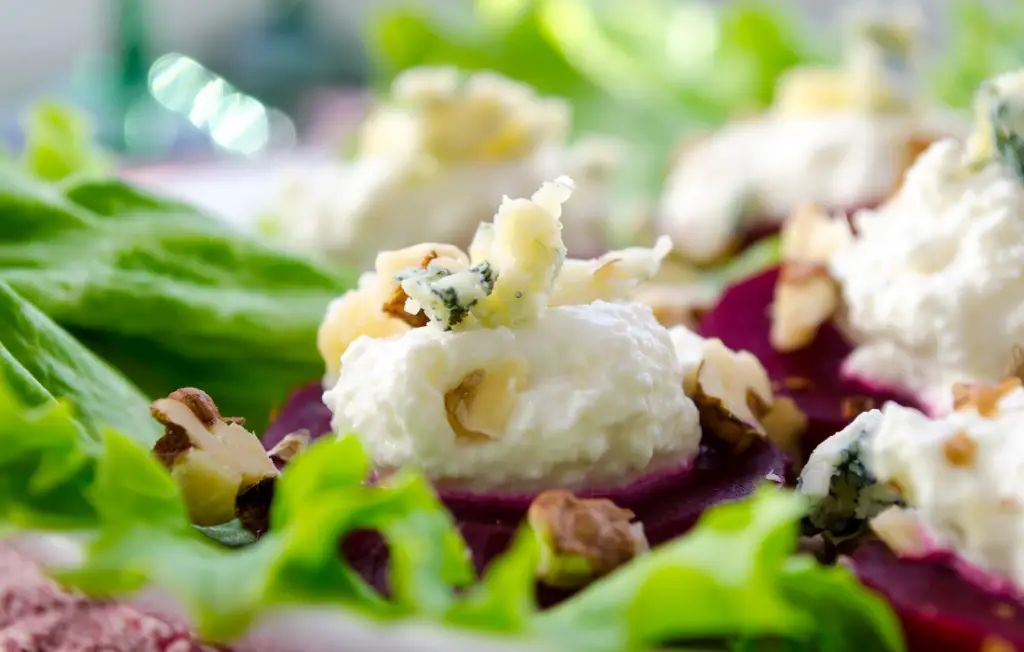 What are the health benefits of roasted beets?
Beets are the strong, silent type of the veggie world – humble yet packed with fiber, vitamins, and minerals. Plus, they're naturally sweet, so they're like nature's dessert!
How can I incorporate more walnuts into my meals?
Walnuts are not just for salads and brownies, folks. Toss them in your morning oatmeal, mix them into a rice or quinoa dish, or use them as a crust for fish or chicken. You walnut regret it!
That's all for the FAQs. If you have more burning questions about roasted beets or 90's movies, I'm your guy!
Conclusion
Alright folks, that's it – your guide to making standout roasted beets with goat cheese and walnuts. But, words don't do it justice. The real magic happens when you dive in and give it a shot. Remember, cooking, like life, is all about learning and having a good laugh.
It's not just about creating tasty food, it's about the joy of seeing your family's delight with each bite, the warmth of gathering around a table. Because food, my friends, is love in edible form. So, keep on cooking and remember, if it tastes good, it's good! Cheers to culinary masterpieces, one beet at a time!