Cinnamon toast with eggs is a scrumptious and easy-to-make breakfast dish that combines the warm sweetness of cinnamon-sugar-coated toast with the savory goodness of perfectly cooked eggs, be it scrambled, fried, or poached.
To make cinnamon toast with eggs, start by toasting your choice of bread and spreading butter on it. Then, sprinkle a mixture of cinnamon and sugar over the toast. Cook your preferred style of eggs—scrambled, fried, or poached—and place them alongside or on top of the cinnamon toast. Enjoy this delightful combination of sweet and savory flavors!
In this article, we will guide you through the simple steps to create this mouthwatering cinnamon toast with eggs breakfast, share some enticing variations to suit different preferences, and answer your frequently asked questions – all while keeping our tone conversational, informative, and friendly. So, let's embark on this delicious & toasty journey together!
Ingredients for the Perfect Cinnamon Toast With Eggs
Toasted Bread: Brioche or Cinnamon Swirl Bread
Choose the perfect base for your cinnamon toast with eggs by selecting a bread that complements the dish's flavors. Brioche is a buttery, slightly sweet option that adds richness, while cinnamon swirl bread incorporates extra cinnamon goodness into the toast. Lightly toast the bread for a crispy exterior and a tender interior.
Cinnamon Sugar Mix:
Cinnamon and Sugar Ratio The ideal cinnamon sugar mix is the key to achieving that scrumptious cinnamon toast flavor. A standard ratio of 1/4 cup granulated sugar to 1 tablespoon ground cinnamon works well, but feel free to adjust according to your taste preferences. For a more intense cinnamon flavor, increase the cinnamon amount or vice versa.
Egg Options:
Scrambled, Fried, or Poached Personalize your cinnamon toast with eggs by choosing your favorite egg style. For a soft, creamy texture, go for scrambled eggs. If you prefer a crispy edge, try fried eggs with a runny or well-cooked yolk. Poached eggs offer a delicate, tender option that pairs well with the sweet cinnamon toast.
Toppings:
Butter, Fruit, Syrup, or Whipped Cream Add the finishing touch to your cinnamon toast with eggs by experimenting with various toppings. Spread softened butter on the warm toast before sprinkling the cinnamon sugar mix. For a fruity twist, add sliced berries, bananas, or apples. Drizzle maple or fruit syrup for extra sweetness, or dollop whipped cream for an indulgent treat.
Preparing the Cinnamon Toast
Toasting the bread: Begin your culinary adventure by lightly toasting your chosen bread in a toaster, oven, or on a stovetop skillet. You want a nice golden-brown color with a bit of crunch to contrast the fluffy interior.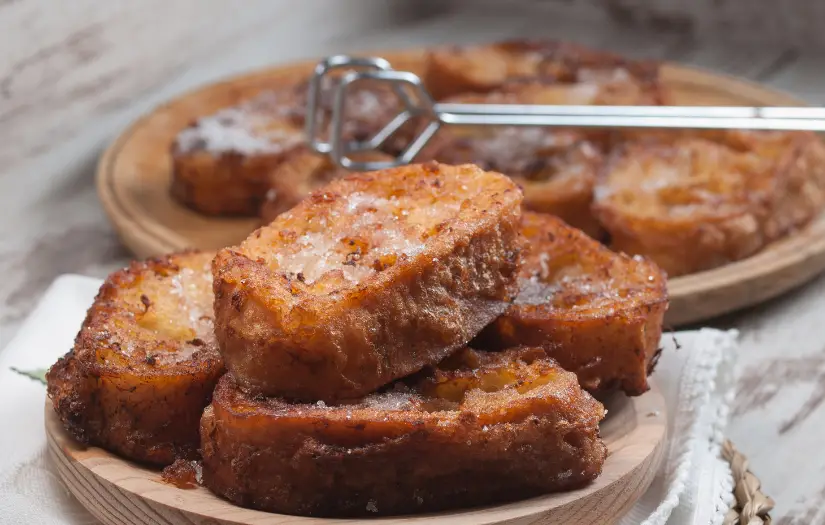 Applying cinnamon sugar mix and butter: Spread a generous layer of softened butter on the warm toast, ensuring even coverage for the best flavor. Then, dust the cinnamon sugar mix liberally over the buttered toast to create that divine sweet-spicy combination we all know and love.
Cooking the Eggs
5 Tips for perfect scrambled, fried, or poached eggs:
Get ready to level up your egg game with these 5 foolproof tips for mastering scrambled, fried, or poached eggs. Dive into this guide and become the egg-ceptional chef you've always wanted to be!
Scrambled eggs: For the creamiest results, whisk the eggs with a splash of milk or cream, and cook on low heat, gently stirring until just set.
Fried eggs: Use a non-stick skillet and preheat it with a bit of oil or butter. Crack the egg into the skillet and cook to your desired doneness. For over-easy eggs, flip it once the whites are set.
Poached eggs: Bring water and a splash of vinegar to a gentle simmer. Crack the egg into a small bowl, create a whirlpool in the simmering water, and slide the egg in. Cook for 3-4 minutes for a runny yolk.
Seasoning: Don't forget to season your eggs with salt and pepper to taste, regardless of the cooking method.
Timing: Cook eggs last to ensure they're hot and fresh when served with the cinnamon toast.
Serving Suggestions
Plating ideas and topping combinations for a visually appealing dish:
Stack it up: Place your cinnamon toast on the plate and top with the cooked eggs. This tower of deliciousness looks inviting and saves space.
Side by side: Arrange the cinnamon toast and eggs next to each other, creating a harmonious sweet-savory balance.
Garnish: Add a sprinkle of fresh herbs, like chopped parsley or chives, to contrast the sweet toast and elevate the presentation.
Fruity flair: Scatter fresh berries, sliced bananas, or apples around the plate for a pop of color and a hint of natural sweetness.
Drizzle: Finish with a drizzle of syrup, honey, or even hot sauce for those who crave a kick with their sweet breakfast treat.
Cinnamon Toast With Eggs Variations
From keto to vegan, and even gluten-free alternatives, this culinary journey will take your taste buds on a ride through a variety of delectable options.
Keto, vegan, and gluten-free alternatives:
Keto: Swap regular bread for a low-carb keto-friendly bread, and use a sugar substitute like erythritol or stevia for the cinnamon sugar mix.
Vegan: Use a dairy-free butter alternative and vegan bread for the cinnamon toast. Prepare a vegan egg substitute like tofu scramble, Just Egg, or chickpea flour omelette for the savory component.
Gluten-free: Choose a gluten-free bread option, such as rice flour or almond flour-based bread, to make your cinnamon toast.
Incorporating additional ingredients, like bacon or cheese:
Bacon: Add crispy bacon strips or crumbled bacon bits to the dish for an extra layer of savory, smoky goodness.
Cheese: Melt a slice of your favorite cheese on the toast or eggs for a creamy, indulgent twist.
Avocado: Top your eggs with avocado slices or a dollop of guacamole for a boost of healthy fats and a touch of creaminess.
Sautéed veggies: Serve your cinnamon toast with eggs alongside sautéed mushrooms, onions, or spinach for added nutrition and flavor.
Stovetop, oven, and baked methods:
Stovetop: Toast the bread in a skillet on medium heat, flipping it occasionally until golden brown. Cook the eggs using your preferred stovetop method (scrambled, fried, or poached).
Oven: Preheat the oven to 350°F (175°C). Place buttered bread sprinkled with cinnamon sugar on a lined baking sheet, and bake for 8-10 minutes until crisp. Prepare the eggs separately using an oven-safe skillet, baking dish, or muffin tin.
Baked: Create a cinnamon toast with eggs casserole by layering cinnamon toast and your choice of cooked eggs, cheese, and other ingredients in a baking dish. Bake at 350°F (175°C) for 20-25 minutes, or until heated through and the cheese is melted.
Print
Cinnamon Toast With Eggs[Here's How It's Done]
Start your day right with this delicious combination of sweet cinnamon toast and hearty eggs. It's a simple recipe, but the results are anything but ordinary. The warming aroma of cinnamon, the sweetness of sugar, and the savoriness of eggs create a symphony of flavors that is sure to brighten up your morning.
Total Time:

25 minutes

Yield:

2

servings

1

x
4

slices of bread

2 tablespoons

of unsalted butter, melted

2 tablespoons

of granulated sugar

1 teaspoon

of ground cinnamon

4

eggs
Salt, to taste
Pepper, to taste
Instructions
Preheat your oven to 350 degrees Fahrenheit (175 degrees Celsius).
In a small bowl, combine the sugar and cinnamon.
Brush each slice of bread with melted butter on one side.
Sprinkle the cinnamon-sugar mixture evenly over the buttered side of each slice.
Place the bread slices on a baking sheet and bake for about 10 minutes, or until the edges are crispy and the sugar is caramelized.
While the bread is toasting, cook the eggs to your preference (scrambled, fried, poached).
Season the eggs with salt and pepper.
Serve the cinnamon toast warm with eggs on the side.
Notes
To ensure the bread toasts evenly, rotate the baking sheet halfway through the cooking time.
For a healthier option, use whole grain bread and egg whites.
Author:

Jay Whyms

Prep Time:

10 minutes

Cook Time:

15 minutes

Category:

Breakfast, Brunch

Method:

Baking

Cuisine:

American

Diet:

Vegetarian
Keywords: Cinnamon Toast, Eggs, Breakfast, Easy, Quick, Vegetarian
Recipe Card powered by
Frequently Asked Questions (FAQs)
What's the ideal cinnamon-sugar ratio for cinnamon toast?
A standard ratio of 1/4 cup granulated sugar to 1 tablespoon ground cinnamon works well, but feel free to adjust according to your taste preferences.
Can I use store-bought cinnamon swirl bread?
Yes, store-bought cinnamon swirl bread is a convenient and delicious option for making cinnamon toast with eggs.
How can I make a healthier version of cinnamon toast with eggs?
Use whole-grain bread for added fiber, replace sugar with a natural sweetener like honey or maple syrup, and consider using egg whites or a cholesterol-free egg substitute for a lighter meal.
What are some creative toppings for cinnamon toast with eggs?
Experiment with toppings such as sliced fruit, yogurt, nuts, seeds, or even a drizzle of chocolate or caramel sauce for a decadent touch.
Can I prepare cinnamon toast with eggs ahead of time?
While it's best to serve the dish fresh, you can prepare the cinnamon sugar mix and cook the eggs in advance. Reheat the eggs and toast the bread just before serving to ensure optimal flavor and texture.
Conclusion
In conclusion, cinnamon toast with eggs offers a delightful and satisfying combination of sweet and savory flavors perfect for breakfast or brunch. With easy-to-follow steps, customizable variations, and answers to your FAQs, there's no reason not to try this scrumptious dish. So, roll up your sleeves and get ready to impress your taste buds with this heavenly meal!
Allrecipes: https://www.allrecipes.com/