Are you looking to spice up your side dish game? Dive into the culinary world of tangy and savory delights with our Roasted Dill Pickle Potato Wedges Recipe. This enticing combination takes the humble potato to a whole new level of flavor, infusing it with the piquant zest of dill pickles.
Whether you're a fan of something spicy or you lean towards the tangier side of life, these wedges have something to offer. Designed to tantalize your taste buds, this recipe can transform an ordinary meal into a gourmet feast.
Join us as we explore the simple steps to create these flavorful wedges. It's a treat for both novice and experienced chefs alike, promising a memorable culinary adventure right in your kitchen!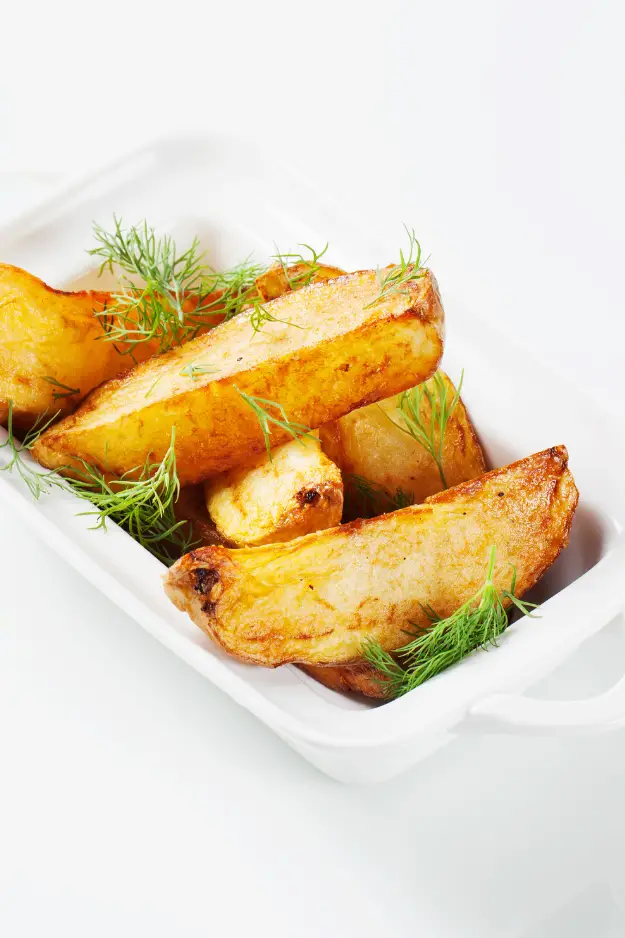 Ingredients Table
Preparing our Roasted Dill Pickle Potato Wedges Recipe is a breeze! We've compiled a list of ingredients you'll need to get started. Make sure to gather everything beforehand, so your cooking experience is as enjoyable as savoring the final dish. Here's what you'll need:
Roasted Dill Pickle Potato Wedges Ingredients
| Ingredient | Measurement |
| --- | --- |
| Potatoes | 4 medium-sized |
| Dill Pickle Seasoning | 2 tablespoons |
| Olive Oil | 3 tablespoons |
| Garlic Powder | 1 teaspoon |
| Onion Powder | 1 teaspoon |
| Salt | ½ teaspoon |
| Fresh Dill (optional) | 1 tablespoon |
| Ground Black Pepper | ¼ teaspoon |
These ingredients will yield approximately 4 servings of scrumptious potato wedges. If you want to add or substitute any ingredients, feel free to get creative! Just keep in mind the balance of flavors to maintain the signature dill pickle taste.
Note: You can find dill pickle seasoning at most grocery stores, or you can make your own by combining dill, garlic, and other spices.
Cooking Equipment
Creating these Roasted Dill Pickle Potato Wedges is not just about the ingredients; it's also about having the right tools. Don't worry if you don't have professional kitchen gadgets; we'll guide you through the essential equipment and some handy alternatives.
Table: Necessary Cooking Equipment and Alternatives
| Equipment | Description | Alternative |
| --- | --- | --- |
| Baking Sheet | Used for roasting the wedges evenly. | Ovenproof dish |
| Mixing Bowl | For mixing the seasoning with the potatoes. | Large pot |
| Kitchen Knife | To cut the potatoes into wedges. | Vegetable Cutter |
| Measuring Spoons | To measure the seasonings accurately. | Regular spoons with guidance |
| Oven | To roast the wedges to perfection. | Air Fryer, Convection Oven |
Whether you're working with top-of-the-line kitchen gadgets or your trusty old tools, these Roasted Dill Pickle Potato Wedges can be prepared to perfection. Here's a quick look at how each piece of equipment is utilized:
Baking Sheet: Ensures even roasting; a non-stick or lined version can prevent sticking.
Mixing Bowl: Large enough to allow easy tossing and coating of wedges.
Kitchen Knife: A sharp, reliable knife will help you cut the wedges with precision.
Measuring Spoons: Helps you add the exact amount of each seasoning for balanced flavor.
Oven: A preheated oven is crucial; temperature guidance is in the step-by-step guide below.
If you don't have a particular piece of equipment, don't worry! The alternatives listed above will work just fine. Now that you have everything ready, let's move on to the exciting part – cooking your delicious Roasted Dill Pickle Potato Wedges!
Step-by-Step Cooking Guide
Embarking on a culinary journey is an exciting endeavor, and with our clear instructions, you'll find making these Roasted Dill Pickle Potato Wedges a delightful experience. Let's dive into the process!
Preparation
Preparing your potatoes and seasonings is the first step towards a delicious dish. Here's how to do it: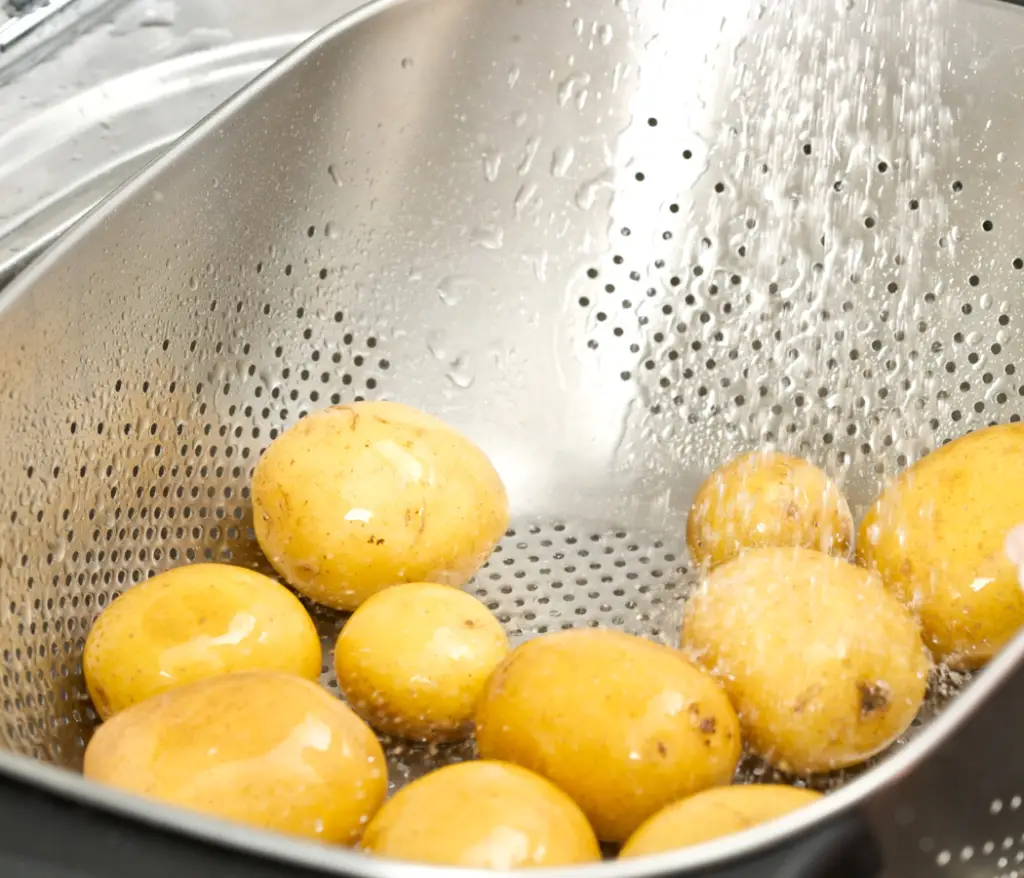 Wash the Potatoes: Rinse under cold water to remove any dirt.
Cut into Wedges: Slice potatoes into even wedges for uniform cooking.
Prepare the Seasoning: If using fresh dill, chop finely. Mix dill pickle seasoning with other dry ingredients.
Preheat the Oven: Set to 425°F (220°C), allowing it to fully heat while you prepare the rest.
You're off to a great start! Now, let's move on to the exciting part of adding flavors.
Mixing and Seasoning
Getting the seasoning just right is crucial for that tantalizing dill pickle taste. Here are some expert tips:
Coat the Wedges: In a mixing bowl, toss the potato wedges with olive oil until well coated.
Season Generously: Gradually sprinkle the seasoning mix, ensuring an even distribution.
Taste and Adjust: Feel free to add more salt or pepper to suit your preference.
Remember, balance is key! Seasoning can be a personal touch, so don't hesitate to tailor it to your taste buds.
Roasting
Now it's time to roast those beautifully seasoned wedges. We're here to guide you through:
Arrange on Baking Sheet: Lay the wedges out evenly without overlapping.
Roast Until Crispy: Place in the preheated oven for 25-30 minutes, flipping halfway through.
Expert Chef Insights: For extra crispiness, roast at a high temperature initially, then reduce.
Voila! Your Roasted Dill Pickle Potato Wedges are ready to be savored. Pair them with your favorite dip, and enjoy the burst of flavors.
Print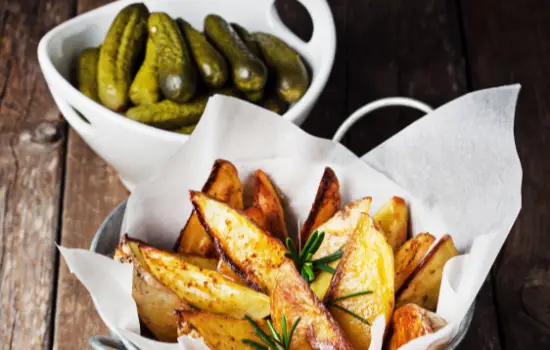 Easy Roasted Dill Pickle Potato Wedges Recipe
Delight in the tangy and savory flavors of these Roasted Dill Pickle Potato Wedges—a perfect combination of classic roasted potatoes with a dill pickle twist. Ideal for both casual snacks and sophisticated dinner parties.
Total Time:

40 minutes

Yield:

Serves 4
4

medium-sized Russet or Yukon Gold potatoes

2 tbsp

olive oil

1.5 tsp

dill pickle seasoning (or a blend of dried dill, garlic powder, and onion powder)
Salt, to taste
Black pepper, to taste
Optional: Fresh dill for garnish
Instructions
Preheat oven to 425°F (220°C).
Wash and cut the potatoes into even wedges.
In a mixing bowl, toss potato wedges with olive oil.
Gradually sprinkle the dill pickle seasoning, ensuring each wedge is well-coated.
Spread the seasoned wedges on a baking sheet, ensuring they don't overlap.
Roast for 25-30 minutes, flipping halfway, or until golden and crispy.
Optional: Garnish with fresh dill before serving.
Notes
Fresh dill can be used in place of dried dill in the seasoning blend for a brighter flavor.
Adjust seasoning as per personal preference.
Author:

Jay Whyms

Prep Time:

10 minutes

Cook Time:

30 minutes

Category:

Appetizer, Side Dish

Method:

Roasting

Cuisine:

American with a twist
Keywords: Roasted potato recipe, Dill pickle potato wedges, Tangy potato side dish
Recipe Card powered by
Beverage Pairing
Indulging in Roasted Dill Pickle Potato Wedges is an experience that can be elevated with the perfect beverage pairing. Our expert insights suggest the following options:
White Wine: A crisp Sauvignon Blanc complements the tanginess of the dill pickles.
Craft Beer: A well-balanced Pale Ale harmonizes with the roasted flavors.
Non-Alcoholic: Sparkling water with a splash of lemon adds a refreshing touch.
Whether you're enjoying a casual meal or serving guests, these beverage selections enhance the culinary experience, making each bite even more enjoyable.
Expert Chef Insights and Tips
Perfecting the Roasted Dill Pickle Potato Wedges requires some culinary finesse. Here are special techniques and answers to common questions:
Choose the Right Potatoes: Russet or Yukon Gold potatoes provide a crispy exterior and fluffy interior.
Use Fresh or Dried Dill: Both can be used, though fresh dill offers a brighter flavor.
Mind the Oven Temperature: Ensure even cooking by preheating the oven properly.
Serving Suggestions
Presenting your Roasted Dill Pickle Potato Wedges beautifully adds to the enjoyment of the dish. Here are some suggestions:
Garnish with Fresh Herbs: Sprinkle with chopped fresh dill or parsley.
Serve with Dip: A creamy garlic aioli or tangy mustard sauce complements the flavors.
Arrange Artistically: Serve on a platter with lemon wedges and a sprinkle of sea salt.
Nutritional Information
| Nutrient | Amount per Serving |
| --- | --- |
| Calories | 210 |
| Fat | 10g |
| Carbohydrates | 28g |
| Protein | 3g |
| Sodium | 450mg |
Embrace the joy of cooking by presenting these delectable wedges with flair. Whether for a family dinner or a festive occasion, these serving suggestions will elevate your dish.
Frequently Asked Questions (FAQs)
We know you might have some more questions about these delicious dill pickle potato wedges. Here are answers to some common inquiries:
What type of potatoes work best for this recipe?
Russet or Yukon Gold potatoes are ideal.
Can I use fresh dill instead of dried? Absolutely!
Fresh dill adds a more vibrant flavor.
Can I make these wedges ahead of time?
Absolutely! You can cut and season the wedges a few hours ahead. Just cover and refrigerate until you're ready to roast.
What can I serve with these potato wedges?
They pair beautifully with grilled meats, sandwiches, or as part of a festive appetizer spread.
How do I store leftovers?
Store any leftover wedges in an airtight container in the fridge. Reheat in the oven for the best texture.
Conclusion
You're now fully equipped to create these tantalizing Roasted Dill Pickle Potato Wedges. Whether you're a seasoned chef or new to the kitchen, this recipe offers a delightful twist on a classic favorite.
We encourage you to try this roasted potato recipe and experience the unique blend of flavors. And when you do, don't forget to share your culinary masterpiece with us! Your insights and tips might inspire others in their kitchen adventures.
Enjoyed this guide? Share this post with friends and fellow food enthusiasts! And if you've tried the recipe, leave a comment below with your personal tips or favorite beverage pairings. We'd love to hear from you!