This post contains affiliate links
Potatoes are the ultimate comfort food, but what happens when you have leftovers from your delicious roasted potatoes? The last thing you want is for them to turn into a soft and soggy potatoes. But don't worry, the air fryer is here to solve all your potato problems! In this comprehensive guide on how to reheat roast potatoes in an air fryer, we'll show you the best way to bring your roasted potatoes back to their crispy glory.
Reheating roasted potatoes in an air fryer is a quick and easy way to bring back the crispy texture and flavor of your leftovers. To start, preheat your air fryer to 400°F. Place the roasted potatoes in the air fryer basket, spreading them out evenly, and cook for 5-7 minutes, flipping them halfway through. For extra crispy skin, sprinkle a little bit of olive oil or melted butter on top before cooking. This simple technique guarantees perfectly crispy potatoes every time!
Importance of reheating roast potatoes for a crispy
Reheating roasted potatoes is important to maintain their crispy texture and flavor. The best way for this reheating process is by using an air fryer basket. The hot air circulating in the air fryer basket crisps up the skin and warms up the interior of the potatoes quickly and evenly. Another option is using a toaster oven, which also circulates hot air to reheat the potatoes.
However, if you don't have access to an air fryer or toaster oven, storing the leftover roast potatoes in an airtight container at room temperature for a few hours can help revive their crispiness. Another option is to wrap them in aluminum tin foil and place them on a baking sheet in a 350°F oven for about 10 minutes. This method is not as effective as using an air fryer, but it still helps to revive some of the crispiness.
5 Benefits of Using an Air Fryer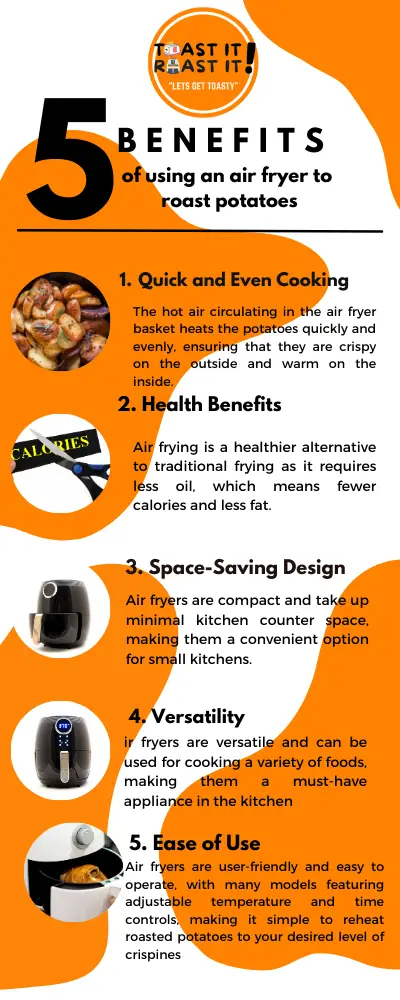 Using an air fryer to reheat roast potatoes has many benefits, making it the preferred method for many people. Here are some of the reasons why you should use an air fryer:
Quick and Even Cooking: The hot air circulating in the air fryer basket heats the potatoes quickly and evenly, ensuring that they are crispy on the outside and warm on the inside.
Healthy Option: Air frying is a healthier alternative to traditional frying as it requires less oil, which means fewer calories and less fat there are literally tons of healthy air fryer recipes.
Space-Saving: Air fryers are compact and take up minimal kitchen counter space, making them a convenient option for small kitchens.
Versatile: Air fryers are versatile and can be used for cooking a variety of foods, making them a must-have appliance in the kitchen.
Ease of Use: Air fryers are user-friendly and easy to operate, with many models featuring adjustable temperature and time controls, making it simple to reheat roasted potatoes to your desired level of crispiness.
Overall, using an air fryer to reheat roast potatoes is the quickest, easiest, and healthiest way to enjoy leftover roasted potatoes that are crispy on the outside and warm on the inside.
Comparison to Traditional Reheating Methods and How the Air Fryer Stands Out
When it comes to reheating leftover roast potatoes, there are different ways to do it, but the air fryer stands out as the best option. You might be thinking, "Why not just stick them in the oven or microwave like I always do?" Well, let me tell you, my friend, the air fryer is the true MVP when it comes to restoring that crispy skin and warm interior to your roasted potatoes.
Gone are the days of soaking your potatoes in cold water and wrapping them in a paper towel in a desperate attempt to bring back their crunch. The air fryer takes care of all that for you, cooking your leftover potatoes evenly and quickly to perfection. And the best part? You can even add a sprinkle of garlic powder for an extra pop of flavor. Who says reheating leftovers has to be boring?
So, next time you have leftover red potatoes, Yukon gold, or even sweet potatoes, don't hesitate to break out the air fryer. It's the great way to enjoy those roasted potatoes once again, and make them the perfect side dish to any meal. Don't just take my word for it, try it for yourself and see the difference. Trust me, you won't be disappointed.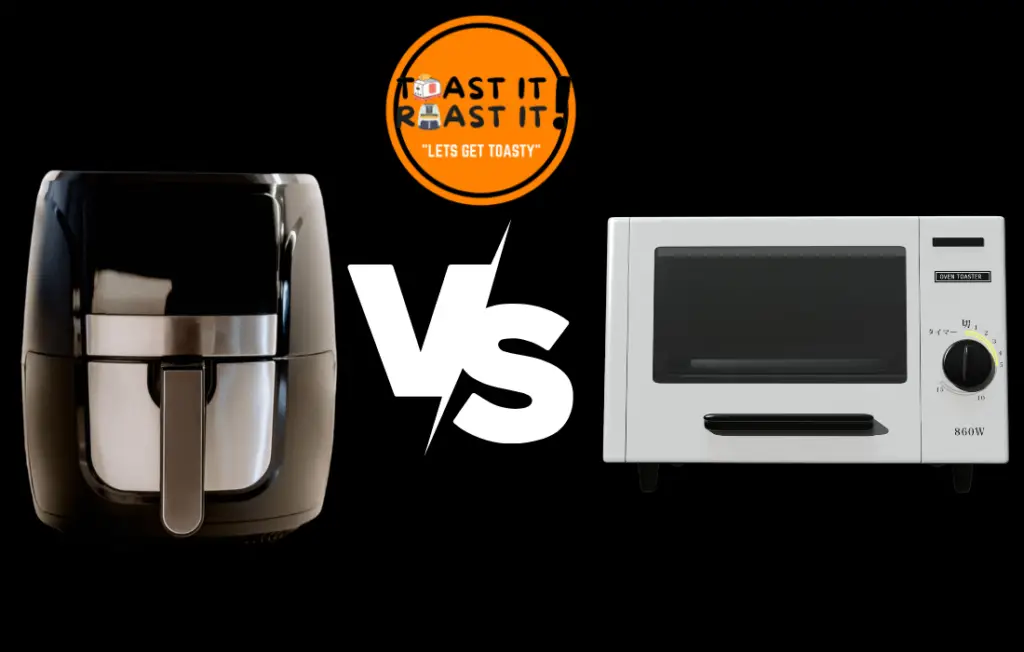 Toasty Tip:make sure to cook your potatoes in a single layer on parchment paper for the best results and the shortest cook time. And who knows, you might even discover a new favorite air fryer recipe in the process.
Preparation for Reheating Roast Potatoes in an Air Fryer
List of necessary ingredients
When it comes to reheating leftover roast potatoes in an air fryer, there are just a few simple ingredients you will need. The most important ingredient, of course, is your leftover roast potatoes.
You can use any type of potato you have on hand, but for the best results, we recommend using red potatoes, yukon gold potatoes, or even sweet potatoes. Another important ingredient is your choice of seasonings, whether it be garlic powder, M&S Potatoe seasonings, or any other seasonings you prefer.
The best type of potatoes for achieving maximum crispiness
When it comes to achieving the maximum crispiness in your reheated roast potatoes, there are a few things to consider. First and foremost, the type of potato you use will play a significant role.
Potatoes with a high starch content, like yukon gold or red potatoes, tend to be the best for achieving maximum crispiness. These potatoes have a natural starchiness that holds up well in the air fryer and helps the potatoes get crispy.
Essential steps for preparing the potatoes for reheating
The first step in preparing your leftover roast potatoes for reheating in the air fryer is to make sure they are at room temperature. This will help the potatoes cook evenly and prevent the inside from becoming too soft.
Once the potatoes are at room temperature, place them in a single layer in the air fryer basket. Then, lightly spray or brush them with a little oil to help them get crispy. Finally, add your seasonings of choice and you're ready to cook!
Print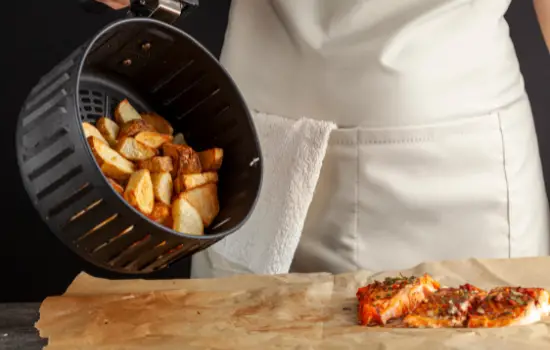 How To Reheat Roast Potatoes In a An Air Fryer [ Crispy Good ]
Revive your leftover roast potatoes to their original glory using an air fryer! This quick and simple method ensures crispy, delicious roast potatoes without the use of any additional oil. Plus, it's an environmentally friendly option as it minimizes food waste.
Total Time:

20 minutes

Yield:

Varies based on leftover quantity
Leftover roast potatoes
Optional: A sprinkle of your favorite herbs and spices
Instructions
Preheat your air fryer to 180°C (360°F).
Arrange your leftover roast potatoes in a single layer in the air fryer basket. Ensure there's enough space between each potato to allow hot air to circulate.
Air fry for about 10-15 minutes or until the potatoes are heated through and crispy on the outside. Shake the basket halfway through the cooking time for even cooking.
Optionally, season with a sprinkle of your favorite herbs and spices for extra flavor.
Serve immediately and enjoy!
Notes
Ensure not to overload your air fryer as this may result in uneven cooking.
The reheating time may vary depending on the size of your potatoes and the model of your air fryer.
Author:

Jay Whyms

Prep Time:

5 minutes

Cook Time:

12-15 minutes

Category:

Side Dish

Method:

Air Fryer

Cuisine:

Any

Diet:

Vegetarian
Keywords: Air Fryer, Leftovers, Roast Potatoes, Reheat, Easy, Quick, Vegan, Vegetarian, Gluten-Free
Recipe Card powered by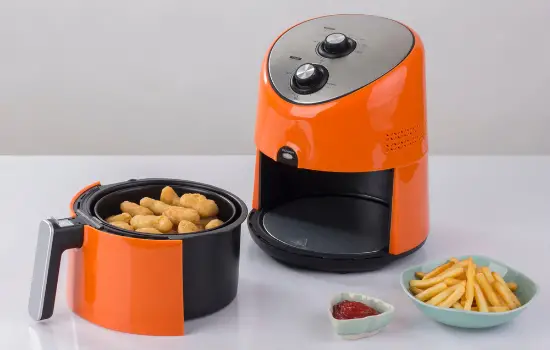 Toasty tips and tricks for ensuring the best results
For even better results, try prepping the potatoes with a light coating of oil before cooking to enhance crispiness. Additionally, consider lining the air fryer basket with parchment paper to prevent sticking and make cleanup a breeze. And, feel free to get creative with your seasonings and try different spice blends to suit your taste preferences. The air fryer is a versatile kitchen tool, and with a little experimentation, you can find the perfect recipe for reheating your leftover roast potatoes.
5 Delicious Ideas for Serving Reheated Crispy Roast Potatoes
If you're looking to put a delicious spin on your reheated crispy roast potatoes, look no further! These 5 delicious ideas are sure to make your air fryer potatoes the star of any meal and will have everyone asking for seconds.
Classic French Fries: Cut your reheated roast potatoes into thin fry shapes and serve with your favorite dipping sauces for a classic snack or side dish.
Roasted Potato Salad: Toss your reheated roast potatoes with some diced veggies, a vinaigrette dressing, and your favorite herbs for a delicious potato salad.
Loaded Baked Potato: Stuff your reheated roast potatoes with your favorite toppings like cheese, bacon, and sour cream for a decadent twist on the classic baked potato.
Crispy Roasted Potatoes with Eggs: Serve your reheated roast potatoes with a side of eggs for a hearty breakfast or brunch.
Air Fryer Roasted Potato Skewers: Thread your reheated roast potatoes onto skewers, brush with oil, and cook in the air fryer for a fun and unique twist on roasted potatoes.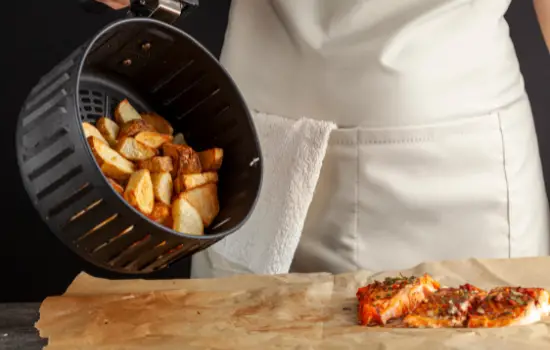 10 Recommendations for Dips and Sauces to Enhance the Flavor of Reheated Crispy Roast Potatoes
Ketchup – A classic and always a crowd-pleaser, ketchup pairs perfectly with crispy potatoes of any kind.
Aioli – Add a burst of garlic flavor to your reheated potatoes with this creamy dip.
Ranch dressing – A classic American favorite, ranch dressing is a great option for adding a bit of tang to your potatoes.
Herb Butter – Mix together butter, fresh rosemary, and other herbs for an herby and buttery flavor that complements the crispy exterior of your potatoes.
Hot Sauce – Add a spicy kick to your reheated potatoes by serving them with your favorite hot sauce. Whether you prefer sriracha, hot chili sauce, or something even spicier, your taste buds will thank you for this addition.
Roasted Garlic Aioli: A creamy and garlicky sauce that pairs perfectly with crispy air fryer potatoes.
Spicy Sriracha Mayo: Add a kick of heat to your potatoes with this spicy sauce.
Pesto: A fresh and herby sauce that adds a burst of flavor to your potatoes.
Chipotle Lime Crema: A tangy and spicy sauce that brings the flavor to your potatoes.
Honey Mustard: A sweet and tangy sauce that pairs well with air fryer potato wedges.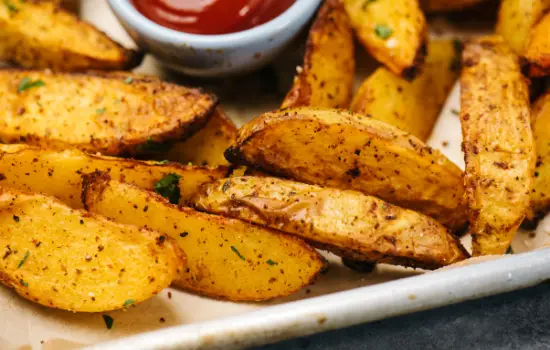 How to properly store the leftover reheated potatoes for maximum freshness
Storing leftover reheated potatoes properly is essential for maximizing their freshness and ensuring that they are just as delicious the next day as they were the day before. Here are a few tips to help you store your leftover reheated potatoes the right way.
Avoid High Temperatures: One of the best reasons to avoid storing leftover reheated potatoes in a frying pan or any other high-temperature cooking vessels is to prevent the potatoes from getting over-cooked or burnt. Instead, transfer the potatoes to a microwave-safe plate and cover with a light coating of oil. This will help keep the potatoes fresh and prevent them from drying out.
Opt for a Light Coating of Oil: Adding a tablespoon of oil to your leftover reheated potatoes can help protect them from excess moisture and prevent them from becoming soggy. Use a light coating of vegetable oil and mix in some fresh herbs such as rosemary or Italian seasoning for added flavor.
Properly Store the Potatoes: To store the leftover reheated potatoes, cover the microwave-safe plate with a lid or wrap it in plastic wrap and store in the refrigerator for 3-5 days. This is the quickest way to store the potatoes and prevent freezer burn. When you're ready to reheat them, simply pop them into the air fryer for a few minutes to achieve the same great results as the first time around.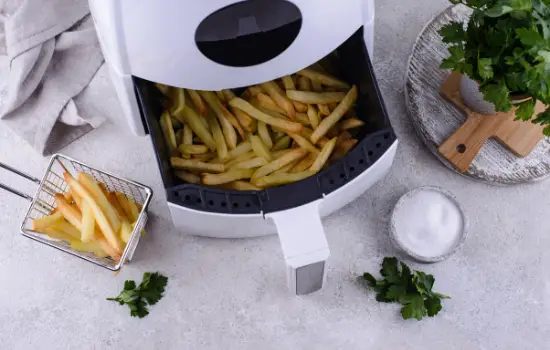 Conclusion
In this article, we discussed the benefits of using an air fryer for reheating your leftover roast potatoes. We compared the air fryer to other methods like the regular oven and large bowl, and explained why the air fryer is the best option for achieving the perfect crispy texture. We also provided a step-by-step guide for reheating the potatoes, complete with detailed instructions and tips for getting the best results.
Final Thoughts
Using an air fryer to reheat your leftover roast potatoes is the best way to achieve that crispy texture that we all love. It's quick, easy, and yields great results every time.
Whether you're reheating russet potatoes, fingerling potatoes, or even air fryer baby potatoes, the air fryer is the best method for getting those perfect roast potatoes. So, if you're tired of soggy oven-roasted potatoes or want to try something new, give the air fryer a shot and see for yourself why it's the best thing since sliced bread (or roasted potatoes, in this case).
References: