Are you a lover of lasagna but don't want to spend hours in the kitchen preparing it? Look no further! We have the secret to cooking mouthwatering lasagna in an electric roaster, and we're excited to share it with you.
To cook lasagna in an electric roaster, start by preheating the roaster to 375°F. While the roaster is heating up, cook the lasagna noodles according to package instructions and prepare the sauce and cheese mixture. Layer the noodles, sauce, and cheese mixture in the roaster, repeating until all ingredients are used up. Cover with foil and cook for 45 minutes, then remove the foil and cook for an additional 15 minutes until the cheese is melted and bubbly.
In this article, we'll walk you through the steps to make a delicious lasagna in an electric roaster, discussing ingredient variations, cooking times, and helpful tips, making it easy for you to create a perfect dish that'll leave your guests craving more.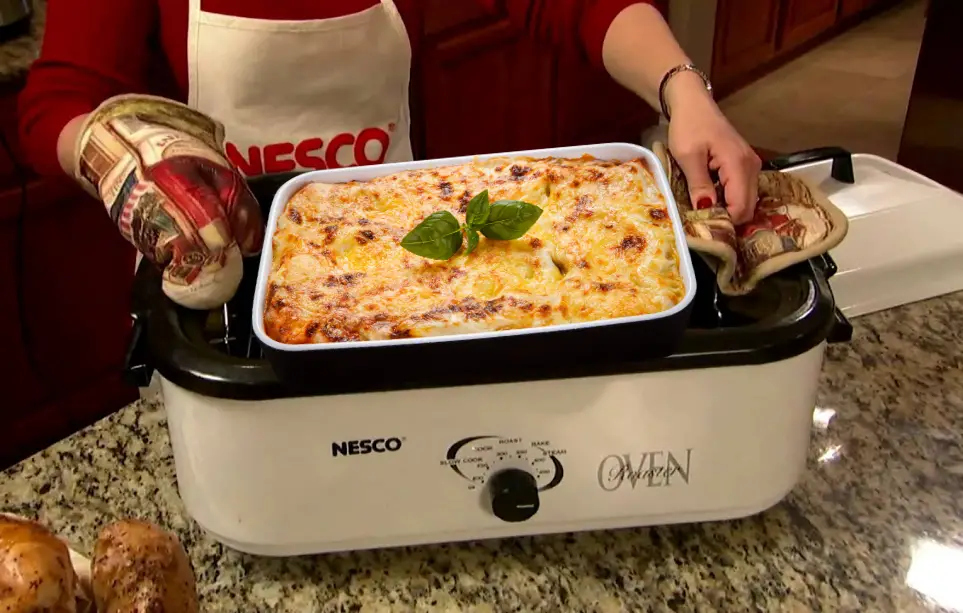 Print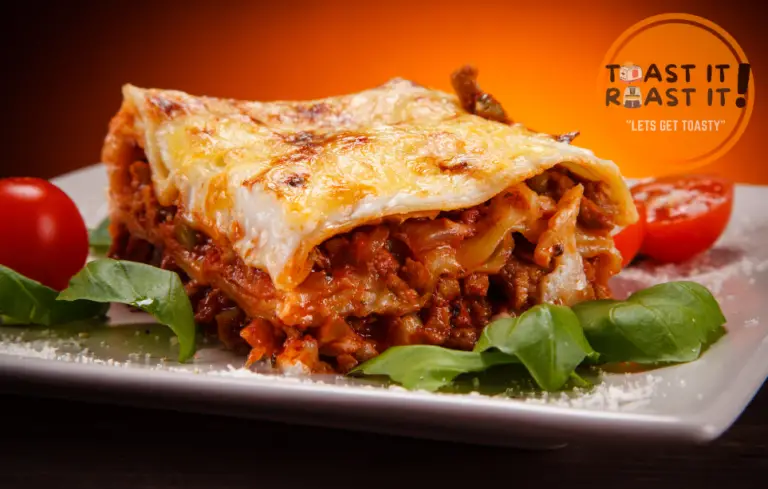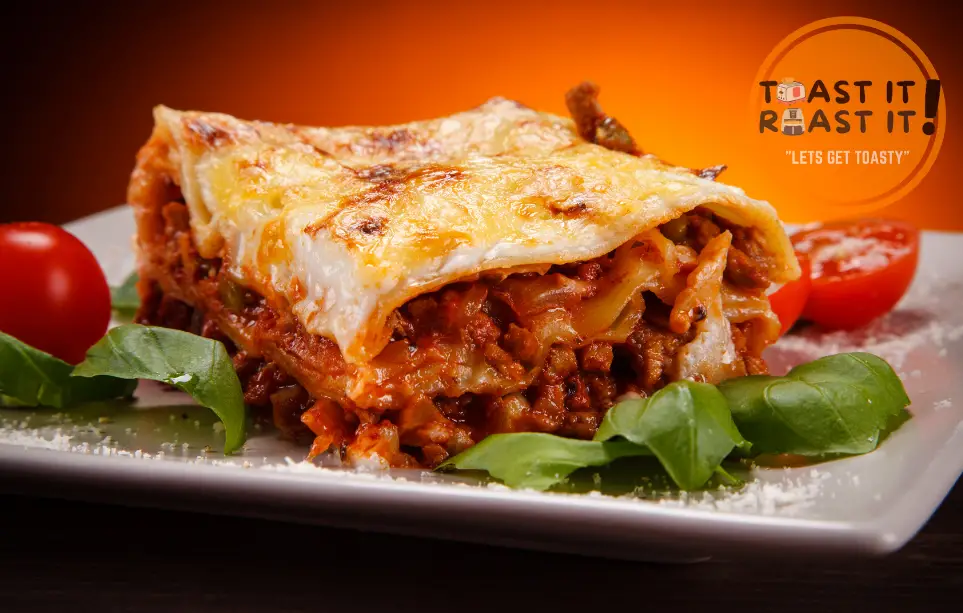 Easy Traditional Lasagna Recipe
This easy traditional lasagna recipe features classic ingredients and simple steps, making it perfect for both beginners and seasoned home cooks. The end result is a delicious, comforting dish that's sure to impress family and friends.
Total Time:

1 hour 15 minutes

Yield:

8

servings

1

x
12

lasagna noodles

1

lb

ground beef

1

onion, chopped

2

cloves garlic, minced

3

cups

marinara sauce

15

oz

ricotta cheese

1

egg

1/4

cup

grated Parmesan cheese

2

cups

shredded mozzarella cheese
Salt and pepper, to taste
Fresh basil, for garnish (optional)
Instructions
Preheat your oven to 375°F (190°C).
Boil the lasagna noodles according to the package instructions, then drain and set aside.
In a large skillet, cook the ground beef, onion, and garlic over medium heat until the beef is browned. Drain excess fat.
Stir in the marinara sauce and season with salt and pepper. Simmer for 15 minutes.
In a separate bowl, combine the ricotta cheese, egg, Parmesan cheese, salt, and pepper.
In a 9×13-inch baking dish, spread a layer of meat sauce on the bottom, followed by a layer of lasagna noodles. Next, spread a layer of the ricotta mixture and top with mozzarella cheese. Repeat layers, finishing with a layer of noodles, sauce, and cheese.
Bake the lasagna for 45 minutes or until the cheese is bubbly and golden brown. Allow it to rest for 10-15 minutes before serving. Garnish with fresh basil if desired.
Notes
For a vegetarian option, replace the ground beef with your choice of vegetables.
To make this recipe gluten-free, use gluten-free lasagna noodles.
Author:

Jay Whyms

Prep Time:

30 minutes

Cook Time:

45 minutes

Category:

Main Course

Method:

Baking

Cuisine:

Italian
Nutrition
Serving Size:

1 slice

Calories:

450

Sugar:

8g

Sodium:

950mg

Fat:

22g

Saturated Fat:

10g

Unsaturated Fat:

8g

Trans Fat:

0g

Carbohydrates:

40g

Fiber:

4g

Protein:

25g

Cholesterol:

90mg
Keywords: easy lasagna, traditional lasagna, classic lasagna
Recipe Card powered by
Why Use an Electric Roaster for Lasagna?
Have you ever wished you could cook a lasagna with all the mouthwatering goodness, minus the hassle of the traditional oven? Well, you're in luck! Using an electric roaster for lasagna comes with a boatload of benefits that'll make you wonder why you hadn't tried it sooner.
Energy Efficiency and Convenience: If it takes good, it's good, right? With an electric roaster, you get to save energy while still creating a scrumptious meal. Plus, it's way more convenient than juggling multiple dishes in your oven during those big family dinners. Talk about a game-changer!
Perfect for Large Gatherings: Whether you're hosting a holiday feast or just have a never-ending parade of hungry mouths to feed, the electric roaster is your new best friend. It can handle large volumes of food, and you can even use it to keep your lasagna warm while you wait for those tardy guests to arrive. Toasted and roasted to perfection, I'd say!
Easy Temperature Control: Forget constantly checking your oven temperature or worrying about uneven cooking. The electric roaster lets you set it and (almost) forget it, providing even heating and precise temperature control. Now you can focus on sharing laughs and reminiscing about those 90's movies with your family, all while your lasagna cooks to perfection.
Ingredients and Variations
Ah, the lasagna – a classic Italian dish that brings friends and family together around the dinner table. While there's no denying the appeal of a traditional lasagna, sometimes it's fun to mix things up a bit. So, let's dive into some tasty variations and the ingredients you'll need to create a lasagna masterpiece.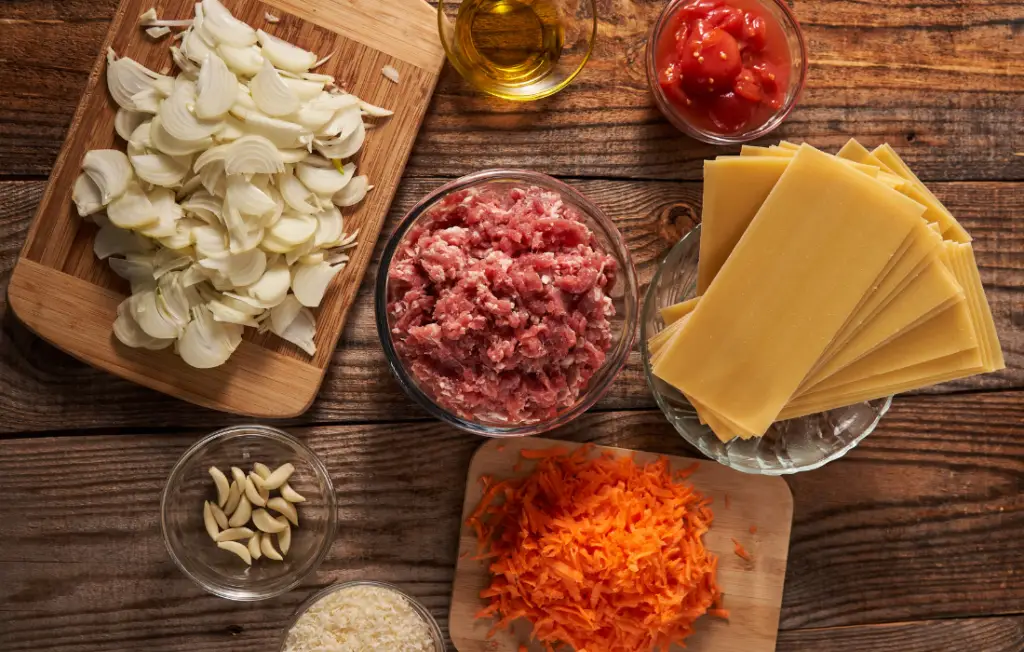 Classic Lasagna Ingredients: For a tried-and-true lasagna, you'll need lasagna noodles, ground beef or pork, marinara sauce, ricotta cheese, mozzarella cheese, Parmesan cheese, an egg, and some herbs (such as basil, oregano, and parsley). If you're feeling a little adventurous, you can also add some béchamel sauce for a creamier twist.
Vegetarian Lasagna: Go green with a vegetarian lasagna! Swap out the meat for a delicious combination of vegetables like spinach, mushrooms, zucchini, and bell peppers. You can keep the traditional marinara sauce and cheese layers or try a healthier alternative, like using cottage cheese instead of ricotta.
Lasagna with White Sauce: If tomato-based sauces aren't your cup of tea, try a lasagna with white sauce. Instead of marinara, opt for a rich and creamy béchamel sauce. Pair this with a combination of cheeses, spinach, and either chicken or mushrooms for a delightful twist on the classic dish.
Gluten-Free Lasagna: For those with gluten sensitivities or preferences, you can still enjoy a delicious lasagna by using gluten-free lasagna noodles. Most stores now carry gluten-free pasta options, so you won't have to miss out on this comforting dish. Just make sure to double-check all your ingredients to ensure they're gluten-free.
Remember, when it comes to lasagna, there's no limit to creativity. Don't be afraid to mix and match your favorite ingredients to create a unique and flavorful dish that your friends and family will love. Happy cooking!
Preparing Your Electric Roaster
Before diving into cooking your lasagna in an electric roaster, it's essential to ensure that the roaster is properly prepared. Follow these step-by-step instructions for preheating, roaster pan preparation, and setting the temperature, and you'll be on your way to a perfectly cooked lasagna.
Step 1: Preheating Begin by preheating your electric roaster. Plug it in and set the temperature to 375°F (190°C). Allow the roaster to preheat for at least 15-20 minutes before placing your lasagna inside. This will help to ensure even cooking and a perfectly baked dish.
Step 2: Roaster Pan Preparation While your electric roaster is preheating, it's time to prepare the roaster pan. Start by lightly greasing the pan with non-stick cooking spray or a thin layer of butter. This will prevent the lasagna from sticking to the pan during cooking. If you're using a removable pan or insert, make sure it's securely placed inside the electric roaster.
Step 3: Setting the Temperature Once your electric roaster is preheated and the pan is prepared, double-check that the temperature setting is correct. For most lasagna recipes, 375°F (190°C) is the ideal temperature. However, depending on your specific recipe or the type of lasagna you're cooking, the required temperature might be slightly different. Always consult your recipe for the proper cooking temperature.
By following these simple steps, your electric roaster will be ready for action. Now you can confidently move on to crafting the perfect lasagna layers and begin the cooking process. Enjoy!
Best Roaster For Lasagna
The best electric roaster for cooking lasagna offers the ideal combination of convenience, temperature control, and ample space, elevating your lasagna-making experience to new levels of perfection.
Crafting the Perfect Lasagna Layers
So, you've got your electric roaster prepped and ready to go, and your ingredients lined up like soldiers ready for battle. It's time to layer up that lasagna and create a drool-worthy masterpiece! Here's a breakdown of the essential lasagna layers and a foolproof technique to ensure you achieve lasagna greatness.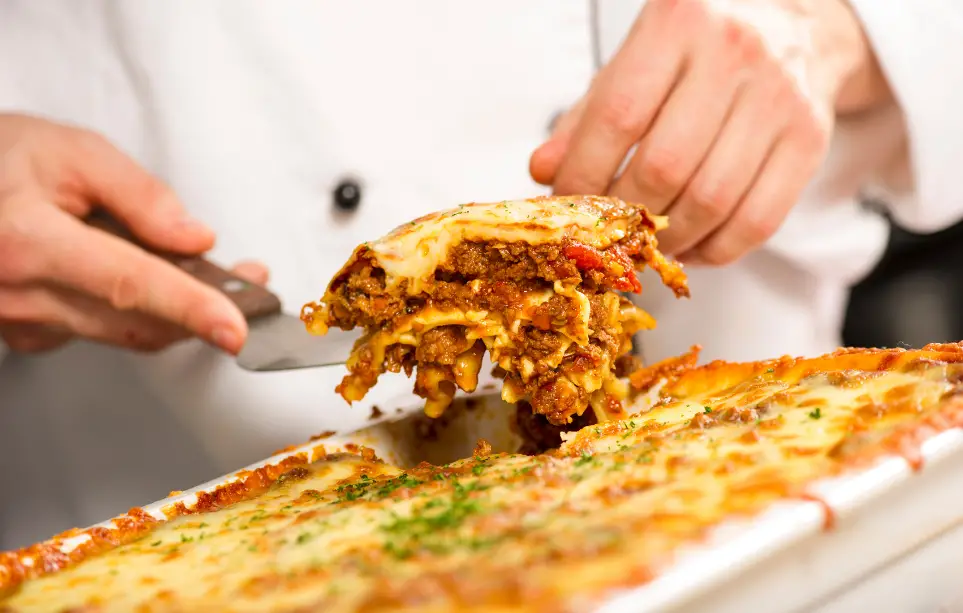 Noodles: You can't have lasagna without noodles, right? Boil your lasagna noodles according to the package instructions, or use oven-ready lasagna noodles to save time. For gluten-free options, simply swap out for gluten-free noodles. Remember, if it takes good, it's good!
Meat Sauce: To make the meat sauce, brown your ground beef or pork, and then mix it with your favorite marinara sauce. Season with herbs like basil, oregano, and parsley to elevate the flavors. For a vegetarian option, simply replace the meat with your choice of veggies.
Cheese and Béchamel Sauce: In a bowl, mix together ricotta cheese, an egg, and a pinch of salt for the classic lasagna cheese layer. For a creamier version, whip up a béchamel sauce by combining butter, flour, and milk, then seasoning with salt, pepper, and nutmeg.
Layering Technique: Now that you've got all your components ready, it's time to layer up that lasagna like a pro!
Start with a layer of meat sauce on the bottom of the prepared roaster pan.
Add a layer of noodles on top, making sure they overlap slightly to create a sturdy base.
Spread a layer of the ricotta mixture (or béchamel sauce) over the noodles.
Sprinkle a generous layer of mozzarella and Parmesan cheese.
Repeat steps 1-4 until you've used up all your ingredients, finishing with a final layer of noodles, sauce, and cheese.
There you have it, folks! The perfectly layered lasagna, crafted with love and expertise. Pop it into your electric roaster, and let the magic happen. Happy cooking
Cooking Time and Temperature
Now that you've crafted a lasagna that would make any Italian grandmother proud, it's time to cook it to perfection in your electric roaster. Here's a guide to the ideal cook time, monitoring progress, and a tip on using no-boil lasagna noodles for your convenience.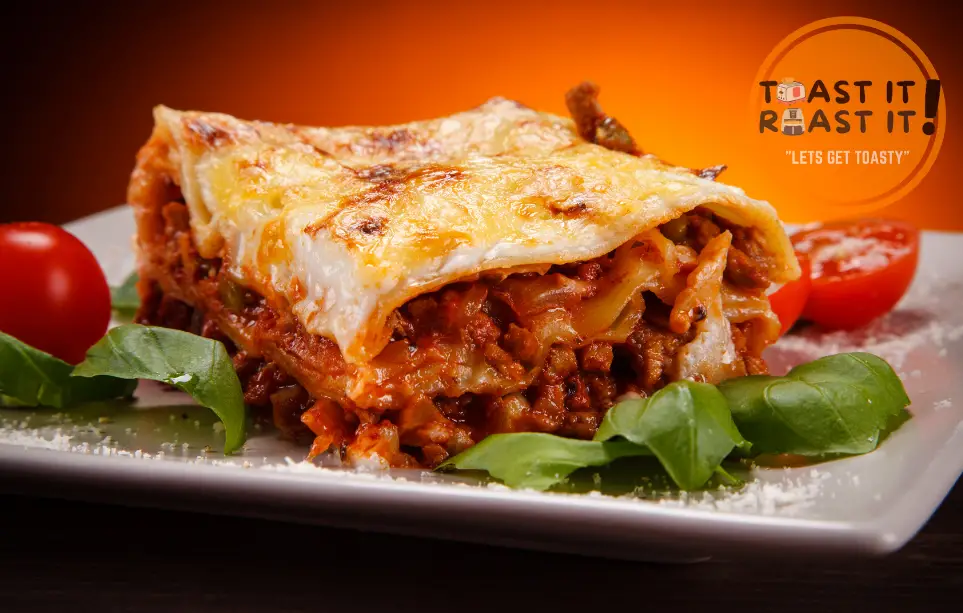 Ideal Cook Time: For most lasagna recipes, the optimal cooking time in an electric roaster at 375°F (190°C) is approximately 45 minutes to 1 hour, or until the cheese is bubbly and golden brown. However, cooking times can vary depending on the specific recipe, thickness of the layers, and the type of lasagna you're making. Always refer to your recipe for the best cooking time recommendation.
Monitoring Progress: During the cooking process, it's important to keep an eye on your lasagna to ensure it's cooking evenly and not burning. Check your lasagna's progress every 15-20 minutes by lifting the roaster's lid carefully, avoiding steam burns. If you notice the edges of your lasagna cooking faster than the center, you may need to adjust the temperature or cook time accordingly.
No-Boil Lasagna Noodles: If you're short on time or just want to simplify the process, no-boil lasagna noodles are a fantastic alternative. These noodles don't require pre-cooking and will soften as they cook in the electric roaster. To use no-boil noodles, make sure your meat sauce and cheese layers are slightly wetter than usual to provide enough moisture for the noodles to cook. Adjust the cooking time as needed based on the package instructions.
By following these guidelines for cooking time, temperature, and monitoring progress, you'll be well on your way to a perfectly cooked lasagna that's ready to serve and impress. Bon appétit!
Frequently Asked Questions
We know you might have a few more questions about cooking and storing lasagna, so we've got you covered. Here are the answers to some common lasagna-related questions that might be lingering in your mind.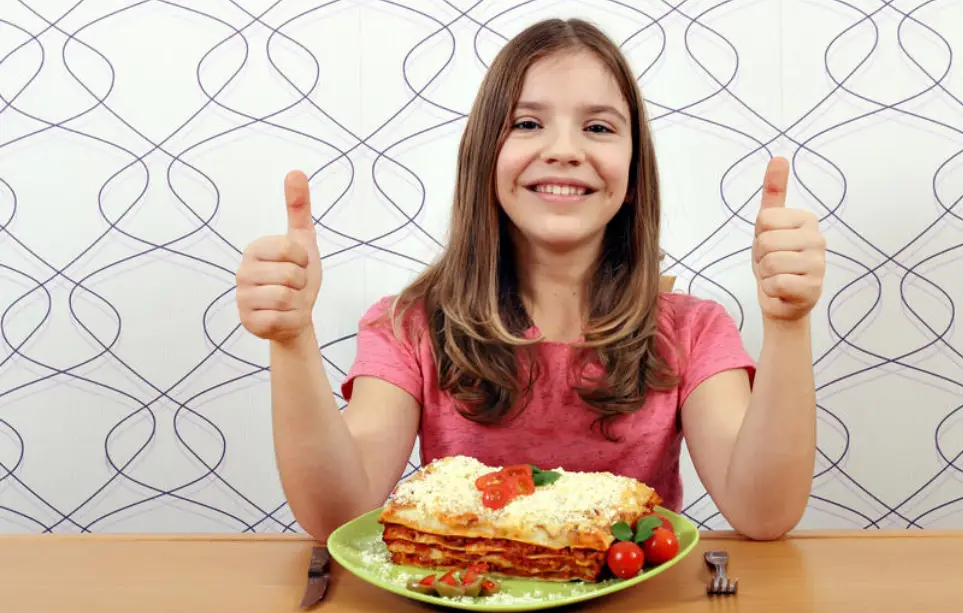 How do I store leftover lasagna?
Storing leftover lasagna is a breeze! Simply let the lasagna cool down to room temperature, then transfer it into an airtight container or cover the roaster pan with aluminum foil or plastic wrap. Pop it in the fridge, and it'll be good to go for up to 3-4 days. If you want to store it for an even longer period, you can freeze it for up to 3 months. Just be sure to wrap it tightly and use a freezer-safe container.
Can I reheat lasagna in the electric roaster?
Absolutely! The electric roaster is perfect for reheating lasagna without drying it out. To reheat, simply preheat the roaster to 325°F (165°C), cover the lasagna with aluminum foil to prevent the cheese from burning, and heat for 20-25 minutes or until it's heated through.
Are there any slow cooker lasagna recipes?
You bet! Slow cooker lasagna is a fantastic way to enjoy this classic dish with minimal fuss. Most slow cooker lasagna recipes require layering the ingredients in the same way you would for an electric roaster but adjusting the cook time to accommodate the slow cooker's settings. Cook the lasagna on low for 4-5 hours or high for 2-3 hours, depending on your slow cooker's temperature range.
Conclusion
Using an electric roaster for cooking lasagna offers numerous benefits, including energy efficiency, convenience, and the ability to prepare large quantities for gatherings. Cooking lasagna in this way brings joy and satisfaction as you serve your family and friends a delicious, comforting dish that's sure to please everyone at the table. So, embrace the ease and versatility of an electric roaster and enjoy the scrumptious lasagna that results!