My wife has a love affair with honeynut squash, particularly when it's roasted. There's something about the sweet, nutty flavor that's been caramelized to perfection that always brings a smile to her face. The scent that wafts through our home when I'm roasting honeynut squash? Simply irresistible.
Roasting honeynut squash is as easy as it is delicious. First, preheat your oven to 400°F (200°C). Cut the squash in half lengthwise and scoop out the seeds. Brush with a bit of olive oil, sprinkle with salt, and place cut-side down on a baking sheet. Roast for about 30-35 minutes or until the squash is tender and the edges are slightly caramelized.
This article serves as a comprehensive guide on mastering the art of roasting honeynut squash. We'll explore the intricacies of preparation, the ideal cooking time, and various ways to serve this delightful winter squash. From dietary adaptations to seasonal variations, we've got you covered. So put on your apron, and let's dive into the flavorful world of honeynut squash.
Print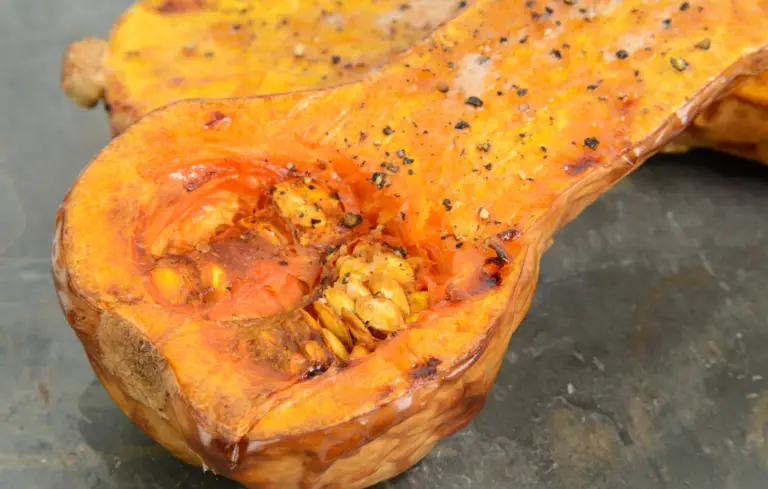 The Perfect Roasted Honeynut Squash Recipe
A simple, flavorful recipe for roasting honeynut squash, perfect for a healthy side dish or main course.
Total Time:

45 minutes

Yield:

2

servings

1

x
1

Honeynut Squash

2 tablespoons

Olive Oil
Salt, to taste
Instructions
Preheat your oven to 400°F (200°C).
Rinse the honeynut squash, cut off the top and bottom, then slice it in half lengthwise.
Scoop out the seeds and stringy parts with a spoon.
Brush the halves with olive oil, sprinkle with salt, and place them cut-side down on a baking sheet.
Roast in the preheated oven for about 30-35 minutes, or until tender and slightly caramelized.
Air Fryer Method
Prepare the honeynut squash as previously described: rinse it, cut off the top and bottom, slice it in half lengthwise, and scoop out the seeds and stringy bits.

Brush the inside of each squash half with olive oil and sprinkle with salt.

Place the squash halves cut-side down in the air fryer basket. Depending on the size of your air fryer, you may need to do this in batches.

Set the air fryer to 375°F (190°C) and cook for about 20 minutes. Check the squash for doneness by poking with a fork – it should be tender and slightly caramelized.

Once done, carefully remove the squash halves from the air fryer (they'll be hot!) and serve as desired.
Note: As air fryer models can vary, it's a good idea to check on the squash halfway through the cooking time to make sure it's not cooking too quickly. You can always add more time if needed.
Notes
Don't throw away the seeds; they can be roasted for a crunchy snack!
Author:

Jay Whyms

Prep Time:

10 minutes

Cook Time:

35 minutes

Category:

Side Dish

Method:

Roasting

Cuisine:

American

Diet:

Vegan
Keywords: honeynut squash, roasting, vegan recipe, side dish, winter squash
Recipe Card powered by
What is Honeynut Squash?
Now, let's talk about our star of the day: the honeynut squash. If you're wondering, "What on earth is honeynut squash?" – don't worry, you're not alone. The honeynut squash is like the cooler, sweeter younger sibling of the butternut squash. It's got a similar shape, but it's smaller, a bit more tan, and packed with a flavor that's out of this world.
This winter squash variety was born out of a plant-breeding program at Cornell University. The aim was to create a butternut squash that was smaller, easier to handle, and packed a more flavorful punch. And voilà, the honeynut squash came into existence!
Honeynut Squash Vs Butternut Squash
| Let's Compare | Honeynut Squash | Butternut Squash |
| --- | --- | --- |
| Size | Smaller, about 4-5 inches long | Larger, often over a foot long |
| Color | Deep orange when ripe | Lighter, beige color |
| Flavor | Sweeter, more concentrated flavor | Mild, sweet, nutty flavor |
| Shelf Life | Stays good for several weeks | Can last for months |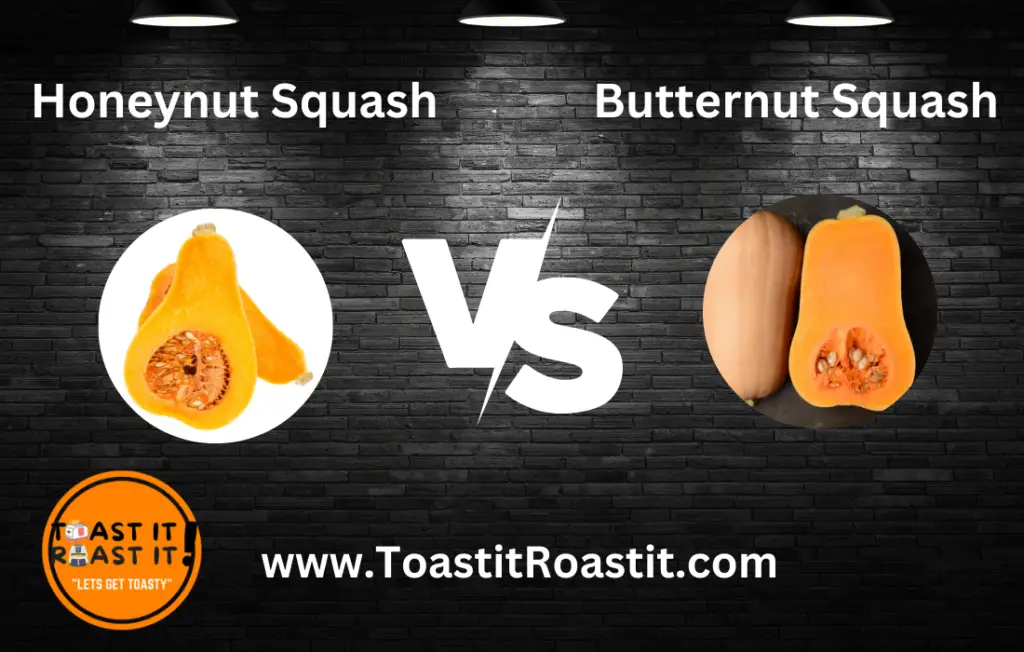 Preparing Your Honeynut Squash for Roasting
Alright, now we're getting into the nitty-gritty of things. How do we prep this bad boy for roasting? Well, it's simpler than you might think.
First, give your honeynut squash a good rinse to get rid of any dirt or debris. No one wants a side of grit with their squash, right? Then, cut off the top and bottom of the squash – not too much, just enough to give it a stable base to sit on. Now, slice it down the middle lengthwise. Grab a spoon and scoop out the seeds and stringy bits. And there you have it – your honeynut squash is ready for roasting!
As for some professional advice, Chef Julia from New York suggests, "Use a sturdy, sharp knife for cutting the squash. It makes the task safer and much easier. And don't discard the seeds; you can roast them for a crunchy snack!" Now, if that isn't a win-win, I don't know what is.
Troubleshooting Tips for Roasting Honeynut Squash
Roasting honeynut squash is pretty straightforward, but like any cooking adventure, you might hit a few bumps along the way. Here are a couple of common issues you might encounter and how to solve them.
The squash is too hard to cut: Honeynut squash, like any winter squash, can be tough to tackle. If you're having trouble, try softening it a bit in the microwave first. Poke a few holes in the squash with a fork and microwave it for about 2-3 minutes. Let it cool before you start cutting. Remember, a sturdy, sharp knife is your best friend here.
The squash is undercooked or overcooked: The cooking time can depend on a few factors, including the size of the squash and your specific oven. If the squash is still too hard after the recommended roasting time, leave it in a bit longer, checking every few minutes. If it's getting too dark too quickly, your oven might run hot. Try reducing the temperature by 25°F and increasing the cooking time.
Chef Alex from Toronto shares some advice, "Don't rush the roasting process. It's better to roast at a lower temperature for a longer time to ensure the squash is cooked evenly and gets a nice caramelization. And remember to flip the squash halves halfway through for an even roast."
Remember, practice makes perfect. So, don't be disheartened if your first try doesn't turn out as expected. You're one step closer to mastering the art of roasting honeynut squash!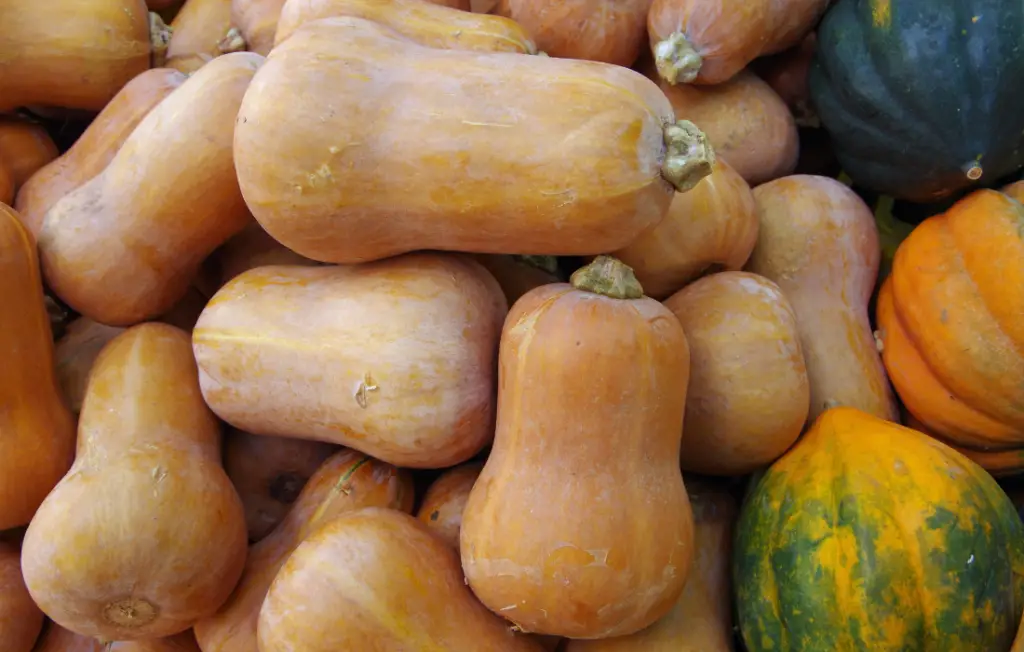 Seasonal Variations: Adapting Your Honeynut Squash Recipe
Roasting honeynut squash is a delight no matter the season, and you can always spruce it up with seasonal ingredients. Here are some suggestions:
Spring: Toss in some asparagus tips or sprinkle with lemon zest.
Summer: Mix in fresh herbs like basil or mint.
Fall: Add a sprinkle of cinnamon or nutmeg for a warm, autumnal flavor.
Winter: A sprinkle of pomegranate arils or a drizzle of maple syrup adds a festive touch.
Let's compare these seasonal ingredients and their benefits:
| Season | Ingredient | Benefits |
| --- | --- | --- |
| Spring | Asparagus | Rich in fiber, vitamins A, C, E and K |
| Summer | Basil | Anti-inflammatory, rich in antioxidants |
| Fall | Cinnamon | High in antioxidants, anti-inflammatory |
| Winter | Pomegranate | Packed with fiber, vitamins C and K |
Dietary Adaptations for Roasting Honeynut Squash
Good news: our basic roasted honeynut squash recipe is already vegan and gluten-free! For those on a paleo diet, it fits perfectly as well. If you're following a keto diet, keep in mind that while squash is higher in carbs than some other veggies, you can enjoy it in moderation as part of a balanced diet.
Wine Pairing: Enhancing Your Roasted Honeynut Squash Experience
Now, let's talk wine. A dish as versatile as roasted honeynut squash can pair beautifully with a variety of wines. A crisp, dry white like a Sauvignon Blanc or an unoaked Chardonnay can complement the squash's sweetness. If you prefer red, a light-bodied Pinot Noir could work wonderfully.
Sommelier Lisa from Vancouver suggests, "When pairing wine with roasted honeynut squash, think about what you're seasoning it with. For example, if you're using herbs and lemon zest, a Sauvignon Blanc would be delightful. If you've spiced it up with cinnamon or nutmeg, a Viognier could really enhance those warm flavors." Cheers to that!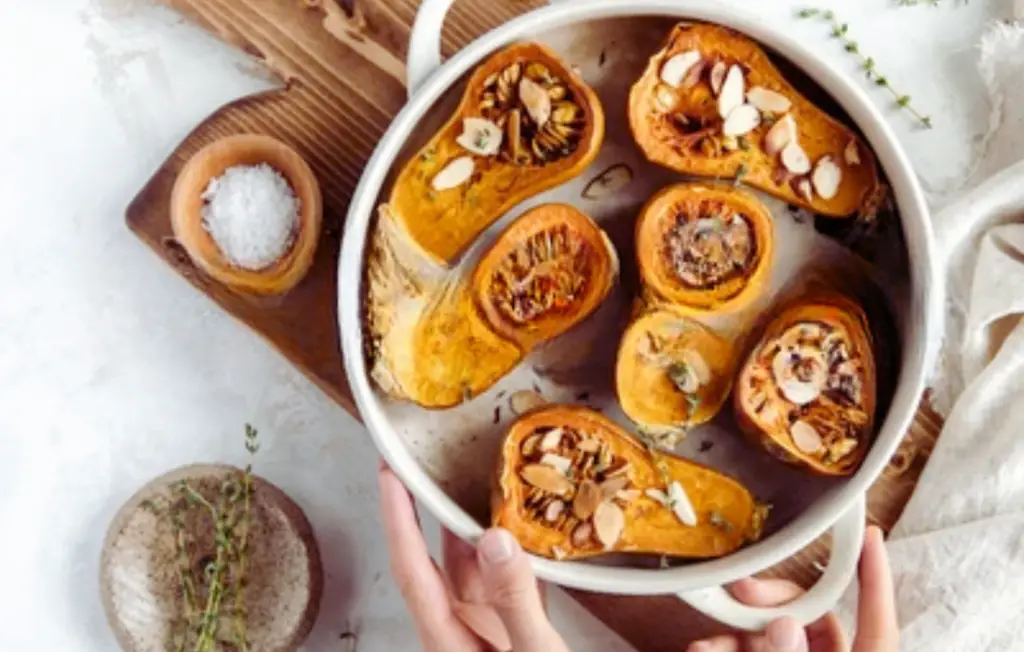 FAQ
What does honeynut squash taste like?
Honeynut squash has a sweet, nutty flavor that's more intense than butternut squash. It's like butternut squash's sweeter, smaller cousin!
Can I eat the skin of the honeynut squash?
Absolutely! The skin of the honeynut squash is thin and perfectly edible when roasted. It also adds a nice texture to the dish.
What can I use if I don't have an air fryer?
No worries if you don't have an air fryer. You can roast honeynut squash perfectly well in a conventional oven.
How do I store leftover roasted honeynut squash?
Store any leftovers in an airtight container in the refrigerator. They should last for about 3-5 days. You can reheat them in the oven or microwave before serving.
What other seasonings can I use for roasted honeynut squash?
Feel free to experiment with your favorite spices and herbs. Some popular options include thyme, rosemary, garlic, cayenne pepper, and paprika.
Can I use honeynut squash in place of butternut squash in recipes?
Yes, you can use honeynut squash as a substitute for butternut squash in recipes. However, keep in mind that honeynut squash is smaller and sweeter, so adjust the quantities and sweetness level as needed.
Can I roast the seeds of the honeynut squash?
Yes, honeynut squash seeds can be roasted just like pumpkin seeds. They make for a crunchy, nutritious snack!
Conclusion
Well, there you have it, folks! From understanding what honeynut squash is to dishing out a roasted masterpiece, you've made it through the delicious journey. Remember, cooking is part science, part art, and a whole lot of love. So, don't be afraid to experiment and find the perfect flavor combination that sings to your palate.
Maybe you'll discover a new herb that pairs perfectly with honeynut squash, or perhaps you'll find a unique blend of spices that takes the dish to the next level. Whatever you choose, remember that the best cooking often comes from a place of creativity and joy.