Have you ever wondered how to bring the vibrant flavors of the Caribbean into your own kitchen? What if I told you that you could create a tender, succulent Jamaican Jerk Pot Roast: Island Style right at home? That's right, with just a few simple steps, you can impress your family and friends with this mouth-watering dish.
To make this Jamaican Jerk Pot Roast, start by marinating a beef roast in a homemade jerk marinade for at least 4 hours or overnight for best results. Then, slow cook the roast in a crockpot or slow cooker on low for 8-10 hours, ensuring that the meat is tender and easily pulls apart. Finally, create a rich, flavorful gravy from the cooking liquid to drizzle over the pot roast before serving.
In this article, we'll guide you through the process of making an authentic Jamaican Jerk Pot Roast: Island Style, complete with expert tips, serving suggestions, and variations to suit every palate. By following our step-by-step instructions, you'll be able to create a delicious, memorable meal that will transport you and your loved ones to the warm, tropical shores of Jamaica.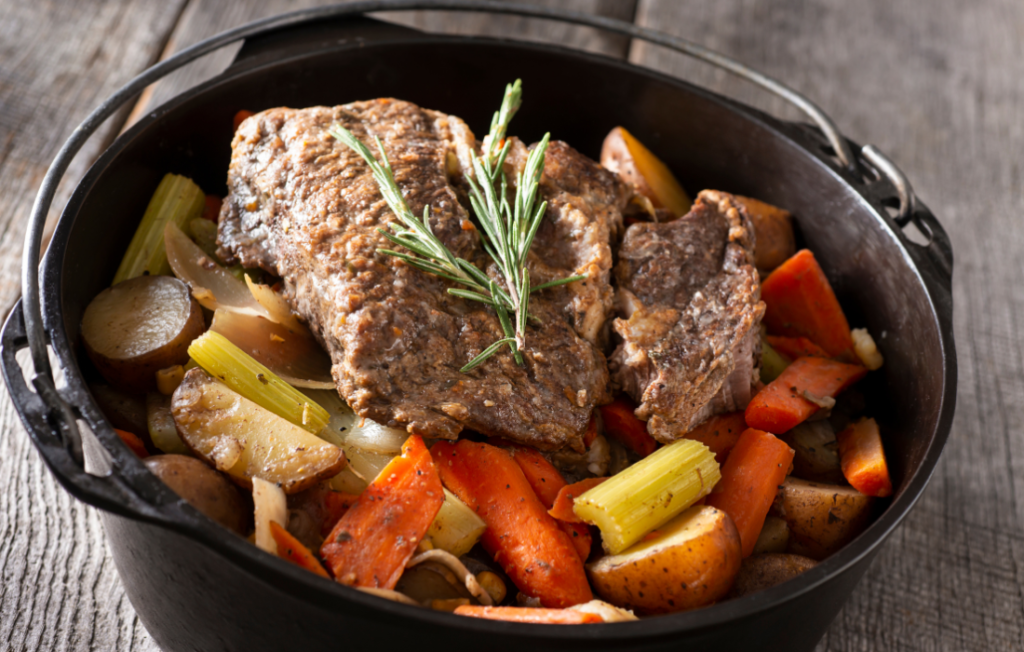 The Origins of Jamaican Jerk Cuisine
The traditional jerk cooking method involves marinating meat, usually chicken or pork, in a flavorful jerk seasoning before slow-grilling it over pimento wood, which imparts a unique, smoky flavor to the dish. While this recipe features a Jamaican Jerk Pot Roast, the principles of jerk seasoning and slow cooking can be applied to various types of meat, seafood, and even vegetables.
Print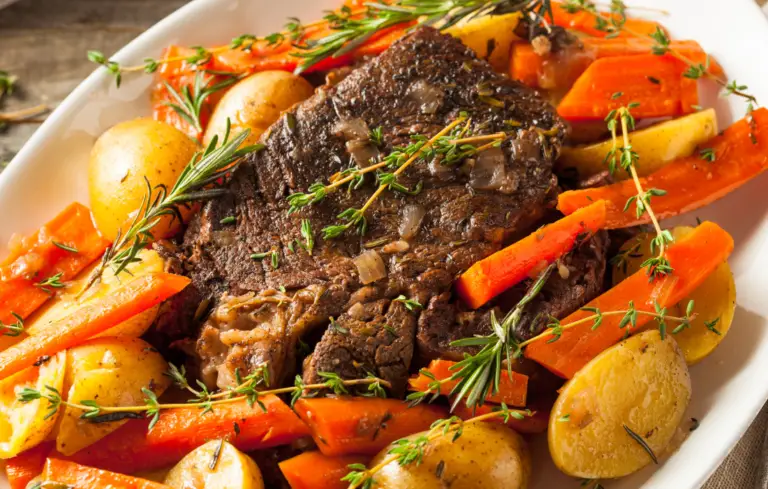 Jamaican Jerk Pot Roast: Island Style
Jamaican Jerk Pot Roast: Island Style is a slow-cooked, tender beef roast infused with the bold and spicy flavors of traditional Jamaican jerk seasoning. This recipe offers a unique twist on classic pot roast, delivering an exciting Caribbean culinary experience.
Total Time:

14 hours

Yield:

6-8 servings
Beef roast (e.g., chuck or brisket)
Jerk marinade (Scotch bonnet peppers, allspice, thyme, garlic, onion, brown sugar, soy sauce, Worcestershire sauce, lime juice, salt, and pepper) Alternative Jamaican Jerk Marinade Seasoning Sauce
Vegetables (carrots, bell peppers, onions, etc.)
Cooking oil
Water or beef broth
Instructions
Prepare the jerk marinade and marinate the beef roast for at least 4 hours, or ideally overnight.
In a slow cooker or crockpot, add the marinated beef roast, vegetables, and enough water or beef broth to partially cover the roast.
Cook on low heat for 8-10 hours, until the meat is tender and easily pulls apart.
Serve with traditional Jamaican sides, such as rice and peas or fried plantains.
Notes
Adjust the spice level to your preference by using more or fewer Scotch bonnet peppers, or by substituting a milder pepper variety.
Consider pairing the dish with island-inspired beverages, such as Jamaican rum punch or ginger beer, and finish off your meal with a Caribbean dessert, like Jamaican rum cake or coconut drops.
Author:

Jay Whyms

Prep Time:

4 hours (for marinating) + 30 minutes (for preparation)

Cook Time:

10 hours

Category:

Main Course

Method:

Slow Cooking

Cuisine:

Jamaican
Nutrition
Serving Size:

1 serving (approximately 1/8th of the pot roast)

Calories:

400 kcal

Sugar:

5 g

Sodium:

600 mg

Fat:

20 g

Saturated Fat:

8 g

Unsaturated Fat:

10 g

Trans Fat:

0.5 g

Carbohydrates:

10 g

Fiber:

2 g

Protein:

45 g

Cholesterol:

130 mg
Keywords: Jamaican jerk, pot roast, island style, slow cooker, beef roast, Caribbean cuisine, jerk seasoning, jerk marinade, Scotch bonnet peppers, allspice, rice and peas, fried plantains, traditional Jamaican sides, dietary preferences, alternative proteins, spice level, recipe variations, expert insights, serving suggestions
Recipe Card powered by
Equipment
Prices pulled from the Amazon Product Advertising API on:
Product prices and availability are accurate as of the date/time indicated and are subject to change. Any price and availability information displayed on [relevant Amazon Site(s), as applicable] at the time of purchase will apply to the purchase of this product.
Expert Insights: Tips from Professional Chefs
In this section, we will share valuable tips and advice from professional chefs to help you create the perfect Jamaican Jerk Pot Roast. These insights will cover various aspects of the dish, such as perfecting the marinade, exploring different cooking techniques, and achieving the right balance of flavors. By incorporating these expert suggestions, you can elevate your culinary skills and create a dish that truly captures the essence of Jamaican jerk cuisine.
Perfecting the Marinade
The key to a flavorful Jamaican Jerk Pot Roast lies in its marinade. Professional chefs emphasize the importance of using fresh ingredients and giving the meat ample time to absorb the flavors. Make sure to marinate the beef for at least 4 hours, or even better, overnight. This allows the spices and seasonings to fully penetrate the meat and tenderize it, resulting in a more flavorful and succulent roast.
Cooking Techniques
While the traditional jerk cooking method involves grilling over pimento wood, this pot roast recipe utilizes a slow cooker or crockpot to achieve tender, slow-cooked perfection. Professional chefs recommend cooking the roast on low heat for 8-10 hours, which allows the flavors to meld and the meat to become tender and easily pull apart. If you don't have a slow cooker, you can use an oven or a pressure cooker, adjusting the cooking time and temperature accordingly.
Flavor Balance and Adjustments
Achieving the perfect balance of flavors is crucial for an authentic Jamaican Jerk Pot Roast. Professional chefs advise adjusting the spice level to your personal preference by using more or fewer Scotch bonnet peppers or opting for a milder pepper variety. You can also experiment with the amounts of other ingredients, such as brown sugar and soy sauce, to find the perfect balance of sweetness and saltiness. Remember, the key is to customize the dish to your taste while staying true to the flavors of Jamaican jerk cuisine.
Serving Suggestions and Pairings
Now that you've mastered the art of making a delicious Jamaican Jerk Pot Roast, it's time to consider what to serve alongside this island-inspired dish. From traditional Jamaican sides to refreshing beverages and tasty desserts, we've got you covered with some delightful ideas to complete your Caribbean feast.
Traditional Jamaican Sides
To truly embrace the flavors of Jamaica, consider pairing your pot roast with some classic Jamaican side dishes. A few popular options include:
Rice and peas: A staple in Jamaican cuisine, this flavorful side combines rice, kidney beans or pigeon peas, coconut milk, and spices.
Fried plantains: Sweet and slightly caramelized, these pan-fried plantain slices add a touch of sweetness to your meal.
Steamed vegetables: A simple and healthy side dish, featuring a medley of carrots, bell peppers, and cabbage, seasoned with thyme, garlic, and allspice.
Island-Inspired Beverages
Quench your thirst with a refreshing island-inspired beverage that complements the bold flavors of your Jamaican Jerk Pot Roast. Some delightful options include: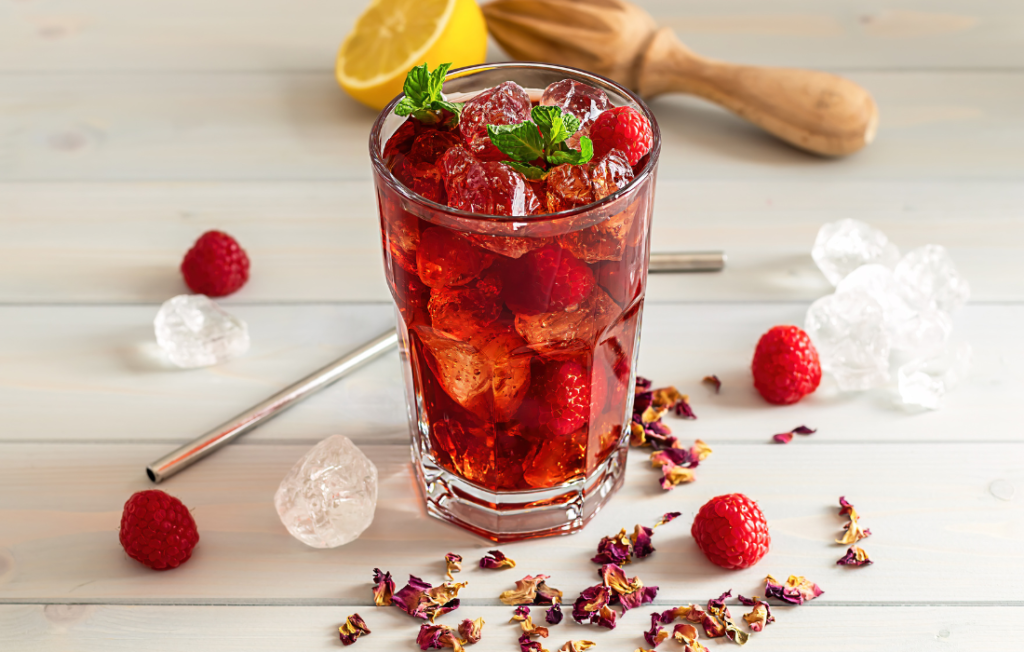 Jamaican rum punch: A fruity and potent cocktail made with rum, fruit juices, grenadine, and a splash of lime.
Ginger beer: A non-alcoholic, spicy, and refreshing beverage that can help soothe the heat from the jerk spices.
Sorrel drink: A popular Jamaican drink made from dried hibiscus flowers, ginger, and spices, often sweetened with sugar and served chilled.
Dessert Ideas
After enjoying your flavorful Jamaican feast, why not indulge in a delicious dessert to round off the meal? Here are some tempting Caribbean-inspired options:
Jamaican rum cake: A rich and moist cake infused with dark rum, dried fruits, and warm spices.
Coconut drops: Sweet and chewy coconut treats made with grated coconut, brown sugar, and spices, often served in bite-sized pieces.
Mango ice cream: A refreshing and fruity dessert, perfect for cooling down after a spicy meal. Homemade mango ice cream can be easily prepared with ripe mangoes, cream, and sugar.
Recipe Variations and Substitutes
We will discuss various ways to adapt the Jamaican Jerk Pot Roast recipe to accommodate different dietary restrictions, preferences, and protein options. We will also provide suggestions for adjusting the spice level to suit your taste buds. By understanding these recipe variations and substitutes, you can create a dish that caters to your specific needs and preferences while still capturing the essence of Jamaican jerk cuisine.
Dietary Restrictions and Preferences
If you need to cater to specific dietary needs, there are several adjustments you can make to this Jamaican Jerk Pot Roast recipe:
Gluten-free: Swap out regular soy sauce and Worcestershire sauce for gluten-free alternatives.
Low-sodium: Reduce the amount of soy sauce or opt for a low-sodium version.
Vegetarian or vegan: Replace the beef with a meat substitute, such as seitan or tempeh, or try using hearty vegetables like portobello mushrooms or eggplant.
Alternative Proteins
While this recipe calls for beef roast, you can easily switch to different proteins to suit your preferences:
Chicken: Use bone-in chicken thighs or breasts, adjusting the cooking time as needed.
Pork: Opt for a pork shoulder or tenderloin, marinating and slow-cooking as directed.
Seafood: Try marinating and grilling shrimp, salmon, or other firm fish in jerk seasoning.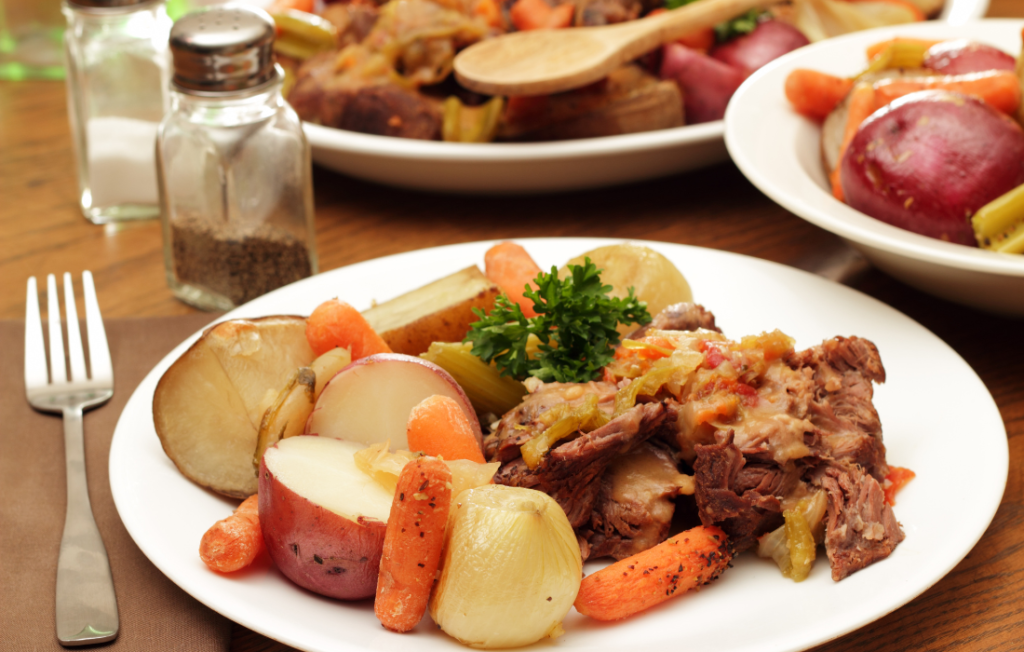 Adjusting the Spice Level
The heat level in Jamaican jerk cuisine can be easily adjusted to suit your taste buds:
Increase the heat: Add more Scotch bonnet peppers or use a hotter variety of pepper.
Decrease the heat: Use fewer Scotch bonnet peppers, remove the seeds and membrane, or choose a milder pepper, such as jalapeño.
Frequently Asked Questions
How to Store Leftovers To store leftovers?
Transfer the Jamaican Jerk Pot Roast to an airtight container and refrigerate for up to 4 days. Store the gravy separately in another airtight container.
Can I Make it Ahead of Time?
Yes, you can prepare the marinade and marinate the beef up to 24 hours in advance. When you're ready to cook, simply place the marinated roast in the slow cooker and follow the recipe instructions.
How to Freeze and Reheat Jamaican Jerk Pot Roast?
To freeze the cooked Jamaican Jerk Pot Roast, let it cool completely and slice it into portions. Place the portions in freezer-safe containers or bags, separating each piece with parchment paper to prevent sticking. Freeze for up to 3 months. To reheat, thaw the pot roast in the refrigerator overnight, then reheat in a saucepan or the oven, covered, until heated through. You can also reheat individual portions in the microwave.
Final Thoughts
As you've seen, creating a delicious Jamaican Jerk Pot Roast: Island Style is not only achievable but also incredibly rewarding. With expert tips, recipe variations, and a wealth of serving suggestions, you're well on your way to mastering this Caribbean culinary delight. So gather your ingredients, fire up the slow cooker, and let the irresistible aromas of jerk spices transport you to the heart of Jamaica!