The first time I ventured into making Chicken Marsala in a slow cooker, I was fraught with doubts. But, after a few hours of patient waiting(and 4 YouTube videos, the results were astonishingly delightful. That day, I nailed a dish that encapsulated both depth and simplicity.
To make Chicken Marsala in a slow cooker, first sear the chicken pieces for added flavor. Pour in the Marsala wine, sautéed mushrooms, and necessary seasonings, then cook on low for 4 to 5 hours. This process ensures a tender chicken infused with the rich, aromatic flavors of the Marsala wine.
Embarking on the culinary journey of crafting Chicken Marsala in a slow cooker, this guide aims to lead readers through every nuanced step, offering insights into achieving the dish's impeccable balance. Expect a deep dive into ingredients, techniques, and the magic of slow-cooked perfection.
The Timeless Appeal of Chicken Marsala
Among the myriad of flavors and dishes, Chicken Marsala stands out, boasting of a legacy rich in tradition. But here's the twist: the marriage of this classic dish with the convenience of modern-day slow cookers is nothing short of culinary genius. Now, imagine the depth of flavors being intensified as the chicken simmers slowly, soaking in the goodness of Marsala wine. It's tradition and technology dancing in harmony on your plate.
Why Opt for the Slow Cooker Method?
Ever heard the saying, "Good things come to those who wait?" Well, when it comes to cooking, especially our beloved Chicken Marsala, this couldn't be truer. The slow cooker isn't just a trendy kitchen gadget; it's a time machine, transporting your taste buds straight to Italy, one slow hour at a time.
The Magic Behind Slow Cooking
Picture this: Chicken that's so tender, it practically melts in your mouth. That's the miracle of slow cooking, folks. It's not just about cooking; it's about crafting an experience. The longer the chicken simmers, the more it soaks up flavors, turning your dish from mundane to magical. Why rush when you can savor the symphony of flavors developing with time?
Traditional Cooking vs. Slow Cooker Chicken Marsala
Comparison Table:
| Aspect | Traditional Cooking | Slow Cooker |
| --- | --- | --- |
| Time | Typically 30-40 minutes | 4-6 hours on low |
| Flavor Depth | Satisfactory | Exceptionally Deep |
| Convenience | Requires constant attention | Set it and forget it |
When weighing the merits of traditional cooking against the slow cooker method for Chicken Marsala, it becomes evident that while the traditional method might save time, the slow cooker wins hands down in flavor depth and sheer convenience.
Best Slower Cooker for Chicken Marsala
Crock-Pot 7 Quart Portable Programmable Slow Cooker with Timer and Locking Lid, Stainless Steel
COOK WITH MYTIME: MyTime adjusts the cooking cycle, so food is perfectly done when you need it to be

LOCKING LID Travel-proof locking lid has a tight seal to prevent leaks and spills while on the go

7-QUART CAPACITY: Serves 7plus people—perfect for the entire family

AUTO-ADJUST COOKING CYCLE: Cooking cycle adjusts the temperature to ensure meals are never overcooked

MANUAL COOKING: Easily control cook settings on your own with the manual cook option

SLEEK, INTUITIVE DESIGN: Flat digital countdown control screen lets you easily schedule your desired meal time, monitor meal progress, and manually control your cook time and temperature

COOK and CARRY HANDLES: Easy carry handles make lifting and carrying a bre
Prices pulled from the Amazon Product Advertising API on:
Product prices and availability are accurate as of the date/time indicated and are subject to change. Any price and availability information displayed on [relevant Amazon Site(s), as applicable] at the time of purchase will apply to the purchase of this product.
Ever dreamt of perfect Chicken Marsala waiting for you right when you want it? Well, with the Crockpot 7-Quart MyTime Cook & Carry Programmable Slow Cooker, it's not just a dream anymore! No more fussing with those pesky traditional cook hours. With MyTime, just dial in when you want to dine, the dish you're whipping up (hello, Chicken Marsala!), and the quantity. Worried about overcooking? Don't be. This genius cooker adjusts its temperature automatically, ensuring that melt-in-your-mouth Marsala perfection. And for those who like a bit of hands-on action? Switch it up with the manual option. Truly, Chicken Marsala has never had a better companion!
Crafting the Perfect Chicken Marsala in Your Slow Cooker
So, you've got your Crockpot ready and you're aiming for Chicken Marsala greatness, right? Well, you're in for a treat! But remember, perfection starts with the finest ingredients. Let's break it down:
Marsala Wine: The star of the show! Opt for a quality bottle, because, trust me, it makes all the difference.
Mushrooms: Go for the fresh, earthy ones. They soak up that Marsala goodness and offer a delightful texture against the tender chicken.
Chicken Cuts: Breast or thigh? Whichever you prefer, ensure they're boneless for the best results.
Now, for the magic to happen, follow a detailed step-by-step walkthrough. Every step, every stir, every seasoning is a step closer to achieving that restaurant-worthy Chicken Marsala, all from the comfort of your kitchen. Ready to get cooking?
Print
Easy Chicken Marsala Slow Cooker Recipe
Dive into the world of flavors with tender chicken, the richness of Marsala wine, juicy tomatoes, and earthy mushrooms. All of these, flawlessly combined in your slow cooker for an authentic Italian experience.
Total Time:

5 hours 20 minutes

Yield:

4

servings

1

x
4

boneless chicken breasts or thighs

1

cup

of quality Marsala wine

1

cup

of fresh, sliced mushrooms

1

cup

of cherry tomatoes, halved

2

cloves garlic, minced

1/2

cup

chicken broth

1/4

cup

chopped fresh parsley
Salt and pepper to taste

2 tbsp

olive oil

1/4

cup

all-purpose flour (for dredging)
Instructions
Dredge chicken pieces in flour, ensuring each piece is coated well. Shake off any excess flour.
In a skillet, heat the olive oil and sear the chicken until it's golden brown on both sides. Remove and place aside.
In your slow cooker, combine the seared chicken, Marsala wine, mushrooms, cherry tomatoes, garlic, and chicken broth.
Set to cook on low for 4 to 5 hours, or until the chicken is tender and fully cooked.
Once done, season with salt and pepper, adjusting according to preference.
Sprinkle with fresh parsley before serving, adding a vibrant touch of green.
Notes
If you fancy a creamy texture, introduce 1/2 cup of heavy cream in the last 30 minutes of cooking.
Always opt for a good quality Marsala wine; it's the heart and soul of this dish.
Author:

Jay Whyms

Prep Time:

20 minutes (extra time for halving the tomatoes)

Cook Time:

4-5 hours

Category:

Main Course

Method:

Slow Cooking

Cuisine:

Italian
Keywords: Slow Cooker Chicken Marsala, Italian Dish with Tomatoes, Crockpot Chicken Delight
Recipe Card powered by
Tips and Tricks for the Best Chicken Marsala Experience
Ah, the world of Chicken Marsala – it's like a romance novel for your tastebuds! But, like any good love story, there are secrets to making everything go smoothly. Let's dive into the art of perfecting this dish, shall we?
Selecting the Right Marsala Wine
When it comes to Chicken Marsala, not just any wine will do. The magic lies in choosing the perfect Marsala wine. Let's demystify this:
Dry vs. Sweet Marsala Wine:

Dry Marsala: Ideal for savory dishes like Chicken Marsala. It adds depth without overpowering sweetness.
Sweet Marsala: Great for desserts. In our context, it might make the dish a tad too sweet unless that's your preference.

Information Table: Popular Marsala Wine Brands and Their Flavor Profiles
| Brand | Type (Dry/Sweet) | Flavor Profile |
| --- | --- | --- |
| Florio | Dry | Rich, with hints of vanilla and caramel |
| Pellegrino | Sweet | Fruity notes with a smooth, velvety finish |
| Curatolo Arini | Dry | Nutty with nuances of raisins |
| Cantine Pellegrino | Sweet | A delicate balance of almond, vanilla, and fruit |
Best Marsala Wines
Image
Title
Price
Prime
Buy
Iberia Marsala Cooking Wine, 25.4 fl. oz.

Prime

Eligible

Buy Now
Holland House Marsala Cooking Wine, Ideal for Cooking, Roasting and Marinating, 16 FL OZ

Prime

Eligible

Buy Now
Kedem Gourmet Marsala Cooking Wine, 375ml, Certified Kosher

Prime

Eligible

Buy Now
Holland House Cook Wine Marsala

Prime

Eligible

Buy Now
Product prices and availability are accurate as of the date/time indicated and are subject to change. Any price and availability information displayed on [relevant Amazon Site(s), as applicable] at the time of purchase will apply to the purchase of this product.
Prices pulled from the Amazon Product Advertising API on:
Accompaniments: What to Serve with Chicken Marsala?
Chicken Marsala isn't just a meal; it's an experience. And every great experience deserves the right company. Here are side dishes that don't just sit on the side – they take center stage!
Garlic Mashed Potatoes: Creamy, fluffy, and the perfect base to soak up that rich Marsala sauce.
Steamed Asparagus: Adds a fresh crunch and a touch of sophistication.
Risotto: A creamy rice dish that pairs wonderfully, making every bite a harmonious symphony.
Crusty Bread: To ensure not a drop of that delicious sauce goes to waste.
Remember, your Chicken Marsala deserves the best. It's not just about the main star but also about the supporting cast that elevates the entire dining experience!
FAQ
Can I use chicken thighs for Marsala?
Absolutely! Chicken thighs are known for their richer flavor and tenderness. If you love juicy meat that absorbs all the wonderful Marsala flavors, then thighs are an excellent choice. Just ensure they are boneless and skinless for the best results.
What mushrooms are best for Chicken Marsala?
When it comes to mushrooms for Chicken Marsala, think of them as the sidekick that adds depth to our hero dish. Cremini mushrooms are the classic choice, with their meaty texture and earthy flavor. But feel free to experiment with shiitake or portobello for a unique twist!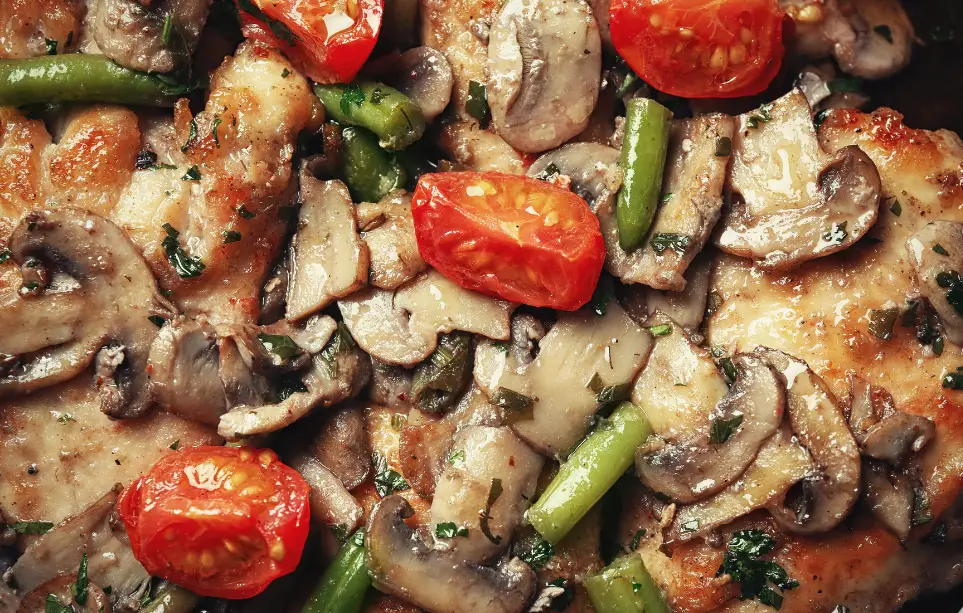 Is Chicken Marsala gluten-free?
Well, that depends on your recipe! Traditional Chicken Marsala involves dredging the chicken in flour, which contains gluten. But, fret not, gluten-sensitive foodies! Swap the regular flour for a gluten-free version, and you're good to go!
How do I store leftover Chicken Marsala?
Got leftovers? Lucky you! Store your Chicken Marsala in an airtight container and pop it in the fridge. It'll be good for 3-4 days. Just remember to reheat it slowly, preferably on the stove, to preserve those delightful flavors.
Can I freeze my slow cooker Chicken Marsala?
Freezing is a charm! Once your Chicken Marsala has cooled down, transfer it to freezer-safe bags or containers. Label with the date, and it can comfortably sit in your freezer for 2-3 months. When the craving strikes, thaw overnight in the fridge and reheat gently.
Are there vegetarian versions of Chicken Marsala?
Absolutely! For our veggie friends, a popular substitute is thick slices of portobello mushrooms or tofu steaks. They both absorb the Marsala sauce beautifully, making it a treat even without the chicken. Trust me; you won't miss the meat!
Wrapping Up Our Chicken Marsala Journey
There you have it – the ins, outs, and delightful detours of making the perfect Chicken Marsala in a slow cooker. From choosing the right wine to finding the ideal accompaniments, it's been quite the culinary adventure! Remember, the essence of this dish lies not just in the ingredients but in the love and patience you pour into it. So, whether you're a seasoned chef or trying this dish for the first time, with the right guidance and a sprinkle of passion, your Chicken Marsala will always be a showstopper. Until next time, happy cooking and even happier eating!