In our household, the dish that makes my children's eyes light up is a hearty serving of roasted potatoes with mushrooms and onions. The trio of these earthy flavors melds into a mouthwatering delight that has become a firm favorite. This simple, yet sumptuous meal, delivers comfort and satisfaction in every bite, becoming an essential staple in our family dinner rotation.
Creating a meal of roasted potatoes with mushrooms and onions is straightforward and rewarding. First, preheat your oven to 425 degrees Fahrenheit and chop your vegetables. Toss the potatoes, mushrooms, and onions in olive oil, salt, and pepper, spreading them on a baking tray. Roast them in the oven for 40-45 minutes, stirring occasionally, until golden brown and crispy.
This article provides a comprehensive exploration into the delectable journey of making roasted potatoes with mushrooms and onions. It captures not only a detailed recipe and engaging review but also delves into expert insights, beverage pairings, and frequently asked questions, making it your go-to guide for this crowd-pleasing dish.
The Basics of Roasting Potatoes with Mushrooms and Onions
What does Roasted Potatoes with Mushrooms and Onions taste like?
The taste of roasted potatoes with mushrooms and onions is an irresistible blend of textures and flavors that complement each other exceptionally well. Roasted potatoes offer a crisp exterior with a soft, fluffy interior, and carry a slightly sweet, earthy taste. The mushrooms contribute a distinct umami flavor, often described as savory or meaty. The onions, when roasted, develop a sweetness that balances the earthiness of the potatoes and mushrooms. All these combined result in a warm, hearty dish with layers of rich, complex flavors that create a satisfying dining experience.
Nutritional Value of Roasted Potatoes with Mushrooms and Onions
Roasted potatoes with mushrooms and onions is not just a tasty dish, it's also packed with nutritional benefits:
Potatoes: A source of vitamin C, vitamin B6, and potassium. They also provide dietary fiber, particularly if the skins are left on.
Mushrooms: Rich in vitamins B and D, selenium, and other essential minerals. They also contain antioxidants that can help protect the body's cells from damage.
Onions: Provide vitamin C, B vitamins, potassium, and are full of antioxidants.
Keep in mind, the method of preparation and the addition of oils or fats during roasting can slightly alter these nutritional values. Nevertheless, this dish remains a hearty, wholesome choice that contributes valuable nutrients to any meal.
Print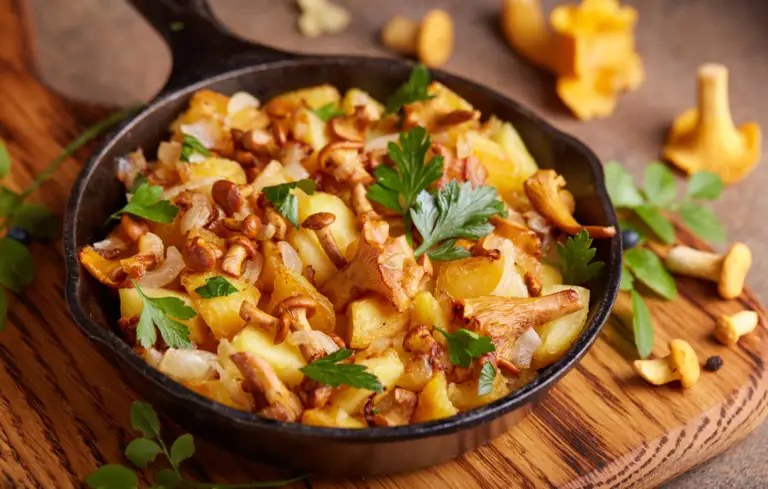 Roasted Potatoes with Mushrooms and Onions
A warm, hearty, and satisfying dish, roasted potatoes with mushrooms and onions is an excellent side dish for any meal. This simple recipe brings out the rich, earthy flavors of these key ingredients, creating a burst of flavor in every bite.
Total Time:

55 minutes

Yield:

6

servings

1

x
1.5

lbs

of baby potatoes, halved

1

lb

of fresh mushrooms, sliced

2

medium onions, sliced

3 tablespoons

of olive oil
Salt and pepper to taste

2 teaspoons

of rosemary

2 teaspoons

of thyme

2

cloves of garlic, minced
Instructions
Preheat the oven to 425°F.
In a large bowl, combine potatoes, mushrooms, and onions.
Drizzle the vegetables with olive oil, and sprinkle with salt, pepper, rosemary, thyme, and minced garlic. Toss until well-coated.
Spread the mixture in a single layer on a baking sheet.
Roast in the preheated oven for about 40-45 minutes, or until potatoes are golden brown and crispy. Stir occasionally for even roasting.
Serve warm and enjoy.
Notes
Use fresh herbs for a more flavorful result.
You can add other vegetables or proteins as per your preference.
Author:

Jay Whyms

Prep Time:

10 minutes

Cook Time:

45 minutes

Category:

Side Dish

Method:

Roasting

Cuisine:

American
Keywords: Roasted Potatoes with Mushrooms and Onions, Hearty Side Dish, Easy Dinner Recipe, Vegetarian Roast
Recipe Card powered by
Reviewing the Recipe: Pros, Cons, and Personal Touches
Recipe Review
As an avid cook, I found the roasted potatoes with mushrooms and onions to be a delightful and comforting dish. The richness of the flavors meld together perfectly, creating a heartwarming meal that my family absolutely loves.
Pros:
Simple and Easy to Follow: This recipe requires minimal ingredients and the instructions are easy to follow, making it suitable for both seasoned cooks and beginners.
Flexible: It's a versatile dish that can easily be adapted to suit individual preferences.
Nutritious: Packed with vitamins and minerals, it is a healthy side dish option.
Cons:
Time-Consuming: The roasting process can take a bit of time, which might not be ideal for quick meals.
Seasoning: The flavor heavily depends on the seasoning. If not done right, the dish can turn out bland.
Potential Variations to the Recipe
This recipe is highly adaptable and you can easily make variations according to your taste. For instance:
Add Proteins: If you're not vegetarian, feel free to toss in some diced bacon or sausage for added flavor.
Vegan Option: Substitute olive oil with a vegan butter substitute for a vegan-friendly version.
Other Vegetables: Feel free to add other vegetables like bell peppers, zucchini, or carrots for more variety and flavor.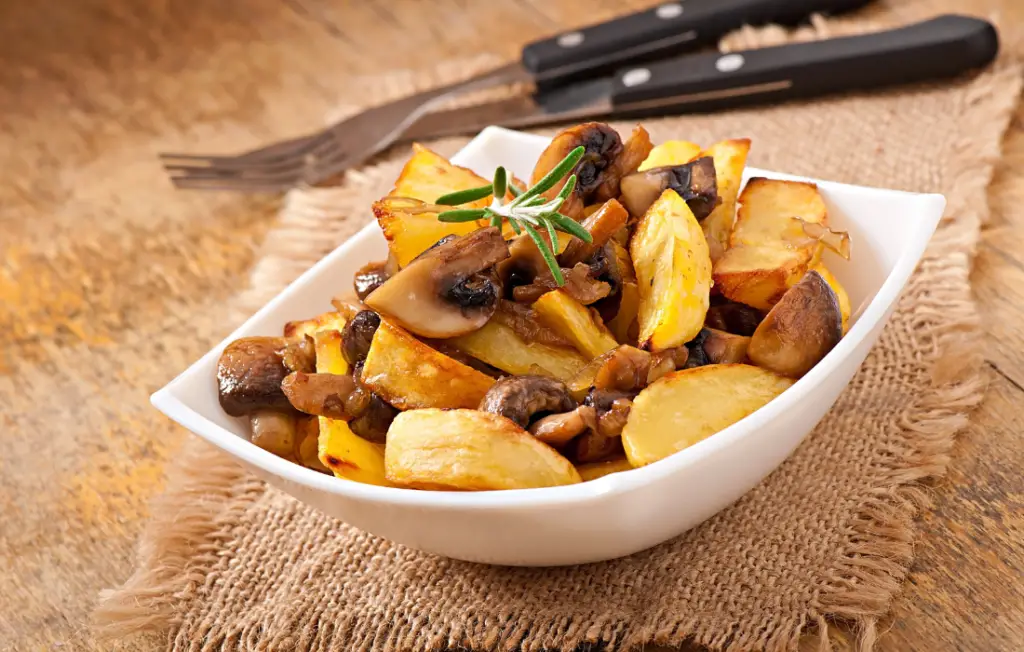 Comparative Analysis
Compared to similar recipes, such as roasted potatoes with garlic or roasted potatoes with rosemary, this recipe stands out because of the additional flavors from the mushrooms and onions. The unique combination of these ingredients gives this dish a more complex flavor profile and makes it a more filling and satisfying meal.
Enhancing the Dining Experience
Best Beverage Pairings for Roasted Potatoes with Mushrooms and Onions
The earthy and savory flavors of this dish are complemented by a range of beverages. Here are some expert-recommended pairings:
White Wine: A crisp Chardonnay or Sauvignon Blanc balances the robust flavors of this dish beautifully.
Red Wine: Light-bodied reds, like Pinot Noir, can also pair well by adding a fruity contrast to the earthy dish.
Beer: A rich, malty beer like a brown ale matches the dish's hearty profile.
Non-Alcoholic: For a non-alcoholic pairing, a tart apple cider or a fresh, homemade lemonade can be delightful.
Serving Suggestions
Presentation can enhance the overall dining experience. Here are some tips:
Use a vibrant, colorful plate to contrast with the earthy tones of the dish.
Sprinkle some fresh herbs (like chopped parsley) on top for a pop of color before serving.
Serve it alongside a vibrant salad or a lean protein to create a balanced meal visually and nutritionally.
Occasions for Serving Roasted Potatoes with Mushrooms and Onions
This dish is versatile and can suit a variety of occasions:
Casual Family Dinners: Given its comfort food status, it's perfect for casual family dinners.
Holiday Meals: With its hearty nature, it makes for an excellent side dish during holidays like Thanksgiving.
Potluck Events: Its ease of preparation and crowd-pleasing nature makes it ideal for potlucks or community gatherings.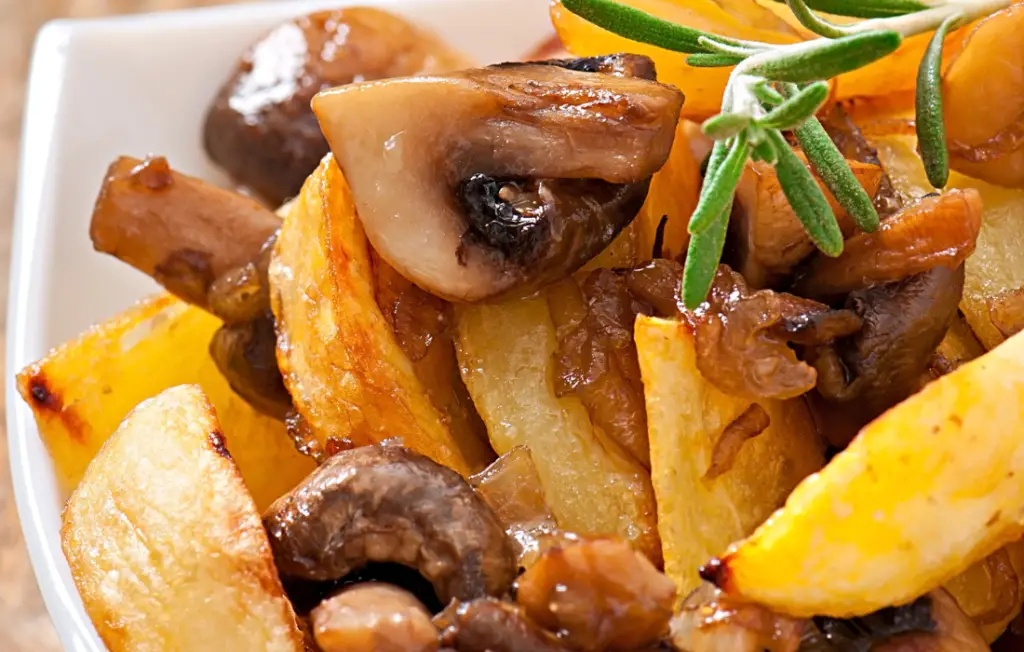 FAQs about Roasted Potatoes with Mushrooms and Onions
How can I make my roasted potatoes crispier?
Ensuring the potatoes are well-coated in oil and not crowding them on the baking sheet can lead to crispier results. The high heat of the oven also helps to crisp the potatoes.
Can I use other types of mushrooms or onions in this recipe?
Absolutely! You can experiment with various types of mushrooms like portobello, cremini, or shiitake. Similarly, for onions, red, yellow, or even shallots can be used.
How long can I store the leftovers?
Leftovers can be stored in an airtight container in the refrigerator for up to 3-4 days. Reheat in the oven or on the stovetop to restore crispiness.
Are there any health benefits to this dish?
Yes, this dish is quite healthy. Potatoes are a great source of vitamins C and B6, mushrooms provide vitamins B and D, and onions are full of antioxidants.
Can I prepare this dish in advance?
While this dish is best served fresh, you can chop the vegetables and preheat the oven in advance to save time.
What other dishes pair well with Roasted Potatoes with Mushrooms and Onions?
This dish pairs well with a variety of main courses such as grilled chicken, steak, or even a simple baked fish. It also complements a salad or soup for a lighter meal.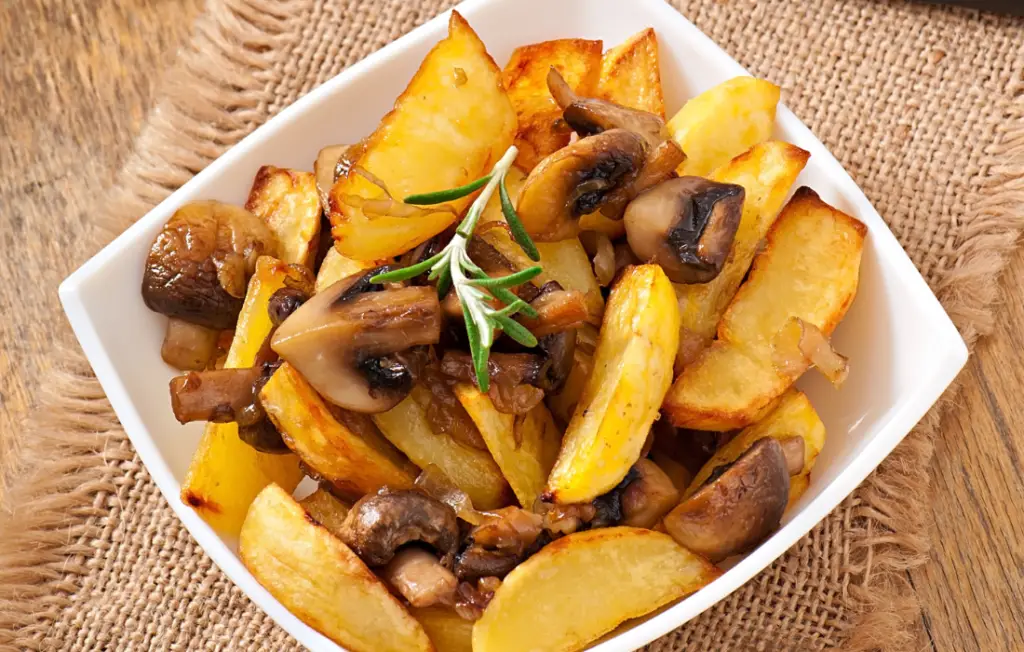 Conclusion
In revisiting the journey of this article, we've uncovered the enticing flavors and simplicity of making roasted potatoes with mushrooms and onions, a delightful dish that has become a favorite in my household. We've discussed the rich, complex flavor profile and the nutritional value this comforting dish brings to the table.
Moreover, the versatility of the recipe allows for many adaptations and variations to suit individual tastes and dietary needs. Complementing this dish with the perfect beverage pairing, presenting it beautifully, and knowing the ideal occasions to serve it can significantly enhance the overall dining experience.
Whether you're a seasoned cook or a beginner in the kitchen, I highly encourage you to try this recipe and savor the wonderful medley of flavors it offers. Don't forget to share your own experiences, modifications, and tips in the comments below.
Remember, cooking is not just about following a recipe – it's about making that recipe your own. So, enjoy the process and happy cooking!